Salt Lake employees show their support for Deidra Soper, accounts receivable customer relations specialist, who is battling Hodgkin's Lymphoma, a cancer of the lymph nodes.
CHG's accounts receivable and accounts payable teams, along with co-workers from finance, marketing, sales and other Business Partner teams, presented Deidra with more than $600 in donations, cancer awareness T-shirts and other gifts for her and her son April 17.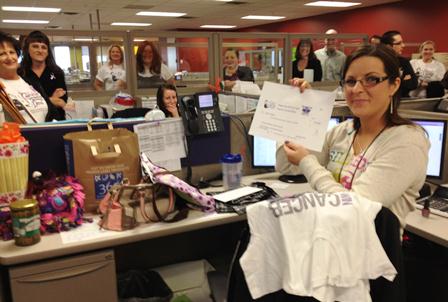 "The number of people who have donated has been amazing," shares Allie Motzkus, A/R customer relations specialist. "We have also sold 77 cancer awareness shirts, and more than half the profit is going to Deidra."
Her co-workers created a Deidra Soper Fights Like a Girl Facebook page and have planned more fundraisers through this summer.