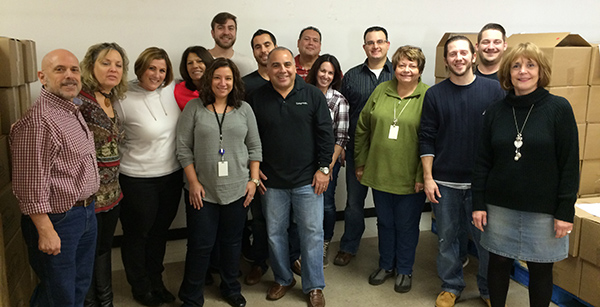 One out of five kids in Connecticut is food insecure. And in Bridgeport, a mere 20 minutes driving distance from CHG's Norwalk office, the statistic doubles to two in five kids, according to Michael Davidow, a corporate development manager with the Connecticut Food Bank.
For Ursula Leo, a search consultant for our CompHealth permanent placement office in Norwalk, the subject touched close to her heart. "I was a single mom with two kids and never had enough for healthy meals," she recollects. "It's a humbling experience to be in that situation. The services offered at the food bank helped me, and I want to give back — by volunteering time, raising money and building awareness."
Ursula organized two different ways — a backpack program and a virtual food drive — that our CHG family could give back to their local community. On Jan. 7 and 14, our people volunteered their time at the Connecticut Food Bank, preparing backpacks for hungry children to take home and bridge the weekend meal gap. And to provide ongoing support to families in need, we created a virtual food bank with a goal to raise $5,000 this year.
Giving back to our communities and Putting People First is part of who we are at CHG. "These small efforts really make a difference," Ursula says.