In years past, Courtney Williams, client administrator at RN Network in Boca Raton, Fla., has happily donated funds, clothing, shoes and toiletries to various service missions hosted by her church, Revival Life. On July 16, she took the next step – she hopped on a plane and donated her time, service and prayers to Casa Betesda, an orphanage in Managua, Nicaragua.
"I had heard testimonies and stories from other members of my church who had gone on the previous mission trips," Courtney says. "I heard about the joy they had experienced feeding people, giving them the things they needed, attending church services in Nicaragua and praying for the sick and actually seeing those prayers answered."

Before going to Nicaragua, Courtney says she was expecting to be a blessing to the destitute citizens of Nicaragua: providing them with the basic needs, spending time with the children of the orphanage and witnessing other people pray for the villagers. What she wasn't expecting was the blessing the children would be to her and the impact her experiences would have on her life.
"I had face-to-face contact with the orphans from Casa Betesda and really connected with them," Courtney says. "I honestly thought that they were going to look like the children from those sad commercials that we see on television, but they were actually well taken care of. They were so sweet and all they really wanted was love."
While Courtney's church has conducted other missions to countries, this was the group's first time staying in an orphanage. Casa Betesda currently houses 36 children between the ages of six and 14, many of whom were rescued from dire circumstances.
"I hung out with two teenage girls that I found out were sold into prostitution at the age of six," Courtney shares. "I also met a 13- or 14-year-old boy who was kidnapped from Haiti, kept in one room for four years and repeatedly tortured and abused. They were all rescued by the orphanage. This really tore my heart apart because I know that there are more children in the same situation suffering right now, with no way out until someone rescues them."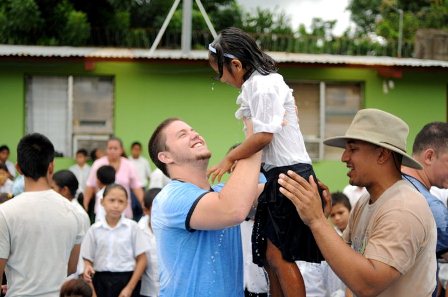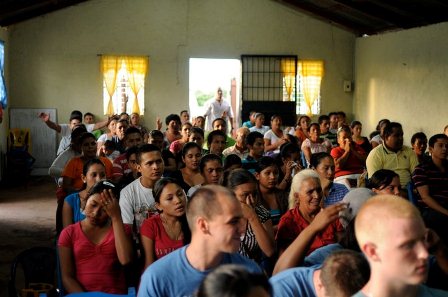 While she hopes she blessed the lives of those she gave her time to, Courtney knows that her mission trip to Nicaragua had an enormous impact on her own life.
"I will never be the same after this mission trip," she says. "I used to complain about the smallest things while people in Nicaragua are living in houses made of corrugated tin roofing – what we use as hurricane shutters. I am now more humble and make a conscious effort to not complain and to be thankful for everything I have. I have a one-year-old son, and I will be sure to constantly remind him about how blessed we are to live in America and have the opportunities that we have."