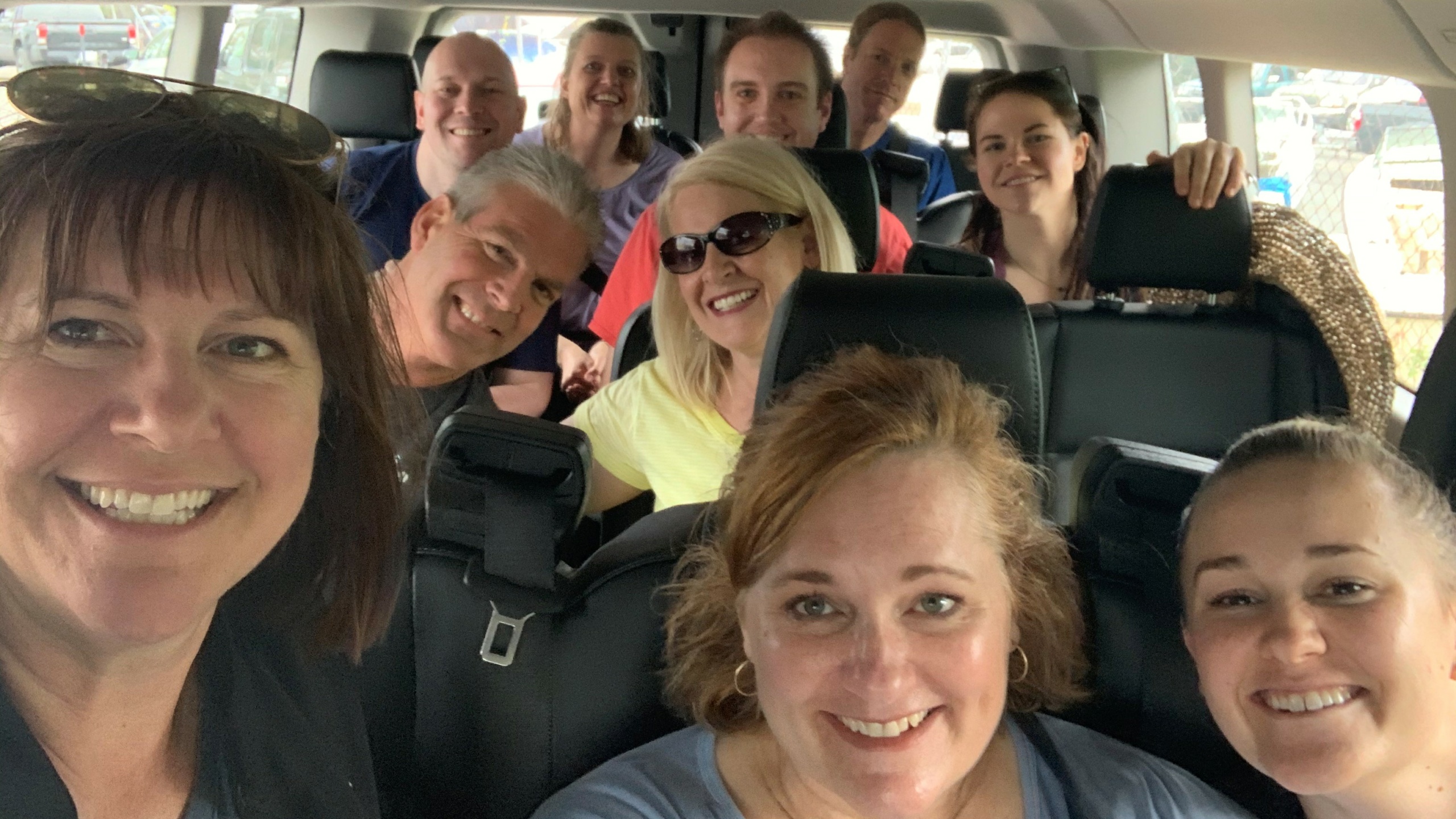 "Puerto Rico in the winter? That's a no brainer," jokes Kris Lundell. But this CHG financial management team member wasn't planning on lounging on the beach. Along with six other employees, Kris and his wife were working on projects to help the Puerto Rican community, making the world a little cleaner and greener.
"I always wanted to go to Puerto Rico, and I knew that doing this kind of a trip would allow me to not just see the things that everyone sees when they go there," says Chris Rawlings from our CompHealth division. "I wanted to immerse myself in the culture and contribute, in some small way, to the reforestation that is needed."
Empowering our people to give back
CHG's commitment to Putting People First encourages us to make a difference in our communities. To give our people the opportunity to give back on a global scale, we offer subsidized humanitarian trips throughout the year.
Seven CHG employees and two guests signed up to volunteer for our Puerto Rico humanitarian trip this past February. We worked with Amizade, global service-learning company, to identify a community partner in San Juan. And Amizade introduced us to Caras con Causa, a local nonprofit focused on community-based management of natural resources and wetlands. Caras con Causa decided which projects needed the most volunteer help and then coordinated the work. CHG volunteers helped educators and researchers by protecting mangroves and cleaning a stretch of beach. They also partnered with local school students to gather the research data.
Getting to know the community
Julie Sibthorp, a director of corporate events for CHG, was the trip leader. Although she's visited Puerto Rico before, Julie says she's never experienced the country like this. Before they could go to work, volunteers spent a day in the classroom learning about Puerto Rico's culture, history, government, and environmental challenges.
Tyler Riley with our CompHealth division says that day made a big difference. "I think having the background really helped my understanding of the magnitude of our service project."
Trip participant Catie Barker agrees. "I absolutely loved the educational portion that the program offered." Catie works in CHG's financial management division. "I LOVED finding out the history behind such a diverse culture and the struggles they're facing. Hearing the community leader's story was absolutely inspiring."  
Clearing a path for growth
Mangroves are small, shrub-like trees that grow along the coastline and play a critical role in protecting the island's coast from hurricane winds and waves. But the trees are often strangled out by other native plants, leaving the coastline vulnerable to erosion and flooding. 
The group set to work with machetes at a mangrove reserve, clearing an area of grass plants taller than most of the volunteers. Rachael Fletcher from CompHealth describes the day.
"It was hot, wet, and hard work," she says. "But it was also very rewarding." Rachael was thrilled when she discovered a small mangrove beneath all the grass and vines and was able to save the tree. She was also impressed that teenaged boys from the local school worked alongside the volunteers to measure and catalogue the mangrove trees as part of their school curriculum.
Chris was astounded to learn the area they were clearing had last been maintained just six weeks earlier. "This is not a one time and done, but it's going to require frequent and consistent work," he says.
Catie adds, "I loved that it was very manual because it really hit home exactly how much of a challenge it is to preserve the mangroves."
"I learned how critical mangroves are to islands and to the world environment," Kris shares. Besides blunting the coastal impact of hurricanes, Kris says mangroves can help reverse the greenhouse effect and reduce the carbon footprint around the world.
CHG volunteers also worked in a plant nursery, transplanting mangrove seedlings to larger pots. Julie says the trees must be at least two years old before they can be transplanted.
[new_royalslider id="24"]
Having a global impact
Caras con Causa also arranged for the volunteers to help with a research project studying ocean debris. The group was tasked with cleaning up three zones researchers mapped out on the beach. At the tide line, mid-beach, and then farther up the beach, volunteers collected debris washed ashore by the waves. Each section was about two meters in length. Volunteers were asked to classify the trash according to what they found and where it might have come from.
"I have been hearing so much over the last few years about how polluted the oceans are, but here I got to see firsthand!" Chris says. Just when he felt he was making good progress cleaning up a section of beach, the tide would wash even more debris up again.
"I will never use another plastic straw again!" Julie says with a laugh.
"I loved that we got to participate in saving not only the Puerto Rican environment but the global environment," Kris says "This trip touched me deeply and made me realize how much more I can do to have a positive impact on the environment."
While most of the trip was spent working, local organizers made sure the group had time to experience the beauty of Old San Juan, rich in art and history, and share community meals with local residents. "I enjoyed being immersed in the culture and not staying in a 'tourist' area," Tyler shares. He says going to Old San Juan gave him a chance to learn about the country's history.
Catie agrees. "I knew very little about Puerto Rico before visiting, and I learned so much more than I would have if I had just come as a tourist. It taught me exactly how resilient the people of the island are!"
"I knew nothing about Puerto Rico, and I'm embarrassed to admit that," Kris says. But the trip changed all that. "I learned how fragile a country can be, yet how proud and strong a community can be when they work together. I learned how I, personally, can help in a small way to improve my community and state."
For Tyler, the trip opened his eyes to the impact each of us has on the world. "I realized how much impact one mangrove, and even one person, can have on the environment."
Rachael adds, "There's a lot I can do in my own community to make a difference, and I should do it."