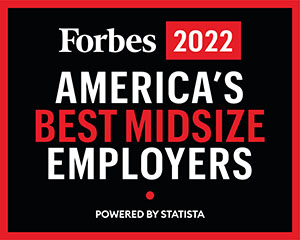 Forbes ranked CHG Healthcare on their America's Best Employers list for midsize employers. The list ranks the top 500 employers in the country.
"Given the tumultuous nature of the past two years for all workplaces it is an especially great honor to be ranked on this list," says CHG Healthcare CEO Scott Beck. "Our goal has always been to create an environment where our people feel respected, appreciated, and included, whether that's in the office or working from home."
According to Forbes:
Two years into a pandemic that's forever transformed the workplace, what makes a good employer? Whether working from home or the office, Americans' priorities have changed, and with 10.9 million job openings and an unemployment rate of 4%, what makes a top employer has changed, too.
Forbes partnered with market research company Statista to pinpoint the companies liked best by employees in our annual ranking of America's Best Employers. To determine the list, Statista surveyed 60,000 Americans working for businesses with at least 1,000 employees. All were conducted anonymously, allowing participants to openly share their opinions. The respondents were asked to rate, on a scale of zero to ten, how likely they'd be to recommend their employer. They were also asked to rate their companies on factors such as working conditions, development opportunities and compensation.