The big "C." We all dread the thought of one day hearing "You have cancer" muttered from a doctor's mouth. But for many, it's inevitable. According to Medical News Today, one in two women and one in three men in the U.S. will develop cancer within a lifetime. This alarming statistic has two CHG Healthcare employees fighting the odds to help cure cancer through education and fundraising. Here are their stories.
Educate to eliminate
Melanie Bean, a provider representative with CHG's Global Medical Staffing division, was drawn to the international healthcare provider placement company two years ago because of some life-altering news — in 2016, Melanie was diagnosed with fallopian tube cancer — a rare form of ovarian cancer.
"Being able to help doctors find great jobs and help doctors provide great care to people is what resonates with me," explains Melanie. "We can affect the outcome of people's lives by putting good doctors to work."
During Melanie's chemotherapy treatments, she was introduced to a national organization, OCRA — and a group of local women in Salt Lake City, Utah, who use their cancer stories to educate soon-to-be doctors.
"With Survivors Teaching Students, we meet with third year medical students at different universities in the area and we teach them about symptoms, share our stories and the signs we experienced. We're trying to give ovarian cancer a human touch and give the students a way to learn in a different way other than a textbook," says Melanie.
So far, the group has further educated thousands of Utah medical students about the warning signs of ovarian cancer.
Melanie says, "It really felt like a place where I could make some good come from … the cancer part of my life. It's hopefully spreading the word so that more doctors are aware of what these symptoms are, so if they have somebody that comes to them, they can refer them as quickly as they can to a gynecological oncologist."
In 2022, Melanie will hit her five-year mark with no evidence of disease. She speaks candidly about her amazing work with OCRA in this video.
Swimming strides to save lives
Steve Leitch is a sales consultant in one of our physician staffing divisions, Weatherby Healthcare. He specializes in locating and placing oncologists in healthcare facilities across the United States. Steve turned to more than 20 oncologists he's helped find jobs or has a relationship with, to support him in a 20-mile solo swim of South Carolina's most dangerous lake — Lake Keowee — to raise money for cancer research.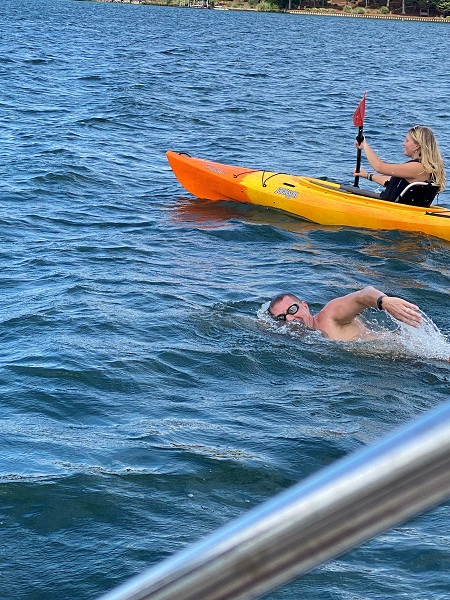 Steve says, "Raising money and helping to fight cancer in any way is rewarding. I was amazed by all the support I received from oncologists who worked with me through Weatherby."
Steve has an impressive background in competitive swimming. He swam for Scotland internationally and Clemson University in South Carolina. In his early 20s, he began swimming open water. Four years ago, Kevin Sullivan, his leader at Weatherby, inspired him to get back in the water. Since then, Steve has participated in many solo open water swims up to 30 miles. He also competed in the Swim Charleston, a nonprofit that empowers swimmers to reach their full potential as athletes and leaders.
"I wanted to be the first person to complete this swim. I love pushing my physical and mental limits," says Steve.
Training for a 20-mile swim was no easy feat. Steve swam four to five times a week for a total of 20-25 miles, and incorporated two strength sessions. But he didn't do it alone.
"My bride and a daughter usually trade off every few hours kayaking next to me, and a support boat keeps up with supplies," he explains.
Steve swam from Cliff Keowee Marina to Seneca Marina.  
He recalls, "My watch GPS said just under 20 miles, but the boat GPS said 20.6 miles. The swim took 11.5 hours and was pretty grueling, but an amazing experience."
His efforts raised more than $3,000 for Swim Across America, a nonprofit that is "Making Waves to Fight Cancer."
CHG cares
CHG attracts people to our organization who are willing to go the extra distance to make a difference in communities across the world. To support our people's efforts, CHG provides up to 16 hours of volunteer time off to every employee as a part of our comprehensive benefits package.
Want to join our team of impressive employees? Check out our current openings today.