CHG Healthcare has built a strong foundation of integrity and ethics within our organization. It's this focus on ethical behavior that attracts likeminded professionals to our company — those who desire to make a difference in their communities through volunteer efforts and their work at CHG. Here are two such people impacting the disabled community in a positive way.  
Related: Core values provide stability in the storm 
It's all downhill from here
How far would you go to raise money for a good cause? Jen Lesheny, a sales consultant with our Weatherby Healthcare division, went Over the Edge of a VERY tall building to support Special Olympics North Carolina. See for yourself in this video.
Jen says there's an emotional factor to this extreme fundraising event. The vulnerability participants experience rappelling down a skyscraper, parallels what Special Olympic participants feel on the field. "It takes a lot for them to buck up and say 'Hey, I can do this! Just because I have an intellectual disability does not keep me from being the best version of myself and pursing what I want to be the best at in this sport,'" says Jen. 
This is Jen's fourth year of fundraising for Over the Edge and she has no plans of stopping — making a difference is in her blood. "I come from a family of heroes. Both of my brothers served in the military. My mom was a pediatric oncology nurse for 40 years and my dad raised money for cancer research for 30 years," says Jen. 
The ability to make a difference was a prime reason Jen was attracted to CHG Healthcare when she was looking for a new career three years ago. "What I saw in the future was the opportunity to join my family … I wanted to do as much as possible when and where I could and CHG really gives us the resources and time to empower us to do that," she explains. 
Harnessing the power within to help another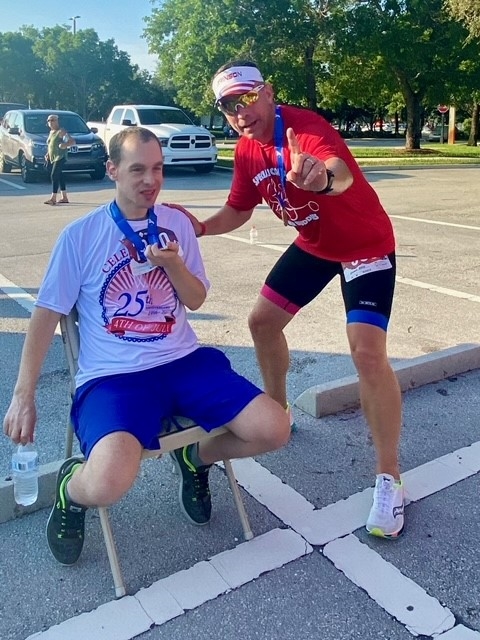 Mike Atkinson, vice president in our CompHealth division, recently had what he calls a "monumental moment" is his racing career. Working with Special Compass, an organization that provides ways for differently abled people to participate in sports, Mike had the opportunity to become a Power Buddy and push Ari, a young man who has an intellectual disability, across the finish line in a racing cart.  
As an avid competitive racer — with more than 70 Ironmans, triathlons, marathons, and 5Ks under his belt — Mike applied the same determination he does to each of his races and took first place in the physically challenged category with Ari in tow. Mike says the expression on Ari's face at the finish line was priceless.
"It's amazing the inspiration you get ... to find that extra level of perseverance to push through when you're doing it for someone else like that," says Mike.  
Mike frequently witnesses racers as Power Buddies and finds inspiration in their efforts. Helping another individual race, when they can't on their own, has been something he's always wanted to do.
"My dad was in a wheelchair, so a lot of what fills me when I'm racing was the fact that he wasn't able to do these things that I can," explains Mike. "I wanted to share the exhilaration of crossing the finish line with someone else."
Related: Our People: Mike Atkinson 
Want to join our team where giving back is part of who we are? Head to chgcareers.com to see our current job openings.