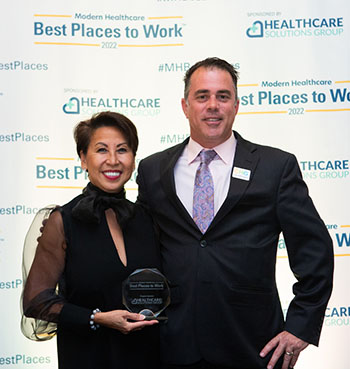 For the fourth consecutive year, Modern Healthcare has recognized CHG Healthcare on their annual "Best Places to Work" list. This year, the award program highlighted 75 outstanding national employers in the healthcare industry who empower employees to provide superior patient care and customer service.
"Our top priority at CHG Healthcare is and will always be to make a difference in the lives of those we serve — our people, our providers, our clients, and our communities," says Scott Beck, CEO of CHG Healthcare. "We're grateful Modern Healthcare recognizes our unwavering commitment to excellence."
Modern Healthcare partners with Best Companies Group on the assessment process, which includes an extensive employee survey. Headquartered in Utah, CHG has more than 3,000 dedicated employees working fully remote and hybrid work schedules out of offices based in its home state, Connecticut, North Carolina, and South Florida.
"As the healthcare industry shifts daily and companies evolve workplaces to meet employees' needs, this award is more meaningful than ever, because there's no playbook," Becks says. "It's an honor to be ranked among other top healthcare companies who are thinking outside the box."