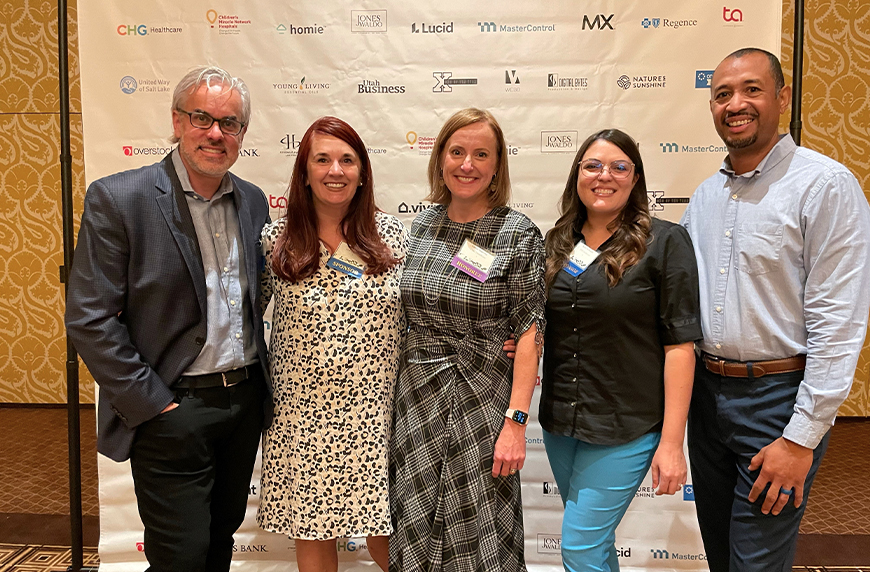 At CHG Healthcare, we're proud of the passion our people bring to their jobs every day. It's this pursuit of excellence that has helped us be recognized as a top company in the health industry. In fact, Modern Healthcare just named CHG a Best Place to Work in Healthcare. And this is one of the many reasons why CHG has award-winning employees.
CHG has an amazing culture that helps our people grow, inspiring them to accomplish great things. Here are just a few of the ways our colleagues have been recognized in 2022:
Corey Daniels, talent acquisition director
OnCon named Corey one of the top 10 talent recruiters in the United States. Selected by his peers from hundreds of nominees, Corey received the prestigious Icon award. He says the best part of being honored was being able to attend a conference where all the finalists shared best practices. Since then, he's been bombarded by questions from his peers about how he super-charged his team. So far Corey and his team have hired more than 1,000 people just this year.
Dani Weigand, product manager
"I'm a fighter. Anytime somebody tells me I can't do something, I find a way to make it happen."
That's part of the reason Dani was honored by Utah's 40 Over 40 organization. She's spent her life serving in ways that give voice to those who might otherwise go unheard. Dani says the award is meaningful to her because the organization is committed to expanding awareness and representation for women.
"Women are making an impact," Dani says. "I'm proud to be recognized for my work to level the playing field and increase opportunities for women."
Logan Thomas, sales director
He hasn't hit 40 yet, but that hasn't stopped Logan from making his mark on CHG's Weatherby division. As sales director, he's growing the business and his team. His leaders nominated Logan for the Triangle Business Journal's 40 Under 40 award. The Journal is the leading business publication for the Raleigh/Durham/Chapel Hill area.
Logan's work and his life are all about serving others. He's got a special passion for mental health causes. "I think every one of my people know that I care about them as an individual prior to them as an employee. I think I do a good job of balancing productivity and accountability and truly putting people first."
Lisa Grabl, president, CHG's CompHealth division
When Lisa joined CompHealth it was because she wanted to do something that mattered. Two decades later, she's been honored for doing just that. Utah Business named Lisa a CXO of the year. Lisa is proud to be part of the healthcare delivery industry. Her work impacts hundreds of thousands of people every year.
Just as she's proud to help patients, Lisa's equally proud to help people take steps in their careers. "What has really become most rewarding to me," Lisa says, "is understanding the opportunity and privilege to impact people's lives."
These CHG employees have been honored by their peers for their quality and professionalism. Each one is living CHG's mission to make a difference in the lives of those we serve – our people, our providers, our clients, and our communities. These exceptional individuals are growing their careers and their reputations by living our core value of Putting People First.