CHG is sometimes referred to as a "big, happy family." For some employees, however, that phrase rings very true — they work each day with their family, whether it be a spouse, sibling, son, daughter, mother or father. Get to know our real-life CHG families in this series of weekly stories, We Are Family!
We Are Family: Oh, Brother (-in-law)!
Tanner Lauka and Scott Davis have been friends since 2001 and became even closer when Tanner married Scott's older sister, Jill, in 2005. Their bond was solidified, however, when Tanner joined CompHealth allied health staffing in Grand Rapids two years ago and subsquently referred Scott.
"About eight months into my tenure, Scott graduated from college and was looking for a position in the business world. I've always been a mentor and role model to Scott, so naturally he wanted to work with me," Tanner, recruiter for CompHealth's speech pathology team, recalls. "Fortunately, CompHealth's physical therapy department was looking for a new recruiter. I put in a good word for Scott, and the rest is history."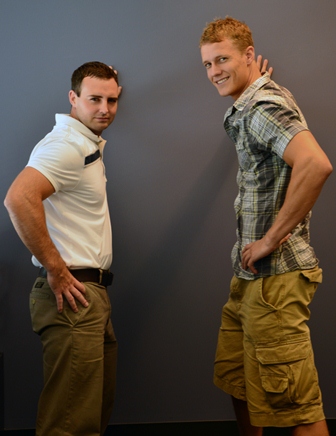 Tanner Lauka, left, and his brother-in-law, Scott Davis, pose for a photo in the Grand Rapids office. 
Scott, who has been with CHG for a year and works as a recruiter for the physical therapy team, says he enjoys the people he works with, especially his team.
"If I ever need a helping hand, my leader, Paul Petersen, has always been there to give me advice; he will stop whatever he is doing to listen. And, of course, I love my team. A shout-out goes to Katie, Jess, Sam, Kelsey, Laurie, Roman, Michelle and Greg," Scott expresses. "Besides the people, I really like having the independence and responsibility of owning my work. It makes me believe that CompHealth puts a lot of trust in my abilities and instincts."
Tanner notes that he works in a fantastic department and loves the people most about work at CHG as well.
"Every day, I am inspired by my co-workers and have a reason to laugh and smile," Tanner says. "James Fletcher-Smith, Jill Vanderzand, Britt Campbell and Brent Alles are critical members of my success and mental health."
Though Scott and Tanner work on different teams, they find ways to liven up the work day and enjoy each other's company.
"By far, Tanner is my best friend at work," Scott shares. "It's awesome having him as a co-worker and seeing him grow in his success. We are always cracking jokes at the other's expense, but it's all in fun."
Tanner, who also enjoys the pranks and jokes, says he and Scott have grown much closer as they've become co-workers.
"Being able to see Scott in the work environment has given me a deeper respect and appreciation for him. There is also a lot of fun and jokes between us," Tanner says. "One day I came to work to see my entire desk covered in sticky notes. Last year, on Scott's birthday, I made copies of a childhood picture of him dressed as the wrestler Sting and taped them all around the office."
Though they're always joking with each other at work, Scott and Tanner are serious about their roles on the Wellness Committee and their fitness.
"Tanner and I work out every day during lunch at our local gym. We push each other really hard and make sure the other person hits their goals," Scott shares. "We've both seen massive improvements in our strength since we started doing this, and we always try to get other co-workers to join up as well. This helps keep the work/social balance alive!"
Tanner notes that he and Scott have a tight fitness schedule and have protein shakes together both in the morning and after each workout.
"Working out together has really helped me to achieve a greater level of fitness than I could have on my own," Tanner expresses. "Scott is my ultimate partner in fitness!"