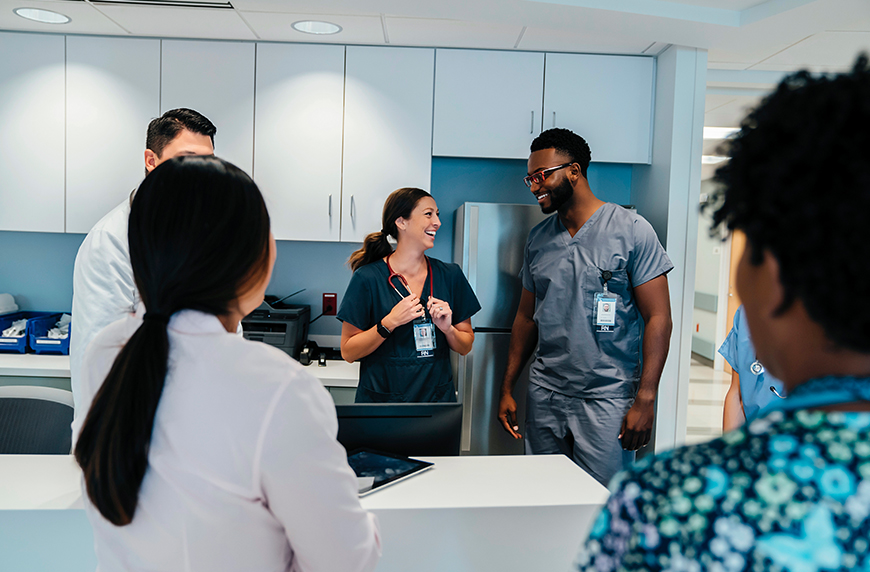 Like virtually every healthcare organization today, Marshfield Clinic Health System is facing the challenge of how to attract and hire the physicians and advanced practice providers it needs. This can be even harder when recruiting for rural facilities. Marshfield's system includes more than 60 locations throughout Wisconsin and Upper Michigan.
"Every one of our locations is a rural location," says Jennifer Waters-Plemon, CPRP, assistant manager of physician and APC recruitment and onboarding for Marshfield. "We're definitely feeling the physician shortage that we've been experiencing over the years, but our numbers of open opportunities have just drastically increased since the COVID pandemic."
Rural communities can't always provide all the attractions of urban life — even common amenities like rideshare services or nearby airports can be hard to come by. However, rural settings do provide lifestyle advantages, and each community has its own unique offerings. That's why selling your community is a crucial part of enticing physicians to join your organization. Here are five ways Marshfield is using their strengths to make their physician recruitment efforts successful.
1. Pinpoint your advantages
Urban settings offer a lot in terms of educational and cultural opportunities. They also provide traffic jams and a higher cost of living. On the other hand, rural communities may help foster a healthier work/life balance for physicians.
When recruiting physicians, Marshfield tries to emphasize those work/life advantages. "You don't have to deal with traffic, and you can be home with your family right away after work," Waters-Plemon says. "You can be home in time to watch your kids' sporting events or go to dinner or a show."
Additionally, "The cost of living is a lot less in the Midwest. And our education is exceptional in the Midwest area as well. Those are all key advantages we focus on."
She adds that rural Wisconsin communities offer easy access to outdoor recreation — and to nearby metro areas that are only an hour or so away. "So, we have the best of both worlds."
All these benefits are key points that Marshfield share when recruiters talk to candidates, Waters-Plemon says.
2. Spend energy on the right candidates
Over time, Waters-Plemon has come to recognize which candidates are worth a little extra effort. For Marshfield, it's if they are from the Midwest. "If they have done their training in the Midwest, or if they have been in larger communities and they communicate to us, 'I really don't want to stay in the New York area. I like the friendliness of the people in the Midwest,'" she says. "Those are the ones we've got to focus on."
On the other hand, when candidates have no geographic preferences and have no ties to the area, it's harder to know how to sway them. "We don't know what that tipping scale is. Right? It could be compensation; it could be a partner they're connected with."
3. Recruit the whole family
If you want to attract physicians to a rural community, you have to make an effort to sell the community to their entire family. Spouses and children have an influential voice in a decision to relocate. That's why Marshfield invites the family to come for the on-site interview process. "If they're going to be a decision maker, we'd rather have them all here right away," Waters-Plemon says.
"We do special lunches for the spouses. If they have special interests, like volunteer work, we'll have them meet with our Marshfield Clinic Health System Foundation or the YMCA or United Way to get them involved. And then the same thing with the children: if they have an interest in skiing, we'll connect them with someone in skiing. If they have an interest in hockey, we'll connect them with families that are also into hockey. We try to get that information before they come to the site visit, and then we gear the site visit and interview around that," she says.
4. Seek outside help as needed
Recruiting a physician can take months — or even a year or more for some specialties. Multiply that by the number of openings, and a healthcare organization can be looking at significant, long-term understaffing. In this situation, "it's all-hands-on-deck," says Waters-Plemon. "I partner with contingency firms for those really hard-to-fill opportunities or when we have a lot of openings in certain specialties." Staffing companies often have access to a wider pool of candidates and can support your recruiting efforts for the hardest-to-fill openings.
Marshfield also uses locum tenens providers to fill the gap while they work to recruit a permanent physician. And sometimes, those locum tenens providers can turn out to be the right fit and want to stay on. "We had a radiation oncologist that was doing locums for us, then he signed as an associate physician. Now he is our assistant director for radiation oncology," Waters-Plemon says. "We've had really great success with the locums to perm — even for leadership roles in our organization. That has definitely been a win-win."
In fact, Marshfield regularly reaches out to locum providers to ask if they are interested in permanent positions — it's part of the organization's recruitment strategy, says Waters-Plemon.
5. Be persistent
Attracting the right candidates may require an extra dose of persistence for rural healthcare facilities.
"Constantly trying to touch people multiple times is the key. It often takes two or three times for a provider to hear about an opportunity before it piques their interest. I think there are a lot of passive lookers right now in the market. The more you can get in front of them — whether it's sending an email or a postcard or a text — the more likely you will pique their interest," Waters-Plemon says.
CHG Healthcare has the doctors, nurses, and allied professionals you need to help staff your facility. To learn more about our staffing solutions, give us a call at 866.588.5996 or email ecs.contact@chghealthcare.com