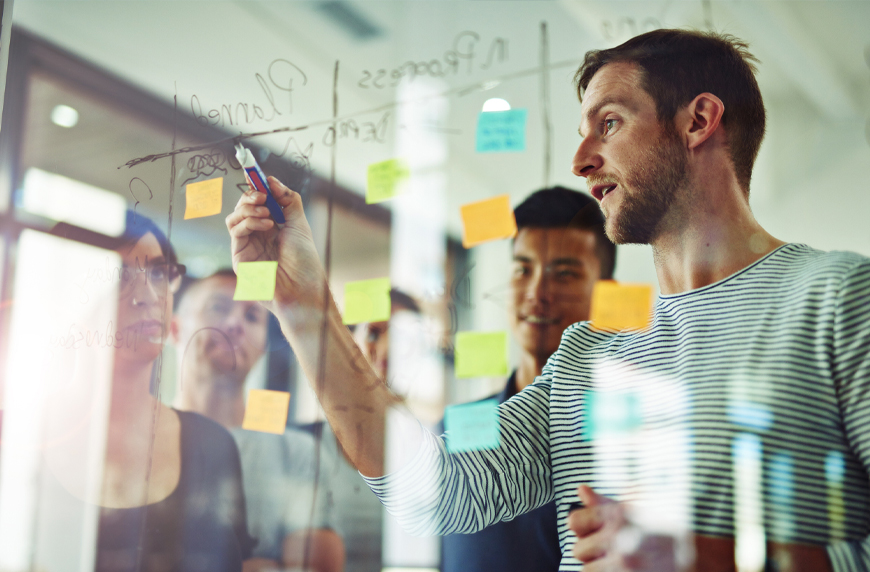 As healthcare organizations grow, the process for bringing on locum tenens providers can become overly complex, resulting in redundancies, inefficiencies, and higher costs. One way to solve this problem is to centralize locum tenens hiring. We talked to two health systems about how they made the transition to centralized locum tenens and what they learned in the process.
Reasons for exploring centralization
Aspirus Health operates in Wisconsin and the Upper Peninsula of Michigan. With 10 hospitals and roughly 60 clinics, Aspirus specializes in rural healthcare. The system is growing, with Aspirus currently working on an acquisition that will add seven more hospitals and 21 clinics to its network.
"That's why it was really important for us to get on board with centralizing our locums processes," explains Nicole Kiser, physician recruiter for Aspirus. "It doesn't make sense to have three general surgery locums working at one location and three different general surgery locums working at another location — it's more efficient to have a pool of locums for each specialty that would go to each of our locations."
At UnityPoint Health, leaders wanted to improve control over a locum tenens picture that included 15 – 20 different locum tenens staffing partners with a variety of rates and offerings. UnityPoint is based in Iowa and its footprint covers the entire state, along with portions of Illinois and Wisconsin.
"We identified that if we could centralize our locum tenens, we could have more control over our experience by working with one locum agency," says Alan Johnson, director of provider recruitment for UnityPoint.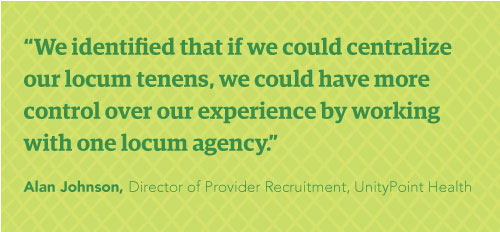 Differing approaches to centralization
Aspirus and UnityPoint each took their own approach to the process of centralizing locum tenens. Aspirus chose to move one location or group at a time over to a centralized model. While this approach took time, "once others started to see how well the process worked, they were more apt to get on board with it," Kiser says.
Conversely, UnityPoint tackled the problem all at once following a Lean process. "We brought in representation from all of our regions, primarily in our operations team, to identify the current state in all regions and the opportunity to have one central process that we can work with. Once we had representation from all our regions, I believe we had a little more buy-in from everyone; they could see the value in having one way of managing our locums," Johnson says.
In all, the UnityPoint task group included 20 – 25 people who developed the centralization plan. "Knowing that we had the map put together and we could always refer to that as our process has been helpful for us," he says.
The advantages of centralization
Kiser has noted several advantages to centralization for Aspirus. To begin with, Kiser became the sole internal point person for locum tenens hiring, rather than having several locums recruiters throughout the system. This has streamlined locums hiring and enabled Kiser to build a pool of locum providers who are familiar with Aspirus and its various locations.

"We're utilizing the same locums across the system at all locations, so from a cost perspective, that's really helped with decreasing the time and money spent on doing orientations for new locums providers," she says. Additionally, "it's really decreased the amount of time I've spent on finding new locums. Rather than constantly opening up a new search when we have a need at a location, we simply reach out to our pool that was already created."
Utilizing the same pool of locum providers also helps ensure continuity of care, "not only for our patients, but for our other providers within the system," Kiser says. "They work with one locums at one location, and they know that they're going to be at another location as well."
It has also reduced locums credentialing time. "Time spent with credentialing is a really huge piece," Kiser says. "Typically, in the beginning, we credential them for all locations. So when we have an urgent need, we don't have to spend time trying to get someone urgently credentialed."
UnityPoint says centralizing locum tenens has helped them better monitor spending, reallocate resources for greater efficiency, and fine tune their recruiting efforts.
Executives now receive a monthly report on locum tenens spending across the UnityPoint system. "It really allows us to look at the bigger picture of what we're spending, where are we seeing the most amount of spend across the system, and in what specialties are we seeing the most amount of spend," Johnson says. "It makes it much easier for us to make some good strategic decisions so that we're able to reduce costs."

Strengthened relationships with agency partners
Through the centralization process, UnityPoint ended up reducing the number of its locum tenens agency partners down to one primary agency and a very small handful of specialty partners. Aspirus saw a reduction from roughly 20 partners to about 10, says Kiser.
For both organizations, reducing the number of agency partners has helped build stronger relationships with the partners who best fit their needs. "We knew who worked the best with us, who was able to fill our needs the most, who we trusted the most, and who we could work with," explains Kiser.
Crucially, the agencies that Aspirus continued to partner with demonstrated a thorough understanding of which candidates would be compatible with Aspirus. "Not just who is going to be able to do the job but be a good fit culturally for Aspirus. That's huge for us," Kiser says.
Worth the effort
Every healthcare system is unique and brings its own challenges and needs to locum tenens centralization. "This is not a one size fits all arrangement and what works for us may not work for everybody," Johnson acknowledges. However, he says, "I would encourage any organization to explore the option."
Centralizing locum tenens may require time and effort — but that's OK, says Kiser, "because you are really developing those better relationships, both internally and externally. And your end result is a well-oiled machine that will keep itself going for years to come."
Read more: UnityPoint Health centralization case study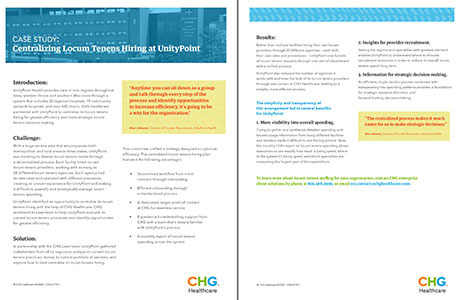 CHG can provide your healthcare facility with the physicians and advanced practice providers you need to grow your organization. To learn more, contact us by phone at 866.588.5996 or email ecs.contact@chghealthcare.com.