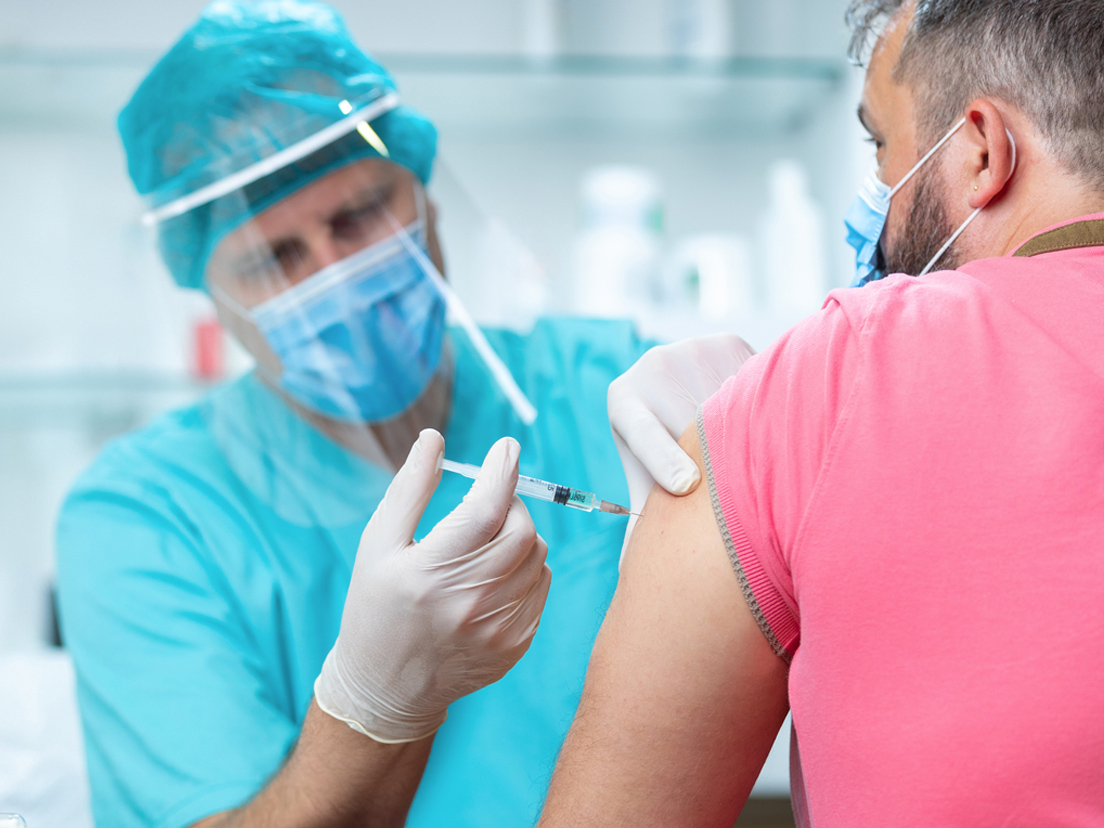 With two COVID-19 vaccines rolling out across the country and more potentially on the way, the challenge now turns to vaccinating enough people to reverse the virus's spread. And healthcare facilities have an important part to play in encouraging the patient population to get vaccinated. Despite widespread logistical difficulties and lack of vaccine confidence, here are five ways you can increase patient confidence in the vaccine.
1. Make PCPs the messenger
Distrust in the vaccine is high, with a reported one-half to one-third of the population stating they're not ready to be vaccinated. Healthcare organizations, however, can help educate patients about the benefits and risks of vaccination.
"The good news is that most patients still trust their doctor," says Brandi Greenberg, VP of life sciences and ecosystem research at Advisory Board. "If I'm a clinical leader right now, I'm arming every single clinician, nurse, physician, and social worker with the talking points that they need to be able to have the kinds of conversations and sensitivities that can get more vaccine-hesitant patients to at least consider getting the shot."
A recent survey by Klein & Partners about the COVID-19 vaccine found that of those unlikely to get the vaccine, 24% of respondents said their primary care provider could convince them to be vaccinated. Further, 17% of respondents said they'd be convinced if their PCP received the vaccine first.
The survey also found that PCPs were the most trusted source of vaccine information, at 28% of respondents. Its authors recommend all healthcare facilities develop coaching and communication tools for physicians on how to best speak with patients about the vaccine.
2. Do proactive outreach
While PCPs are shown to be effective vaccine advocates, not all patients have a PCP or see a doctor regularly. In order to reach those who normally don't access health services, community outreach can be an effective tool.
In Denver, the public health system set up community flu clinics in COVID-19 hotspot areas. They tried to make them as accessible as possible by holding the clinics on nights and weekends, using multiple languages, and making the vaccine free.
Although these clinics distributed the flu vaccine, Greenberg says it can help patients be more comfortable with vaccines in general. "The real goal was to have the folks who were giving the flu vaccine start a conversation, build trust, and offer reassurance that when they showed up in the same parking lots, or the same community health clinics, or the same Boys & Girls Clubs a few months later to give the coronavirus vaccine, there will be a history of trust that they've built up over months," she says.
3. Keep your online information up to date
While many individuals prefer having real-time discussions about the vaccine with their caregiver, it's a good idea to provide relevant, updated information on your online platforms as well.
The Klein & Partners study found that providing messaging about why the vaccines are safe and effective is key to making people feel comfortable getting vaccinated, and 33% of respondents said they prefer to receive vaccine-related information from their healthcare providers' website.
In addition to being accurate and easy to understand, website visitors want to quickly find information about COVID-19 testing and vaccine distribution. The survey concluded that for many patients, how they feel about the COVID-19 information on your website reflects how they'll feel about your website — and your brand — overall.
4. Connect patients to people they trust
Different populations have differing views on the COVID-19 vaccine. Understanding who is in your community can help you determine how to best reach out to them.
While some minority populations are hesitant to receive vaccines, these same communities are the ones most impacted by the virus, according to an op-ed by Pilar Ortega, MD, in Medpage Today. "This is precisely why it is critical that we give visibility to the scientists, doctors, and leaders who come from the communities who have been harmed," she writes. "They understand their fears; they speak their languages."
Greenberg shares one such intervention that was successful: "When researching strategies that reduced MMR vaccine hesitancy within certain ethnic immigrant communities, my team found several cases where organizations sent physicians or nurse practitioners or social workers with similar ethnic backgrounds to speak with people in those communities. They sent those folks — not to a medical setting or a hospital education session — they sent them out to the Mommy and Me groups, they sent them out to story hour, and they sent them out to the places where the moms and the kids were. This enabled the vaccine educators to get to know the moms as people, so they could then have the conversation about why they chose vaccination for their own families."
5. Tell vaccination stories
Sharing stories about clinicians and other patients who've received the vaccine can also go a long way toward educating the public, says Greenberg.
"How many clinicians are putting pictures of themselves getting vaccinated on Facebook, on Instagram, sharing stories of what it felt like, why they're excited about it," she says. "I think that stuff matters."
"The more that clinicians can share their stories that clarify, 'this is how I felt, and after that, I was fine, but I did it. Here's why I think you should' the easier it will be for positive vaccine stories to circulate widely in digital spaces. I think it's really going to go a long way," she adds.
In addition to clinicians and public health workers sharing their own experience with the vaccine and its side effects, Greenberg recommends providing tools for the public to share their own stories. "You can have campaigns to say, if this worked for you, share your story with five other people or post about it," she says.
Think outside the box
As the country undertakes the largest vaccination campaign in its history, Greenberg urges healthcare leaders to find new and creative ways to boost vaccine confidence.
"This is about thinking outside of yourself, this is about thinking outside of your own practice's best interests, or your own health system's best interests, from a competitive landscape," she says. "This is about public health and about our communities and about reaching out to people and organizations who we may otherwise think of as outside of our health system network, and potentially even competitors, to make sure that our population gets vaccinated."
CHG can provide your healthcare facility with the doctors, nurses, and allied professionals you need to provide the best care for your community. Contact us by phone at 866.588.5996 or email at cs.contact@chghealthcare.com.