Executive summary
Anxiety levels are high for healthcare providers due to the COVID-19 outbreak. A recent study performed by CHG Healthcare of more than 1,200 physicians, PAs, and NPs sought thoughts on anxiety levels, workload, and COVID-19 restrictions.
Anxiety levels are up
While 41% of the providers surveyed had not treated COVID-19 patients or those with COVID-19 symptoms, anxiety levels were still up amongst all physicians, PAs, and NPs. Seventy-two percent reported slightly or significantly more general anxiety in their lives. They also reported being concerned with being infected themselves (56%) or potentially giving the virus to a family member or loved one (68%). One respondent said:
"My biggest concern was not for myself but for my family. The only concern for myself is that everything I've worked for and sacrificed for will be lost because I owe a mountain of student debt and my employment is not guaranteed. I am putting my life on the line daily without hesitation or complaint with the hope that I can keep my job and eventually pay off the debt I took on that put me in my position to begin with."
Work is down
Layoffs and furloughs are almost unheard of in healthcare. This pandemic has found many physicians, PAs, and NPs filing for unemployment for the first time in their lives. Sixty percent of respondents reported they were full-time or part-time, 7% had been laid off, and 6% had been furloughed. Of those still working, 74% were working less today due to the pandemic. Only 11% were working more than before. The primary reason for the decrease in work was lower patient volumes (43%) and the pause in elective care (26%). One respondent commented:
"I love working in healthcare. In the beginning we were in great need. It has been very hurtful that for three weeks we were needed so much and after that we were told to take PTO and then get our hours cut. I am grateful to have a job, but I wish things were better."
For those who were furloughed or laid off, most indicated they would file for unemployment (62%), reduce expenses (57%), or rely on savings (52%). Some are actively looking for new positions (46%), while others are working locum tenens (37%) or finding work in telehealth (26%).
Providers want to work
Most providers (73%) want elective care to begin within the next month if not sooner. Sixty-two percent would also like to see stay-at-home restrictions in their states eased during the same timeframe. Psychiatrists were the only group that thought elective care should be held off for two to three months.
Whether they are currently working or not, providers are showing more interest in choosing alternative career paths like locum tenens (37%) and telehealth (30%), and 24% are looking to change employers. Another respondent said:
"Glad to be part of the solution, even though I have been cancelled twice."
Survey report
Anxiety is high
The anxiety level of healthcare providers has risen dramatically since COVID-19 became a worldwide pandemic. Seventy-two percent report having slightly or significantly more anxiety since the pandemic began, while only 59% have treated a COVID-19 patient or a patient with COVID-19 symptoms.
Overall anxiety level of physicians, PAs, and NPs compared to before the COVID-19 pandemic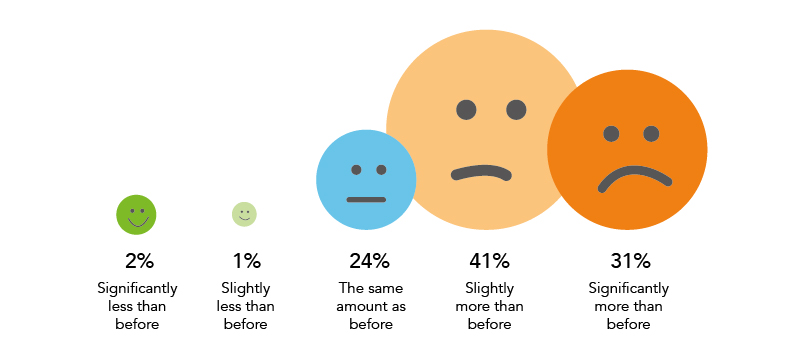 Providers who have treated COVID-19 patients or those with COVID-19 symptoms

Providers also have high anxiety about exposing themselves and their families to COVID-19. Only 8% have no concern about being infected themselves and just 11% were not concerned about passing it on to their families.
Level of provider concern with becoming infected with COVID-19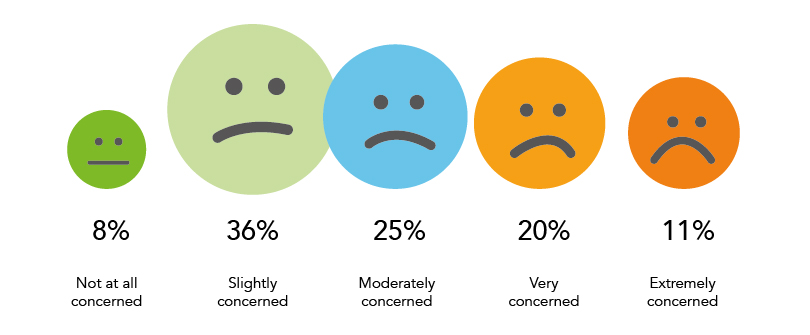 Level of provider concern with infecting their family with COVID-19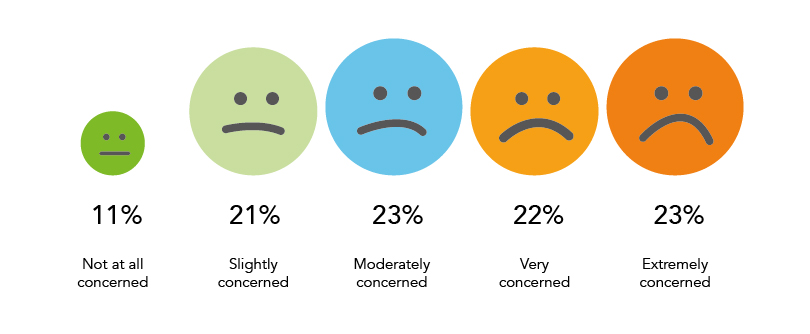 Working status
In addition to concern about the virus, providers are also feeling stressors not commonly seen in medicine. With 7% reporting being laid off and 6% furloughed, healthcare is facing a staffing crisis never seen before. Traditionally, healthcare has always had strong job security but the restrictions on elective care has changed the healthcare landscape.
Current employment status of physicians, PAs, and NPs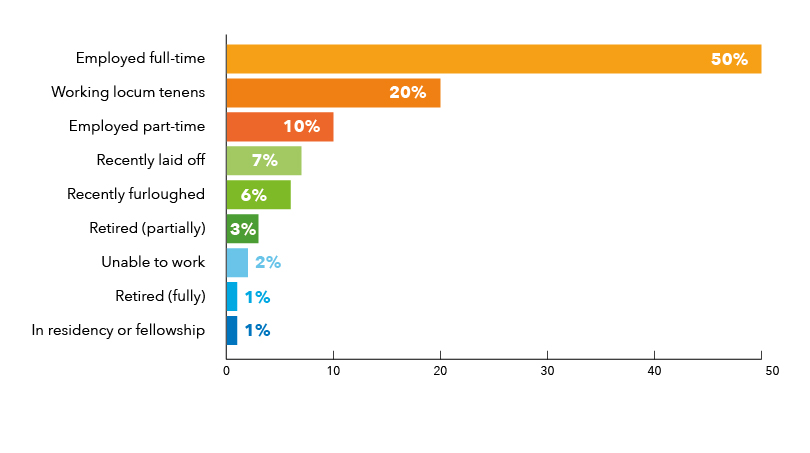 The majority (74%) of those working reported that they were working less than before the outbreak, with 56% reporting working significantly less than they did before. Only 11% are working more today than they were pre-COVID-19.
How COVID-19 impacted healthcare provider workloads

The decrease in workload is largely due to lower patient volumes (43%) or stopping elective care (26%), and only 2% voluntarily chose to reduce their own workload. In smaller categories some PAs and NPs mentioned being furloughed so the physician(s) in their practices can see the limited number of patients coming in. Some providers also mentioned their age or being immunocompromised as the reason they needed to decrease their workload.
Cause of decreases in workloads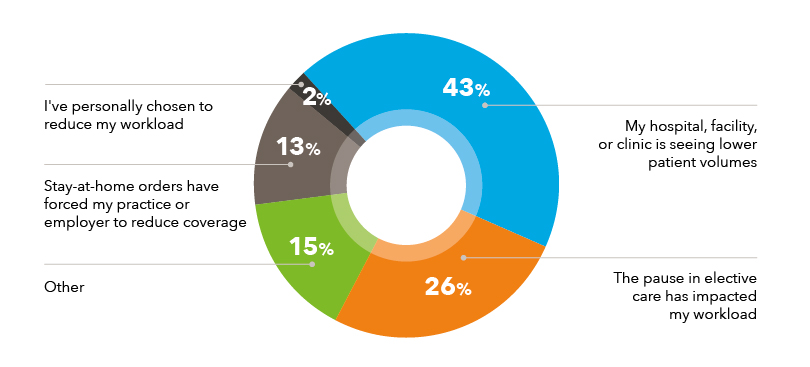 Those who were laid-off or furloughed reported that they were filing for unemployment (62%), reducing expenses (57%), and relying on savings or investments (52%) to maintain their income. Many are also looking for new permanent positions (46%), working locum tenens (37%), or working in telehealth (26%).
Methods furloughed or laid-off providers will maintain their income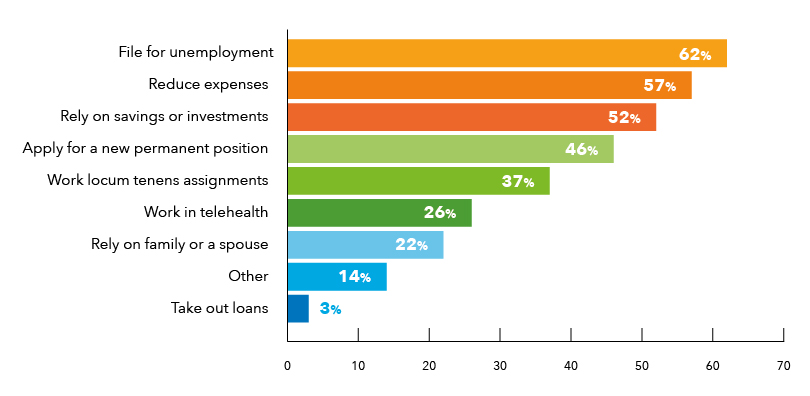 As healthcare providers look to the future many are looking to stay with their current employers (44%) while many are looking at options in locum tenens (37%) and telehealth (30%). A desire to be able to work from home appears to motivate many of those interested in telehealth. And for those who are interested in working locum tenens 45% want to pick up an assignment in the next month and 30% are looking for work in the next few months. Others are also using this time to permanently relocate to be closer to family or just to live in a different part of the country.
Providers' plans for working in the future in light of the COVID-19 outbreak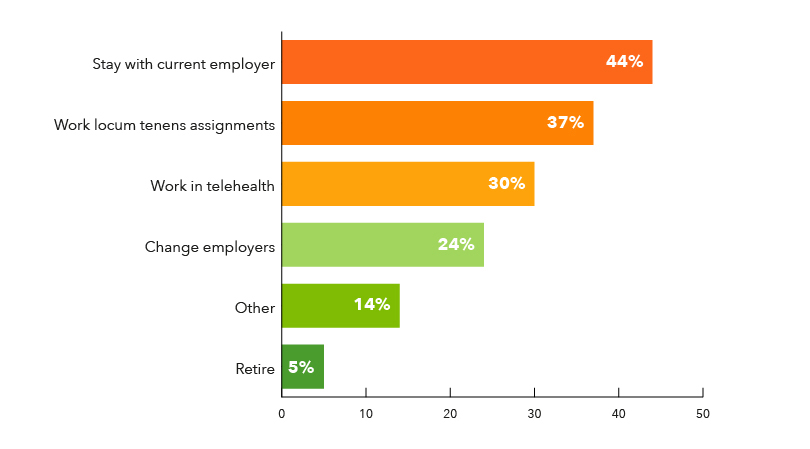 COVID-19 restrictions
The COVID-19 pandemic has changed the way everyone in the U.S. and much of the world lives their lives. Healthcare providers are ready for elective procedures to come back with 73% wanting them to begin in the next month or sooner. Looking at the data based on physician specialties the majority want elective care to open in the next month, with just psychiatry split between pushing for opening in the next month or the next two to three months.
When should elective care resume?

When should elective care resume? Responses by medical specialty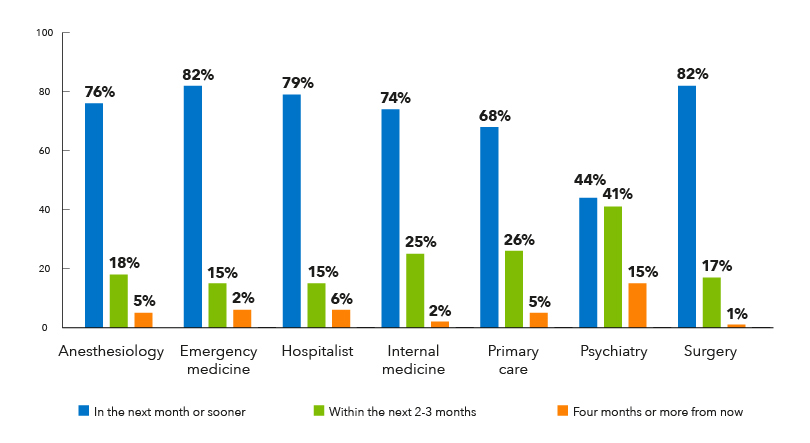 Providers are also ready to see stay-at-home restrictions eased with 63% wanting things open in the next month, if not sooner. Thirty-one percent think they should be lifted in the next two or three months.
When should stay-at-home restrictions be lifted?
When asked to rate the response of various groups to the pandemic, providers rated their fellow healthcare workers the highest (77%) and gave them very few low marks. State governments and the providers' own institutions had split reactions with both positive and negative ratings in the 34% to 37% range. The two groups that had overwhelmingly negative ratings were the U.S. Legislature (70%) and the White House (62%).
Ratings on the response to the COVID-19 pandemic

Methodology
CHG Healthcare surveyed 1,285 physicians, NPs, and PAs across the country. The estimated margin of error for proportional questions is +/- 2.7%. The goal of the survey was to find out the views of healthcare providers on the COVID-19 pandemic and how it was affecting their work lives.
About CHG Healthcare
CHG Healthcare is a leader in healthcare staffing. Through its family of brands, including CompHealth, Weatherby Healthcare, Global Medical Staffing, RNnetwork, Foundational Medical Staffing, LocumsMart, and Modio, CHG serves thousands of healthcare facilities and their patients around the country and the world.