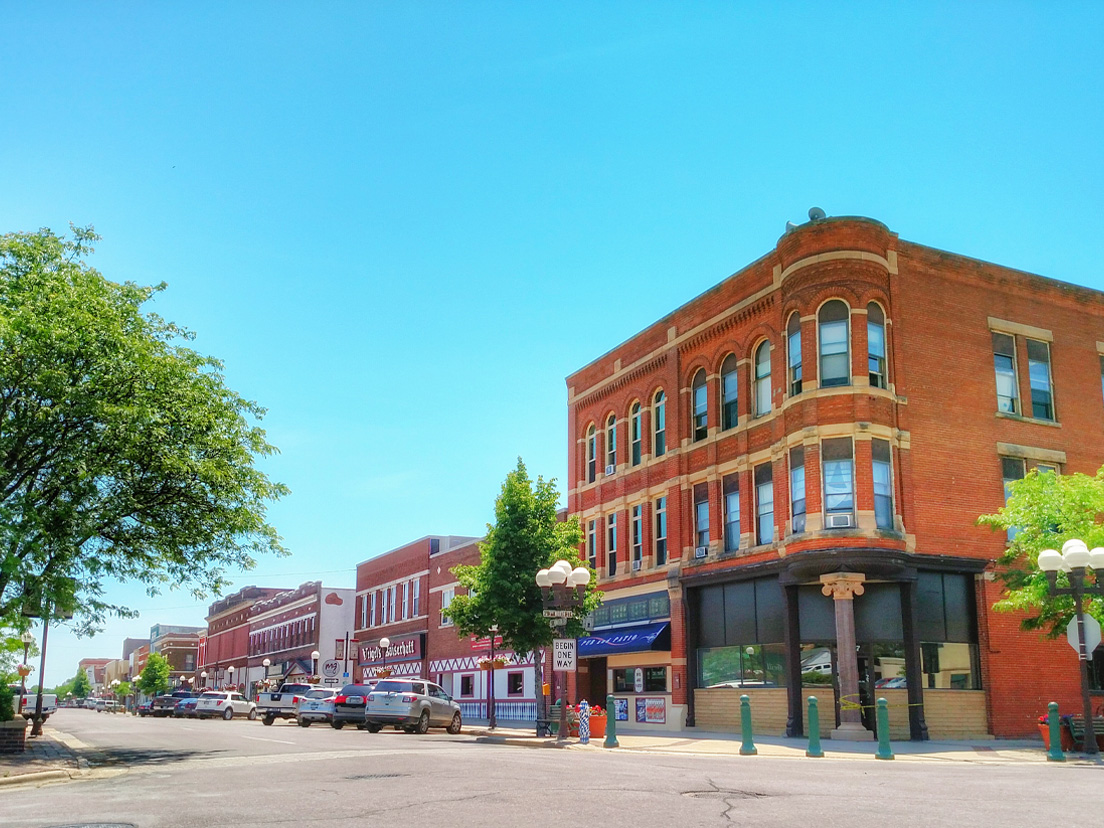 Rural hospitals that are part of a large health system often find it challenging to customize services for the local community while still conforming to the requirements of the larger organization. But New Ulm Medical Center, a critical-access hospital in southern Minnesota, has found the perfect balance — leveraging all the resources of Allina Health while staying true to its local roots.
New Ulm is fully integrated with Allina Health, a system with 12 hospitals and more than 90 clinics spread across Minnesota and western Wisconsin. This thriving partnership has enabled New Ulm to "neutralize geography to bring the very best of Allina Health to the community, so it doesn't matter if you're in New Ulm or Minneapolis," says Toby Freier, president of New Ulm Medical Center.
Large system, local care
New Ulm Medical Center is located in the heart of New Ulm, MN, a city with a population of a little more than 13,000. It has 25 beds and an additional 20 beds for mental health and addiction services and offers an array of specialized services.
The key to New Ulm's success has been finding balance between the needs of the rural community and the directives from the larger health system.
"By no means do we operate independently here like a subsidiary. We function, operate, and make decisions on an integrated basis, but I feel I have the trust and support of Allina Health executive leadership because I know this market really well," Freier says.
He notes that many of Allina's system-wide initiatives are directly applicable to New Ulm. However, "There's times those need to be personalized and fit to a rural community. It's just not going to be the same in Minneapolis, Minnesota, as it's going to be in New Ulm. Thankfully, we have system leaders that recognize that."
For example, a specialty care model — like obstetrics or cardiology — may be different in New Ulm than it is in the Twin Cities, "but that doesn't mean we don't have an opportunity to leverage much of the system expertise and some of the clinical protocols of getting to safe care."
And the influence flows in both directions. For example, Freier has met with the department chairs at Allina's Abbott Northwestern Hospital to discuss rural health and help those leaders understand how to better support rural communities.
Stronger together
New Ulm has been part of Allina Health for 40 years, and it's nearly doubled in size and service offerings since Freier joined the organization 15 years ago. It encompasses a hospital, clinic, home medical equipment, homecare, hospice, pharmacy, and eyecare services, and it employs more than 60 physicians and advanced practice providers. Freier says New Ulm was recognized nationally as the top critical access hospital in 2019.
The support of Allina Health has not only enabled New Ulm to expand its offerings, but it has also helped the facility attract and retain physicians. Crucially, the organization has a 30-year professional services agreement with the physicians group that establishes shared governance and shared leadership. It's an arrangement that Freier says is "almost unheard of across the country."
"They get the best of both worlds: lots of system support from Allina Health and flexibility with their practice to cover the needs of our rural medical center and good life balance. I like to call it guided autonomy," he says.
Focusing on community health
Other than the specialty services from New Ulm Medical Center, there are limited specialist services offered in a region that spans 100 miles. That dearth of services makes it even more important for New Ulm to tap into the resources of Allina Health to strengthen the offerings in the area.
"It's great we have back office support, access to capital, a stronger financial bond rating. That's all great, but if it doesn't lead to better access, higher quality, and overall higher value care, I don't know that the system relationship is adding what it could — and that's what we've worked on here with Allina Health in this market," Freier says.
A rural hospital shouldn't just be a feeder into the large tertiary care system, he says. Instead, the system should do everything it can to help patients "remain as close to home as they can for as much of the care they can, ensuring that it's high-quality care."
Freier points to the Abbott Northwestern-based Minneapolis Heart Institute as an example. This Allina facility is known as a national leader in cardiovascular care. However, New Ulm has worked to extend as much cardiovascular care into the community as possible, so patients only need to make the two-hour trip to Abbott Northwestern when absolutely necessary. Physicians from Minneapolis Heart Institute come onsite at New Ulm through an outreach program and offer weekly telehealth consultations. And physicians at New Ulm have everyday access to cardiologists by phone and an APP for consultations.
"I think a lot of rural hospitals would acknowledge they're needing to send more patients than they would want out of their community because they just don't have the capabilities to take care of a lot of hospital-based or specialty services," Freier says. But with New Ulm's model, "We have now become an importer of healthcare."
Balancing collaboration and competition
In an area with scarce healthcare resources, collaboration between providers is essential for promoting population health.
"We want to be known for 90% collaboration, 10% competition," Freier explains. "My goal is that we help our communities win, and when they get access to high-quality, high-value care, then we're winning."
New Ulm actually shares physicians with other independent hospitals in the area. "One example is we have general surgeons partner across three communities to share weekend call — because call in a rural community can be brutal," he says. "Once you're in rural, you better be working together."
When it comes to strategies for improving rural healthcare, Freier says, "The time is now. We've been given the gift of new technology, new platforms, new virtual capabilities to really neutralize geography."
These days, he says, very little care requires a highly specialized tertiary care facility. His advice for rural facilities is to "truly evaluate, assess, and then build relationships with systems, with clinical service line leaders. How might we enhance and extend healthcare and improve access to populations and rural communities? I start with access. That's where 90% of my work is — how do I create a model that does everything we can to provide the services that are needed by rural populations?"
This article first appeared on WeatherbyHealthcare.com. Weatherby Healthcare is a division of CHG Healthcare. Let us know how we can support your facility's staffing needs. Give us a call at 866.851.9214 or email ecs.contact@chghealthcare.com.