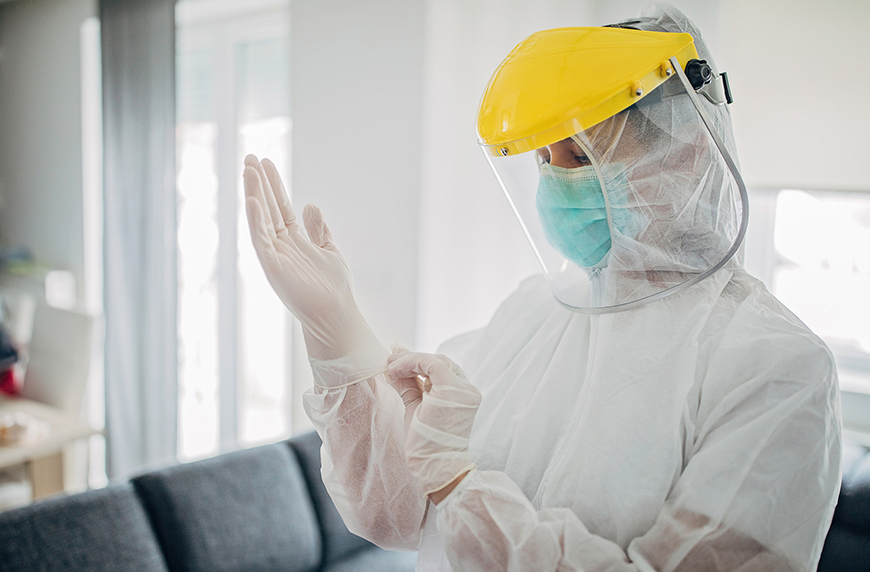 PPE has been in short supply since the COVID-19 pandemic began, with many healthcare facilities turning to non-traditional avenues to find the gear they need. As U.S. coronavirus cases continue to rise and strain the country's PPE supply, manufacturers are finding new ways to meet the healthcare industry's needs. At the same time, the crisis is driving a surge of innovation to find new solutions to the PPE shortage.
The need for innovation
"There really hasn't been a lot of innovation in personal protective equipment over the last two decades," says Allison Pearsall, senior healthcare customer marketing leader at Honeywell, a leading manufacturer of PPE. "There was quite a bit of revolution in the PPE industry in the '50s, '60s, '70s, and '80s, but the last two decades have been more focused on cost control and you haven't seen a lot of innovation."
But the pandemic is changing that. With the PPE shortage forcing many hospitals and clinics to stretch the use of disposable products like N95s, companies like Honeywell are finding new solutions to meet their customers' needs.
"Honeywell is focusing significant resources on creating products that are easier to use, more protective, and more comfortable, and it's our expectation that you'll see other companies doing the same." says Pearsall. Similarly, how can products withstand reuse? How can they be more cost effective?
Evolving today's protective gear
Across the country, PPE production is up.
"There are hundreds, if not thousands, of people working behind the scenes night and day to ramp up supplies and bring it to them as quickly as possible," Pearsall says.
PPE manufacturer 3M has doubled their N95 production globally and is on track to produce two billion respirators by the end of 2020, according to Tim Post, 3M communications manager. But with demand still outpacing supply, 3M is looking at additional ways to improve.
"We're collaborating with several manufacturers and institutions that are investigating ways for hospitals to safely decontaminate, reuse, and extend the life of N95 respirators under FDA Emergency Use Authorizations," Post says. "3M additionally evaluates the compatibility of those methods with 3M respirators to help ensure the methods do not damage the critical filtration and fit of the respirators."
The company isn't only focused on improving their N95s. Post says 3M has partnered with manufacturers like Ford Motor company and Cummins to design a new powered air-purifying respirator (PAPR) and to create more effective particulate filters for those PAPRs. Plus, 3M added anti-fog properties to their face shields, improving providers' visibility during prolonged sessions of wear.
Turning to other solutions
While N95s may be the go-to PPE solution for healthcare facilities across the nation, other, more cost-effective and sustainable solutions to the PPE shortage are being explored for more widespread use. MSA Safety, for example, specializes in making elastomeric respirators — and they've seen more interest recently from healthcare organizations, such as Allegheny General Hospital, which expanded elastomeric mask use for a recent test program.
"The elastomeric respirator is capable of being continuously cleaned, disinfected, and put back into service," says Stephanie Sciullo, MSA vice president and chief legal officer who's been instrumental in raising awareness around the benefits of using these respirators.
"One of these really has an ability to displace a thousand disposable respirators," Sciullo says. "And it's something that psychologically helps healthcare workers understand they're as protected as they could be. Allegheny General can tell their workers they're using a P-100 filter, that it's the best filter out there that science has available."
While the cost of an individual elastomeric mask is more than an N95 respirator — about $35 compared to $0.40 — the cost savings of repeated use is undeniable. "An elastomeric program is, conservatively speaking, ten times cheaper per month because of the reusability," Stephanie explains.
Looking to the future
"The industry is truly mobilizing and all hands are on deck to ramp up and meet the need of the healthcare industry," says Pearsall. "You'll certainly see more innovation in the future, once the supply is back. Our expectation is that it will continue to improve steadily over the coming months."
Until then, Pearsall advises healthcare systems to be thoughtful as they evaluate infection prevention products available now. "There are a lot of different companies and organizations trying to make available solutions to fill the gap in the marketplace," she explains. "Ensure that your supplier is delivering a quality product and that it's going to meet industry standards for performance."
CHG Healthcare can provide you with the doctors, nurses, and allied professionals you need to staff your facility. To learn more about our staffing solutions, give us a call at 866.588.5996 or email ecs.contact@chghealthcare.com.