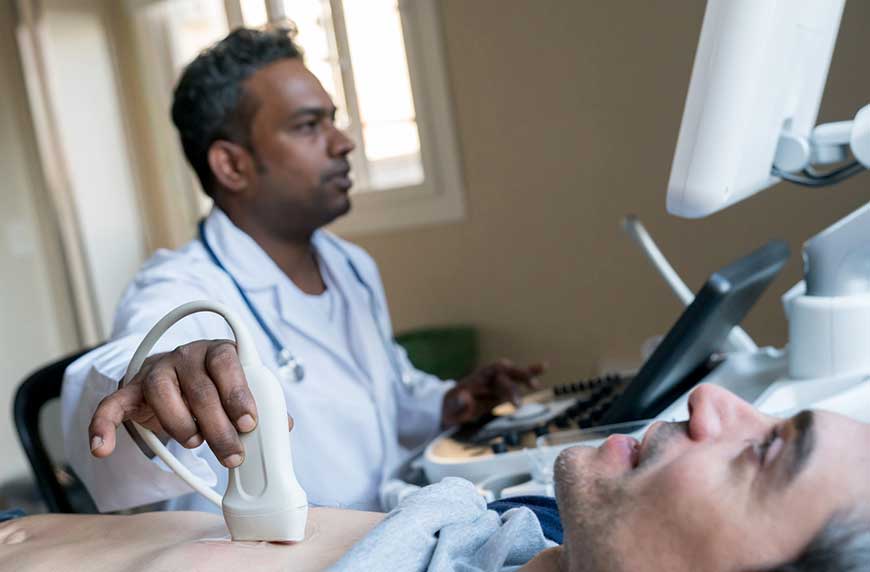 The COVID-19 pandemic has exacerbated a problem that was already affecting many healthcare systems in the United States: there simply aren't enough physicians to go around. In addition, nearly one-third of practicing physicians are foreign born, many of whom require a visa to practice or complete necessary training.
This past year has been even more challenging for foreign-born physicians and the facilities hoping to hire them. Both the pandemic and federal immigration regulations made getting work authorizations even more difficult than usual. Still, many organizations are finding that J-1 and H-1B visa-holders are a great solution to providing care in harder-to-fill specialties.
The J-1 challenges of 2020
Even in a good year, the process to authorize a foreign-born physician to work in the United States is complicated, and the pandemic made it more difficult than usual.
Many physicians expecting to begin residencies this summer were unable to start on time because of confusion surrounding visa approvals and changes made by the federal government in response to the pandemic. Additionally, many new incoming medical students were denied visas due to their universities choosing to hold classes online, which the government said violated student visa regulations.
The result was a decrease in the number of visas approved this year, says Michael Atkinson, vice president of CompHealth's permanent placement division. It's also made healthcare organizations more hesitant to sponsor foreign-born physicians on an H-1B visa or J-1 waiver, because there's no guarantee they'll be granted a visa, he says.
However, Atkinson says many of the healthcare organizations CompHealth works with are still open to hiring physicians who need visa sponsorship, especially if they're already practicing in the U.S. "A lot of our clients prefer to hire people who are already here on a visa because it's an easier transition, as opposed to trying to bring people in from the outside on a new visa," he says.
Joshua Irvine, managing attorney at the healthcare immigration law firm Irvine Legal, says he's noticed some clinics have expanded their recruiting efforts to include foreign-born physicians. "Smaller clinics are trying to be more creative because it's difficult in the traditional recruiting world right now," he says. "They're considering for the first time visa candidates and J-1 waiver applications."
Improvements will be slow to materialize
With a new administration entering the White House in January, many are hopeful for changes that will make it easier for foreign-born physicians to work in the United States.
Atkinson speculates that changes are likely, although they won't happen right away. "Under a new administration, we are optimistic for a more relaxed immigration policy. I think we'll see a change, maybe in the following year," he says.
Irvine agrees that any changes will take time. "There's nothing that will immediately take effect," he says. "There have been discussions about changing the H-1B program or changing the J-1 waiver or creating a different system, but if that does come to pass, it's going to take several years to do so."
One potential avenue for change is a bill introduced to the U.S. Senate, the Healthcare Workforce Resilience Act, which would allocate up to 40,000 unused visas for international medical graduates and exempt those visa holders from existing country-based quotas. Whether or not the bill will pass is unclear at this time, but allocating additional visas would be a step toward putting more foreign-born physicians to work in the U.S.
The future of the physician workforce
Physician shortages affect the entire country, but they're more pronounced in rural areas, where it can be harder to recruit. Foreign-born physicians and international medical graduates are more likely to provide care in these settings, but they're only able to practice if they can obtain a visa in the first place.
Atkinson worries that the pandemic and recent visa limitations will further increase the country's physician shortage. "We don't have enough physicians coming out of residency programs in the U.S.," he says, adding that most of the visas that are issued go to primary care physicians, leaving much-needed specialty positions empty.
"Something has to change," he says. "We don't have enough physicians and the shortages are going to increase. Coupled with the fact that we've lost healthcare providers due to the pandemic, policy will need to change regarding the available visas for physicians to build up the numbers in the U.S. We can't get doctors out of residency fast enough."
Continuing to provide care
Despite the challenges of obtaining a visa, foreign-born physicians and international medical graduates are still coming to the U.S., and they fill a valuable role in providing care to underserved communities.
"I think there's still a lot of interest," says Irvine. "Right now, despite COVID, the U.S. is still an attractive destination for a lot of medical providers." For organizations willing to engage in the visa sponsorship process, they'll likely find a motivated physician who's grateful for the opportunity to provide care.
For additional questions regarding physician or allied immigration options for current or future hires, Irvine Legal has generously offered a free consultation. Call 385.333.7966 or email joshua@irvine-legal.com to learn more.
This article first appeared on CompHealth.com. CompHealth is a division of CHG Healthcare. Let us know how we can support your facility's staffing needs. Give us a call at 866.588.5996 or email at ecs.contact@chghealthcare.com to learn more.