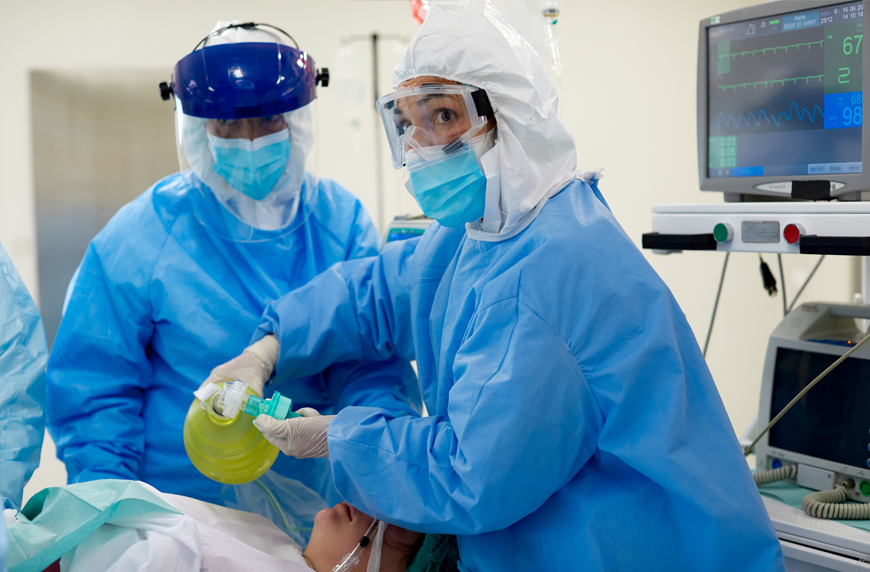 In mid-March 2020, medical students and residents woke up to an abrupt new reality: classes and grand rounds moved online, some hands-on experiences evaporated, and the future of healthcare — and healthcare careers — suddenly seemed more precarious than anyone could have imagined. The COVID-19 pandemic generation of medical students and residents are facing a radically altered physician training experience, which will have a lasting impact on their careers and lives. Leaders who understand how they have been shaped by the pandemic will be better able to recruit and retain these talented young physicians.
An education disrupted
For second-year medical student Lucy Galvin, the shift away from in-person learning was disruptive and dramatic. It wasn't so much the lecture-hall sessions she missed, but the small-group work sessions, where students work through case studies and learn how to support patients. "That's something that we always, always look forward to," Galvin says. "It keeps all the science very relevant."
While the lectures moved online without missing a beat, she says, the small-group sessions were paused for a few weeks until they could be resumed via videoconference. Also halted were the community placements that give early medical students hands-on experience interacting with patients. Instead, students used telehealth technology to interact with patients.
"I didn't realize how different that experience would be," Galvin says. "There was no more listening to your heart and lungs; I can't look inside your mouth. So everything that you're telling me is that much more important."
Unable to assist on the frontlines, Galvin felt helpless — so she volunteered in the community with COVID-19 testing operations. Even so, Galvin was swamped with feelings of isolation. "What really started to hit me the hardest was not seeing my fellow students and not seeing my professors. You really take for granted a lot of that interaction," she says. "The pure isolation of just you and your computer for months is definitely emotionally draining, especially when we're going through something very stressful and exciting — but it's a lot, and the comradery is very, very vital."
Most residents were able to remain working in clinical settings. "My clinical day-to-day work in the emergency room is all still in the emergency room," says Christina Gallerani, a fourth-year resident in emergency medicine at George Washington University. "There's not really any substitute for being in the ER, and even during the pandemic we all went to work."
That doesn't mean her education wasn't altered: lectures went virtual and "we have done some simulation and other clinical practice in very small group settings as opposed to doing things with a bigger group."
Learning self-care
The stresses of the pandemic have led to a renewed focus on physician wellness. It's also affected how medical student and residents — and their advisers — think about wellness and self-care.
Rita A. Manfredi, MD, FACEP, an associate clinical professor in the Department of Emergency Medicine at The George Washington University School of Medicine, compares the trauma physicians are enduring in the emergency room to the trauma of war.
"This is very, very concentrated and it's a very traumatic experience," Dr. Manfredi says. Emergency physicians are known for their resilience, and she worries that hospital leaders don't realize how close to the breaking point some physicians have come.
Gallerani says the COVID-19 pandemic "has affected all the facets of being a physician, not just your day-to-day practice." In particular, she says it has made it harder to manage the stress of work when she leaves the emergency room.
"It's important to be able to see a future that gets better, but I think at this point the pandemic has been so protracted that the future is harder to visualize," she says.
For Galvin, the pandemic helped her realize she needs to learn self-care techniques now — well before she begins practicing as a physician. "I need to step up my self-care game," she says. "I need to start figuring out how I relieve stress, how to connect with people if I can't see them right now, so that when I do become a physician, I'll have those techniques under my belt."
An uncertain future
The pandemic's shockwaves will extend well into the future for graduating residents. Even as conditions begin to normalize, many healthcare organizations are facing reduced patient loads and revenue shortfalls. As a result, organizations are not hiring at the same pace.
Dr. Manfredi says many graduating emergency medicine residents are having difficulty finding jobs. "That's just not something that happens in emergency medicine, so there's a lot of anxiety. The second and third years are seeing what's going on with the fourth-year residents, so they're becoming anxious," she says.
Some residents are choosing to complete a fellowship while waiting for the job market to improve, Dr. Manfredi says. "Some are saying, 'I'm just going to do locums, and this will be where I can explore, see what I like, see what I don't like and take it from there.'"
"I do not currently have a job secured for next year," Gallerani says. In fact, the job market feels uncertain in a way she never expected. "I went into emergency medicine with a sense that this is a very secure field, but now it's unsettling to come out and feel like it's less secure, at least right now," she says.
Lessons for leaders
Dr. Manfredi says employers need to understand that this generation of medical students has had an education unlike any other class of students.
"We came out of training when there was something relatively unprecedented happening," Gallerani says. "This is one of the defining hallmarks of our training and maybe even our careers. It's a pivotal moment in history and I think it's forced us to be adaptive and forward thinking."
For Gallerani, her ideal workplace will be one that supports continuing education and will be "amenable to change and suggestion." She says, "I think a physician's voice is important in something like the COVID pandemic, where you have to have the perspective of the people on the ground."
Dr. Manfredi believes a greater commitment to supporting work/life balance will be crucial to attracting and retaining the COVID-19 generation of new physicians. "Administrators need to have a strategy moving forward, because what they're dealing with now is a population of healthcare providers who are savvier about the importance of wellbeing. There's going to be an expectation from clinicians that it's part of their job and it's not just a monetary transaction," she says.
Galvin agrees with that assessment. "If they could emphasize a good work/life balance, that's very, very attractive immediately. If they can emphasize cutting-edge technology, that will attract a lot of future physicians."
While the pandemic physician training experience has been unusual and, sometimes, stressful, Galvin says it's also been inspirational. "As a medical student, I've just been so grateful for our role models. They truly knocked it out of the park for us," she says. "When we become MDs ourselves, we're going to have huge shoes to fill. Hopefully, we're up to the task."
This article first appeared on CompHealth.com. CompHealth is a division of CHG Healthcare. Let us know how we can support your facility's staffing needs. Give us a call at 866.588.5996 or email ecs.contact@chghealthcare.com to learn more.