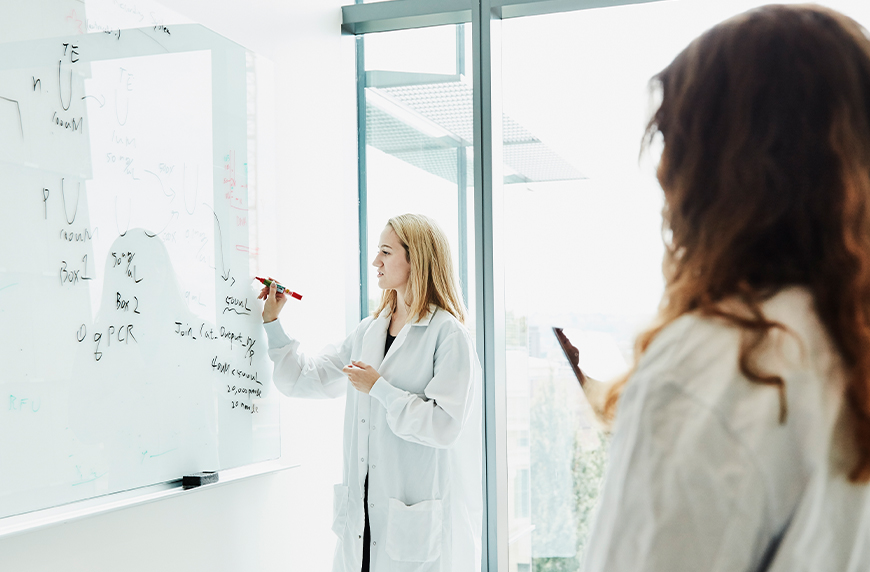 Amid rapid expansion, Marshfield Clinic Health System has found itself relying on an increasing number of locum tenens physicians to maintain needed coverage while physician recruiters race to catch up with growth. Marshfield Clinic operates 11 hospitals in more than 60 locations throughout Wisconsin and branching into Michigan. Trying to manage so much growth, while maintaining relationships with more than 20 different locum tenens agencies, was becoming increasingly untenable. Marshfield's locum tenens recruitment team knew it was time to improve the locum tenens process and build beneficial partnerships with a smaller group of agencies. Here's how they did it.
Assess the current situation
"When I came into this department, we had over 20 contracts with different agencies, and you can't physically manage 20 contracts. You can't make sure you have good relationships with people, that you're following terms, that you're staying within your guidelines," explains Tarese Dubiel, director of physician & APC recruitment & onboarding for Marshfield. "I don't want 20 contracts. I just want a few contracts with really good partners."
To start, the team reviewed all locum tenens contracts to understand what each agency was being used for. "A number of them were evergreen — they just automatically renew every year unless either party decides to make a change. So, we had contracts with agencies in place who we hadn't worked with in years," says Lisa Krall, locum tenens recruiter for Marshfield.
Even if a contract is running on autopilot, its existence still creates work for the team. "They're presenting candidates to you, so even if you're not responding or accepting candidates, it's still work that's being done, it's still time in your day to respond to that," says Dubiel.
Narrow the field
Dubiel wanted to reduce the number of locum tenens agency contracts that Marshfield was maintaining. The first and easiest step was eliminating the zombie contracts.
After that, "We sat down and went through all the contracts, the agencies, and decided which ones were most important to update, and then as we have time, we'll eliminate some of those others down the road," says Krall.
Marshfield ended its partnership with agencies that weren't delivering quality candidates or couldn't meet the "criteria we really want in our candidates," Dubiel says. "That probably got five or so — 25% of them — weeded out."
After that, the weeding process became a little more difficult. "We had 10-plus-year relationships with some of these agencies. But it really came down to our workload, what can we manage, and then how can we leverage our buying power," Dubiel explains. "Then we got it down to the top 10. There's some that we don't work with a lot, but we still have active contracts in case we have a niche opening or something that we really need, but our goal is to have our top five that we work with."
Evaluate and streamline processes
In an ideal world, processes help create smooth workflow. But processes can also create stumbling blocks — whether it's internal processes or locum agency processes. A strong partnership between the hospital and the agency can help pinpoint and eliminate process pitfalls.
"CHG has pointed some things out to us that we weren't aware we were doing differently from other organizations," Krall says. In fact, CHG came onsite and conducted a Lean exercise with Marshfield.
"We went through our entire process because it sounded like there was a lot of duplication along the way," says Dubiel. "We spent two full days onsite after a lot of pre-work and post-work, breaking down our process and understanding where we could find efficiencies."
On the flipside, Marshfield has worked with CHG to finetune its part of the locum tenens process as well. "One of the things I love about our relationship with CHG — and I do have this with others, too — is the ability to say, 'This is what your competitor does that's really good that would be great if you guys could do,'" Dubiel says. "It's not like they're saying, 'This is our process, we can deliver, just trust us.' They are showing and demonstrating that they're always willing to improve as well."
Build true partnerships
Once the roster of agencies had been narrowed and processes streamlined, the Marshfield locums team focused on building strong, beneficial relationships with their key partners. One step the Marshfield team implemented was trying to establish a single point of contact at each of their partner agencies.
"Absolutely the biggest benefit is having one point of contact. That's something we ask for a lot when we're working with agencies," says Anne Bump, locum tenens recruiter, physician & APC recruitment, for Marshfield Clinic. "That's a selling point for us — one point of contact that we can reach out to."
Partnerships matter because the agency comes to thoroughly understand what the healthcare facility is looking for in a locum tenens physician. They can present candidates that will fit the organization's needs and its culture. Strong agency partners also know what's needed to smooth the credentialing process.
"I want that trust and reliability that we're working together, that we're not going to get poor quality providers, that we're going to get the top-notch providers. It's not just, 'Fill a job for me,'" Dubiel says. High-quality locum providers make life easier for the facility's permanent physicians. "And that relationship with our current medical staff is critically important," she adds. "It ties to retention."
When locum providers are providing quality care, that enables the entire organization to excel. "When a locum provider is in our facility, they're wearing a Marshfield Clinic name tag or a lab coat, and we take that very seriously. We want to be known for providing quality care from compassionate providers," Dubiel says. At the end of the day, "that relationship piece and that partnership, it goes all the way to the patient."
What factors are affecting healthcare staffing today? Find out in the CHG State of Locum Tenens Report
CHG Healthcare has the doctors, nurses, and allied professionals you need to help staff your facility. To learn more about our staffing solutions, give us a call at 866.588.5996 or email ecs.contact@chghealthcare.com.