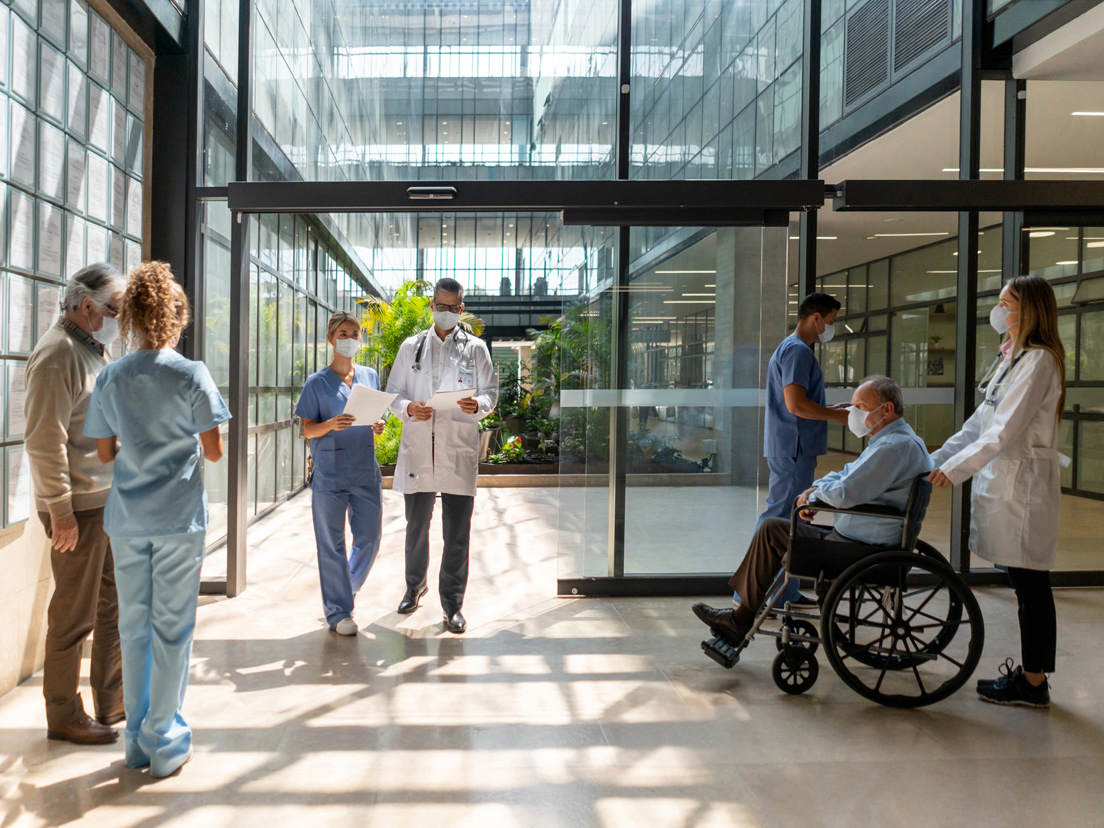 The pandemic has hurt healthcare on many levels, but the experience has also helped many healthcare organizations to strengthen their recruiting efforts and improve how they take care of their people. Melissa Love, VP of Professional Staff Services and the Office of Professional Well-Being at Ochsner Health in Louisiana, shares five lessons her organization learned from the pandemic and how they're helping them become stronger for the future.
1. Be more recruit-centric
When the pandemic forced Melissa Love's team of physician recruiters at Ochsner to take their interviewing online, it gave them the chance to reevaluate their candidates' experience as well.
Love says the way they'd been doing it wasn't an ideal candidate experience. "Historically, we'd have the candidate meet with the chair of the department, and if that went well, we'd fly them in and have them meet with up to 12 different people, and then go to dinner, and then have more interviews. Everybody wants to be involved when you're hiring a physician."
This process focused more on what those at Ochsner wanted, Love acknowledges, and less on the preferences of the physicians they were interviewing. Since moving to virtual interviews, they've recognized that much of the interview process can remain virtual, saving both Ochsner and potential candidates time and money.
"We've shifted to a more recruit-centric approach," Love says. While they're still bringing candidates on site later in the process, the goal is to create a more pleasant overall experience. They've reduced the number of interviews and are trying to be more mindful of the time it takes candidates to engage in the interview process. "I see that as a real positive."
2. Be more thoughtful in decisions to hire
Ochsner paused their recruiting in the spring of 2020, which allowed them to look at their resources and figure out how current employees could be redeployed. "Our goal as an organization was to avoid layoffs, and we achieved that goal," says Love. For example, CRNAs who weren't supporting elective surgeries were reassigned to help cover critical care and support the nursing units, and physicians who typically worked in clinics were trained and onboarded to assist with rounds in the hospitals.
Then when they decided to resume hiring, Ochsner's priority was to be thoughtful about which services they were going to hire for. "I worked with our Physician Regional Medical Directors and CEOs to reevaluate every physician and APP job that was posted," she says. By looking at what had changed, they were able to prioritize the positions that were needed most. "We changed midstream; we took some positions down and added new positions in other areas."
Now that they have re-opened many of their services, Love says they have maintained this thoughtful approach. "We've continued to keep a very forward look on our needs. For example, we've really worked to ramp up psychiatry and behavioral health," she says. Despite this added scrutiny, Ochsner successfully hired and onboarded 339 physician and advanced practice providers in 2020.
3. Offer the right type of patient visit
Like many healthcare organizations, Ochsner saw its telehealth usage rise dramatically during the pandemic — they conducted over 324,000 virtual appointments in 2020 alone. And it wasn't only patients who preferred virtual visits — physicians liked it as well.
"You have the ability to do follow-up visits and other things safely and appropriately without having to travel to a brick-and-mortar location, especially now with electronic medical records where you have access to all the information. Being able to do some of those visits virtually creates more of a comfort level with our patients and certainly with our physicians," says Love.
Ochsner already had a telemedicine team as part of their service lines, with multiple specialties doing virtual visits. The pandemic allowed their telehealth program to grow even larger. "If you look for silver linings in COVID, which I do, I think a patient's comfort with being able to have quality care, for the right type of visits, with a provider virtually, is great," she says.
4. Put provider safety first
At the start of the pandemic, healthcare providers across the country confronted shortages of adequate PPE. This led to frustration, and many providers saw this as a sign that their employer didn't care about their safety.
At Ochsner, Love says they made sure to provide continual updates to their clinicians on the status of PPE usage and protocols. "We made sure that we communicated frequently about our inventory of PPE, appropriate utilization, appropriate continued use of, what our volume levels were, so that people were educated," she says.
Ochsner also took steps to make sure they weren't in a position where they were solely reliant on external vendors for protective equipment. The organization began creating their own PPE through their innovationOchsner (iO) division to ensure they had enough inventory.
"This pandemic really brought front and center that our priority is making sure that our physicians and clinical staff are safe. In order for them to feel safe and comfortable taking care of patients, we've got to make sure that they're educated and comfortable that we've got the right materials and equipment for them to do their job."
5. Make provider well-being central to everything you do
The pandemic has brought provider burnout and wellness to the forefront for many organizations, and Ochsner is no different.
"We've got to take care of the mental wellness of our teams. People who choose to go into medicine are focused on taking care of other people, but we have to make sure they know it's okay to take care of themselves too," says Love. "It's important as an organization that we provide those resources."
One thing Ochsner is focused on right now is reducing the stigma associated with mental health. They've piloted programs to reach out to caregivers and give them someone to talk to in an informal way. "We have a formal employee assistance program, but there also needs to be a middle piece with 24/7 access," says Love. "We need programs and interventions where people are able to talk with other caregivers who are experiencing the same things."
Silver linings
While the pandemic has been difficult to navigate, Love remains optimistic. Despite the immense challenges her organization has encountered, she always tries to look for the silver linings. "Everything has one, even if it's sometimes hard to see," she says. "It helps you to keep motivated to move forward."
This article first appeared on WeatherbyHealthcare.com. Weatherby Healthcare is a division of CHG Healthcare. Let us know how we can support your facility's staffing needs. Give us a call at 866.588.5996 or email ecs.contact@chghealthcare.com to learn more.
Updated 10/25/21