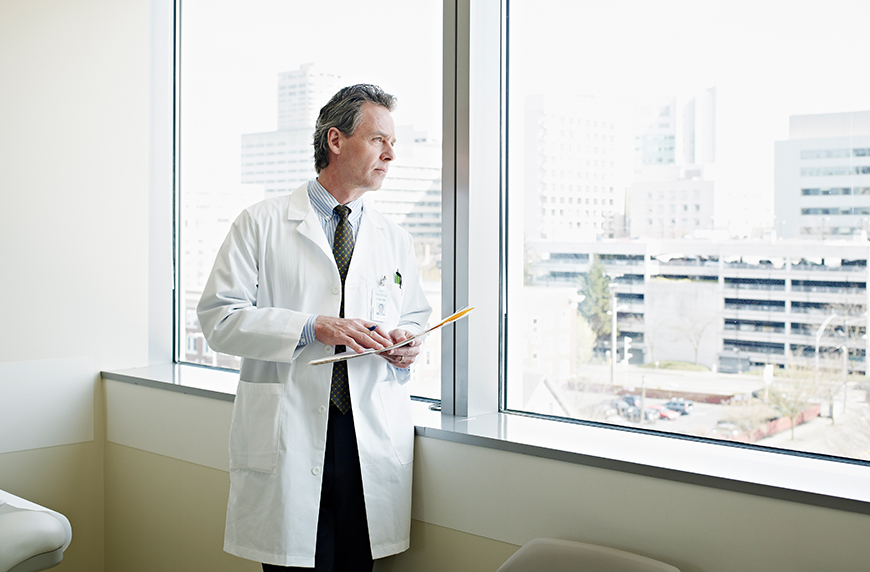 The "Great Resignation" is real. Employees vow they're "not going to take it anymore" and employers scramble to retain them while simultaneously devising ways to attract new candidates.
Here at Health eCareers, we've talked about employee stress and burnout multiple times during 2021, with the COVID-19 pandemic exacerbating what was already a tenuous situation in healthcare due to the convergence of staff shortages and higher demand for services.
Are things as grim as some suggest? The Atlantic said in November 2021 that "The United States uses the rod of Asclepius—a snake entwined around a staff—as a symbol of medicine. But the pandemic suggests that the more fitting symbol might be the Ouroboros, a snake devouring its own tail."
That's a bit grim, but if there's a silver lining in every cloud, perhaps opportunity knocks, albeit softly, and the healthcare industry just needs to listen. Let's ask four experts in healthcare recruiting what's really going on.
It's Not New
"This is not just about a resignation," says Tim Ketterman, vice president of operations at Adaptive Medical Partners in Irving, Texas. "There was already a healthcare staffing shortage before the pandemic, and now we have workforce issues with candidates burned out."
The true impact of COVID-19, he says, will continue to be felt overall by the system. "In our opinion, it's going to result in a decline in patient access, with not enough providers—eighteen percent of healthcare staff have quit their jobs since the pandemic began," he says. "What's not necessarily clear is what percentage is leaving the industry altogether, finding new opportunities. Some are migrating to other professions and trying other things."
Semantics are important, and although the term "great resignation" may make a cool buzzphrase, it may not be exactly accurate. Courtney Gould, vice president of Government Services and Optimum Permanent Placement at Medicus Healthcare Solutions, suggests a better term might be "great reflection."
"During the last eighteen months to two years, people have been asking, 'Is this the right place for me?' 'Am I making an impact, not only professionally, but personally, and is my current situation 'worth it?'" she says.
They may also ask, "Am I putting myself at risk?" and "Am I in the right environment for me to feel comfortable practicing medicine?"
"With politics, mandates, variants, and even more noise at work, it can be overwhelming," says Gould. "They're wondering, 'What else is there?' Employees and contractors want to feel comfortable coming to work."
Fingers shouldn't be pointed so quickly at employers, because so many "are stepping up, doing the best they can with the resources they have," she says. "Maybe the great resignation is highlighting deficiencies—I'm less concerned with what we call it as long as it brings needed awareness."
Gould says organizations can do a better job of recognizing that employees are showing up, working hard, and providing the best care possible in a very difficult environment, and that it's no surprise fatigue has set in.
Now, when recruiting new staff, she says the time is ideal to take a long, hard look at employment packages you offer—how can you differentiate yours positively from others?
Start by understanding physicians' and advanced practitioner's needs, she says. "Determine how your organization can rise to the occasion, and remember it's not always completely monetary or just about location. You have many other things to offer."
Opportunity Knocks
The pandemic caused healthcare professionals to re-evaluate what was important in their personal lives, says Marissa Phillips, a recruiter for U.S. Dermatology Partners. The company is America's second-largest physician-owned dermatology practice, with offices in more than 94 locations in Arizona, Colorado, Kansas, Maryland, Missouri, Oklahoma, Texas, and Virginia.
"Some really wanted to move back to family—to go home," she says.
For example, one employee's mother was ill, another was stressed because of issues with children, and a Mohs surgeon on staff decided to become a life coach, says Phillips' colleague, the company's chief marketing officer for the United States, Jeanne Cunningham. Cunningham says she's also observed that certain regions, such as the Mid-Atlantic areas, and Kansas City in the Midwest, seem to be more prone to a great resignation.
"Maybe people are making different choices or getting enticed or recruited away now by generous sign-on bonuses and high salaries, and maybe that's not sustainable," she says. "People who make those career decisions on a financial basis have to find where their heart is long-term."
Especially during the height of COVID in March through June 2020, U.S. Dermatology Partners may have benefited from marketplace conditions, says Phillips. "We saw a lot of resident graduates having offers withdrawn, when smaller practices—and some hospitals—determined they couldn't bring someone new on. We experienced outreach from candidates late in their residency."
She's not surprised, since the company has lots to offer to both new and experienced candidates. "The way our group is set up means physicians are employed by us and can be as involved as they want—or not—in the day-to-day running of the practice," Cunningham says.
Recognize Employees
Some have shifted that focus to family to enhance their work-life balance, Cunningham says. "That's been very appealing to physicians, physician assistants, and nurse practitioners who can just do their jobs—if that's all they want to do—and who also want to shift to Mom or Dad mode. They have confidence we'll take care of them, including those physicians who decided they didn't want to run their own practice and came with us."
Those types of amenities have made jobs in dermatology even more competitive, "especially in the mid-level world," says Cunningham. "We've had a high volume of applicants and we have training programs in place for them."
With fewer dermatologists being trained every year, the company also goes the extra mile when recruiting, great resignation or not. "We try hard to be 'high touch,'" she says. "We really roll out the red carpet for site visits, and once recruited, we try to make them feel very welcome."
While working hard to see the same number of patients, in some cases, with less support, this dermatology practice places a special focus on employee rewards and recognition for qualities like accountability and reliability, says Cunningham. That kind of thoughtfulness goes miles to help strengthen retention efforts.
"Those things can be really impactful and meaningful," she says. "It's like a silver lining, and our physicians and staff really appreciate that."
Vaccine Mandates May Influence Shortages
"Those organizations trying to play by pre-pandemic rules won't have as much success," Ketterman says. But it's not all gloom and doom for recruiting.
"There are definitely more candidates to talk to," he says, "and they may talk frequently about a change, but there's still trepidation. Most candidates are willing to hold out a lot longer to be sure they positively check all the boxes. They may look at a great opportunity on the surface but may wait to move forward if they feel a 'breakout' may happen. They're more adept now, more open to creating a real opportunity instead of saying 'This is just a job.'
"They think, 'I don't want to take a job if the place really can't support me,'" he adds. "Some hospitals are still very reactionary."
Simply completing interviews remains a challenge, with states operating under different guidelines, and COVID-19 variants fostering a perennially unsettling atmosphere around travel, masking, vaccination requirements, and more, says Ketterman.
"Employers are saying, 'Let's get candidates in here [in person] who are interested,'" he says. "The healthcare system is pretty comfortable with dealing with this, but government and media may not be so comfortable. Healthcare professionals know how to keep themselves safe."
He says that philosophy is also affecting staff reactions to the vaccine mandates for employment—a nationally controversial issue. "They think, 'We've been on the front lines, and we know what we are doing, and we aren't scared of it.'"
Mandates seem to infer that, after two years, healthcare employees somehow aren't used to managing masking up, says Ketterman. "Why do something that reduces even more staffing?"
Get Ahead of Trends
Some factors remain out of recruiters' control. Staff shortages aren't magically going to disappear in the next three years, Gould says. "That will still be heavily influenced by the caps on numbers of residents that can enter individual programs."
Recruiting requires creativity and resourcefulness, and during talks with her team, Gould stresses the importance of listening "to what the market is saying and assessing how to react."
"When we talk to providers, we try to understand their current situation to uncover what's in their best interest," she says. "How can we make an impact for them to provide great patient care but still have work–life balance? That went out the window in 2020. We watch trends in states and in hospitals and work to get ahead of them."
Great resignation or not, she says her company's business sense hasn't wavered.
"We think carefully about what clients say," Gould says. "We want to bridge the gap between provider and client, and we strive to prepare our clients for what candidates are really looking for."
With her firm choosing not to go on site any longer, the company has innovated to move processes forward nonetheless, she says.
"It's still about aligning motivating factors on both sides," Gould says. "We want everybody to feel good about the decision, and not get stuck listening to abstract noise. The only thing that matters is finding the right candidates to fill those jobs."
"There's still so much positivity, and there are great success stories to counter any negative chatter from outside the industry from people who don't know how it all works," Ketterman says.
What Employers Can Do
The Healthcare Financial Management Association weighed in on what employers can do to lessen the rigors of the great resignation, with the help of Jill Geisler, the Bill Plante Chair in Leadership & Media Integrity, Loyola University Chicago, and a Freedom Forum Institute Fellow in Women's Leadership. She suggested these seven initiatives:
Go on a listening tour (with employees).
Be as flexible as you can when it comes to work arrangements.
Make workplace safety paramount.
Be especially sensitive to the abuse your customer-facing (or patient-facing) team may be enduring.
Have a plan for each person you lead.
Assume that everyone on your team takes a moment to look at their own situation when other staffers move on.
Have a pipeline of potential hires. (And that's where a recruiter can really help.)
She, too, suggests viewing the great resignation as an opportunity: "What story can you and your employees tell with sincerity and specificity about your organizational culture, your pandemic learnings, and your diversity, equity, and inclusion in staffing? How about your pay, promotions, and protocols?"
Perhaps now's the right time to become what candidates view as an "employer of choice."
This article first appeared on Health eCareers. Reprinted with permission.