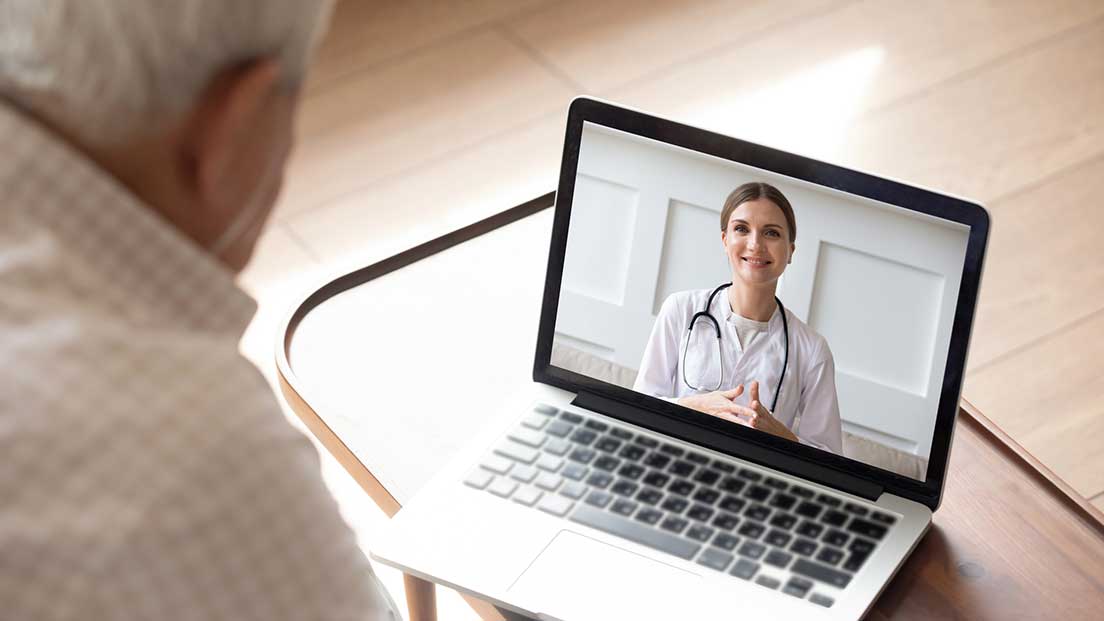 When people abruptly stopped visiting their healthcare providers early in the COVID-19 pandemic, telehealth became the preferred way for many patients to obtain care for non-emergent conditions. According to one research study, the rate of in-person outpatient visits decreased by 30% from Jan. 1 to June 10, 2020. In that same time period, the rate of telehealth visits grew by 2,013%. This extreme growth was enabled by new regulatory flexibility — granted for the duration of the public health emergency — that made it easier for providers to receive equitable reimbursement for telehealth visits.
Despite the key role telehealth has played during the pandemic, the regulatory flexibility that supported it is set to expire at the end of 2021. Now, patients, providers, and industry leaders are concerned about the future of telehealth and hoping to gain the regulatory certainty that would help it become a permanent and robust part of the continuum of care. Here are four things healthcare leaders should know about the future of telehealth in America.
1. The same level of access is not guaranteed
What many patients may not realize is that the telehealth experience they have come to rely on during the pandemic might not be possible in the future. "Patients like the telehealth services that they receive and, perhaps unbeknownst to them, the virtual care they're receiving now might not always be there — unless policymakers start acting," says Kyle Zebley, director of public policy for the American Telemedicine Association (ATA).
"It would be a terrible mistake and a real misfortune for the country if healthcare reverted back to the way things were in February 2020," Zebley says. "Americans by the millions and practitioners by the hundreds of thousands have tried telehealth — often for the first time in 2020 — and they liked it and want to keep it."
Prior to the pandemic, telehealth represented less than 1% of patient volume for rural health clinics according to Brock Slabach, senior vice president for member services for the National Rural Health Association (NRHA). The percentage of telehealth services grew to over 80%, he says, during the public health emergency. Now that patients are starting to return in person, Slabach says the volume of telehealth visits to rural health clinics has stabilized around 11-12%. And if the policies and regulations allow, he believes that's close to the volume patients and providers would like to see going into the future.
2. Permanent regulatory change is needed
In February 2021, the Office of the Inspector General for Health and Human Services released a statement acknowledging the contributions of telehealth during the pandemic, as well as the industry conversation around maintaining regulatory flexibility. "OIG is conducting significant oversight work assessing telehealth services during the public health emergency. Once complete, these reviews will provide objective findings and recommendations that can further inform policymakers and other stakeholders considering what telehealth flexibilities should be permanent," said HHS-OIG Principal Deputy Inspector General Christi Grimm. She noted that the OIG's first work products would likely be published later this year.
Meanwhile, industry groups like the ATA and NRHA are advocating for state and federal policymakers to support permanent regulatory change.
"At the federal level, we're really pushing for members of Congress to understand that there is a telehealth cliff that will start the day after the public health emergency ends. We're seeking to make permanent as many of the flexibilities as we can," Zebley says.
Lawmakers are considering legislation for Medicare that would eliminate most originating site and geographic restrictions for telehealth. Other efforts would enable a wider variety of providers to practice telemedicine.
Changes to Medicare could have a ripple effect in the industry. "Medicare historically has always been the trend setter for payment policy for all payers," Slabach says. So, if Medicare permanently recognizes distant site status for rural clinics, "we're hopeful that will become the trend-setting policy that all of the commercial policies will follow."
At the state level, more than 550 bills addressing telehealth have been introduced across 49 states so far this year, according to Zebley. As these laws are debated, he says, "we want to make sure that they're doing so in such a way that facilitates continued access to telehealth and doesn't make telehealth go through more hoops or hold it to a higher standard than other areas of the healthcare system. Because at the end of the day, telehealth is healthcare and it's licensed medical professionals that are delivering this needed care when it's clinically appropriate."
3. Telehealth payment parity is key
A crucial component to solidifying the future of telehealth is achieving payment parity. "Fifteen minutes of a doctor's time should be worth the same, regardless of whether they're using technology to deliver care or if they are there in person," Slabach says.
NRHA is pushing for coverage parity both from insurance companies and Medicare. "There needs to be an appropriate level of reimbursement to get the innovative platforms and technology off the ground and to continue to innovate to deliver quality care moving forward," Slabach says. "We'll of course have that fight, and it might end up coming down to a service-by-service determination."
At the state level, 22 states have laws regarding telehealth reimbursement, but only 14 provide for true payment parity, according to a report from Foley & Lardner LLP. "But I understand that even in those states, insurance companies are pushing back against some of those telehealth payments," Slabach says.
Another area of focus for NRHA is audio-only telehealth visits. Previously this type of consultation has not been billable, but that changed temporarily during the public health emergency. "There's doubt about that being considered a valid visit in the context of a telehealth visit. I think CMS wants to study that more to make sure that it meets the quality standards necessary to bill for a service with the outcomes that we're all looking for," Slabach says. However, he notes, audio-only telehealth has been a lifeline in rural communities that lack the broadband infrastructure to support video visits.
4. Equal access to care is critical
Before telehealth can truly take its place in the continuum of care, access issues in rural and low-income communities must be overcome. "You're assuming in rural communities that patients in the originating site — in their home, nursing home, or institution — are going to have access to broadband or some kind of circuit that's better than a dial-up modem. We know that in some states, along the deep south especially, only 60% to 70% of households are subscribed to broadband circuits," Slabach says.
Access to telehealth is an equity issue for underserved communities, Zebley says. One study looked at telehealth utilization during the pandemic and found that telehealth use was lower in communities with higher rates of poverty, likely due to a lack of broadband or smartphone technology.
The recently enacted American Rescue Plan included $10 billion for broadband infrastructure and other digital inclusion efforts aimed at closing the so-called "digital divide."
This federal investment in broadband infrastructure offers a real boost for telehealth. However, many healthcare leaders are wary of making their own investments into telehealth without greater regulatory certainty. "If you don't have that long-term certainty, you're not going to have a long-term investment from the private sector that's going to allow for this to continue to be facilitated," Zebley says.
New opportunities for telehealth
Regulatory uncertainty remains. But serious efforts are underway to solidify the expanded access to telehealth ushered in by the pandemic. Many providers and patients alike have experimented with telehealth for the first time during the COVID-19 pandemic — and liked the experience.
"Out of every great crisis comes opportunity, and I think that's what's happened during the pandemic regarding telehealth," Slabach says. "If we want to call it a silver lining, maybe something good came out of the pandemic."
CHG can provide your healthcare facility with the doctors, nurses, and allied professionals you need to help provide the best care for your community. To learn more, contact us by phone at 866.588.5996 or email at ecs.contact@chghealthcare.com.