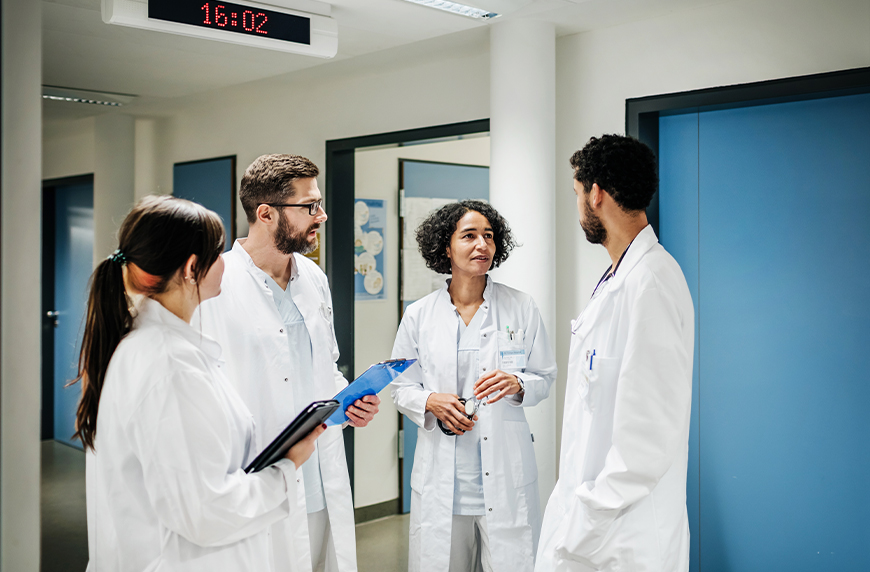 Planning for locum tenens coverage may sound like a contradiction in terms, considering many locums providers are called in due to unplanned absences or last-minute staffing shortages. How do you plan for something you cannot predict? Indeed, planning for locums is not easy, but there are ways to improve the process while avoiding unnecessary stress. Using clear communication and deliberate processes, building partnerships, and doing routine follow-up will all make that last-minute locums request less hectic. Here are some best practices for planning for locums coverage.
Communicate with your teams
One of the best ways to plan for locums coverage is to encourage open and frequent communication with the departments in your organization. While you may not be able to predict last-minute absences due to illness, you can find out if providers are planning for a vacation, maternity leave, or retirement. Knowing about these events well in advance gives you time to find the best way to fill that need, whether it be shuffling existing staff schedules or bringing in a locum provider.
Department leaders and practice managers are some of the best people to check in with when it comes to these kinds of staffing needs. Depending on the size of your organization, you may also want to check in with medical directors, C-suite executives such as the CMO, or the director of physician recruitment.
Some organizations formalize their communication around locums needs by creating a document to be completed by all department leaders. This needs analysis can be simple — an Excel spreadsheet listing the various departments and their anticipated needs — or more involved, with the department providing information about coverage dates, pay rates, and specific skills required.
Create a process
Building a culture of communication between you and your organization's departments is the first step in better planning for locums. Having a standardized process for what to do when a staffing need arises is also necessary. Creating a procedure should start within the recruiting office, primarily with the person who manages locums hiring. Collecting as much information about the position as possible will allow you to share these details with an agency to find a suitable locum.
Dates
Who the locum is replacing
Skills required
Scope of practice
Any call needs
Typical patient census
Practice description
Expectations on procedures and/or number of patients seen per shift
Once you have determined what information you need, create a document that the department or practice manager can complete to provide you with all the necessary details. This will speed up the hiring process by avoiding too much back-and-forth communication as you look for the right locum.
Finally, you will need to share this process across the organization with anyone who is involved with the locums process. In addition to the department needing the locum, this could be the credentialing department and some C-suite executives, especially if they need to sign off on the hires.
By ensuring everyone in the organization is on the same page when it comes to hiring a locum provider, you can create consistent expectations for how long the process will take and make sure you have all the information you need to find the right provider.
Build a partnership with an agency
Carefully choosing a locums agency to partner with is one of the most important ways you can ensure success when you need a locums provider, especially at the last minute. By creating a close relationship with several trusted locums agencies, you will make it easier for them to fill your requests quickly. Not only will you already have a locums agreement in place, but the agency will also be familiar with your organization, workplace culture, and how you handle credentialing. By having all of this information in place when you call and request a provider, the agency's recruiters are able to hit the ground running to find you the right locum.
Having a good relationship with a reliable agency also ensures transparency — in the rare instance that they are not able to fill your need, they will be honest with you about what they can and cannot do. Most organizations tend to work with only a small number of agencies, which allows them to simplify communication and build better relationships.
Gather a bench of providers
Experienced recruiters who hire locums frequently know that it can be time consuming to hire a new provider each time there's a need. That is why it can be useful to invite back locums who have performed well in the past — you know they can do the job, they are well-liked by the staff, and they are already credentialed with the organization. They are also more capable of filling in for a last-minute need.
This strategy works best when you have buy-in from all levels of the organization, especially when trying to retain providers who only work for you occasionally. Keeping a locum credentialed, privileged, and enrolled with various insurance providers when you are not sure when they will be needed next can be a hard sell — especially if it involves additional work or expense.
Being able to demonstrate to leaders the utility of keeping providers on the bench and ready to return quickly is essential, and organizations go about it in different ways. While it can be difficult, the effort will pay off when you're able to bring in a locum quickly to fill an unexpected gap in your workforce.
Follow up post-assignment
Planning for locums does not just take place in advance of hiring. It is also important to follow up after an assignment has been completed. Get in touch with the department and individuals the locum worked with and find out what their experience was like. Did they get along with the provider? Was he or she adequately skilled for the job? Do they want to work with that individual again?
Knowing how the assignment went will allow you to decide if you should invite the locum back for any future needs. Having a provider who is familiar with the organization is a plus, but you do not want to bring back anyone the department did not like. This is also crucial feedback to share with the agency, as it's important for agency partners to be aware of what went well with a provider they represent and what did not. The feedback will also help an agency gain important insight and allow them to better meet the needs of your organization in the future.
Collecting feedback about the locum can be done a number of different ways. For smaller organizations, an informal conversation with the department director or practice manager may be all you need to decide if you should invite the locum back. In larger organizations that work with locums frequently, creating a post-assignment form or survey can help you consolidate information in one place.
Agencies often will also send a request for feedback. It is important to complete these surveys and share the feedback with your agency partners so they can ensure providers are performing well, have met the needs of the practice, and, if not, understand why the assignment did not go well so they can address any concerns that are raised.
Planning is an ongoing process
Setting up a plan for locums hiring is not a one-and-done thing — it is an iterative process that you put together and improve as you go along. Foresight and consistency can go a long way toward creating a smoother and more efficient locums process for your organization. Additionally, obtaining buy-in from leaders, creating partnerships with locums agencies, and fine-tuning communication will help immeasurably when that last-minute locums request comes across your desk.
CHG Healthcare has the doctors, nurses, and allied professionals you need to help staff your facility. To learn more about our staffing solutions, give us a call at 866.588.5996 or email ecs.contact@chghealthcare.com