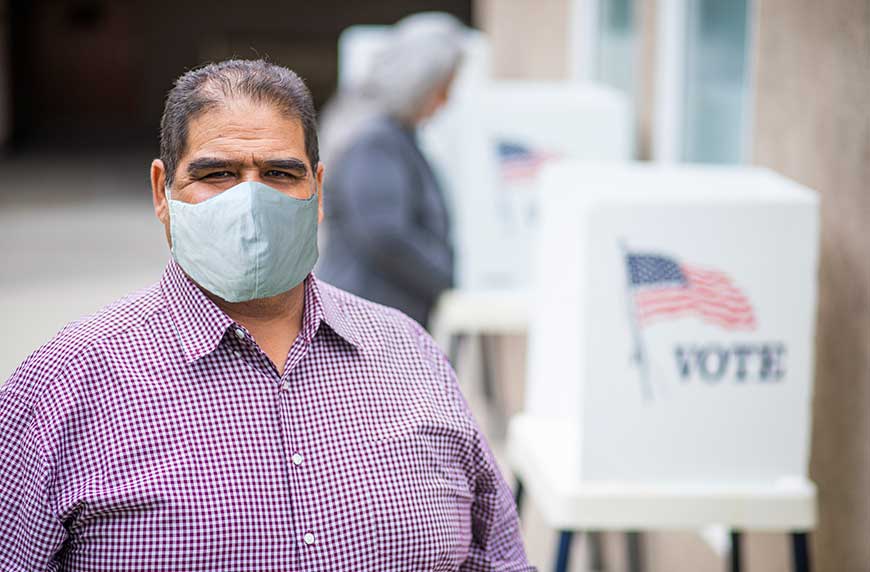 In a year that has been anything but ordinary, the 2020 U.S. presidential election will undoubtedly affect many aspects of healthcare in the years to come — from how people access healthcare to the way the COVID-19 pandemic plays out. As voting begins, there is a lot of speculation about how things will look in the next four years. Whether President Donald Trump is re-elected, or voters opt for a change of administration, here are four ways the 2020 election could affect healthcare in the U.S.
1. Affordable Care Act
The future of the Affordable Care Act (ACA) is one of the biggest items on the political stage this year. In November, the Supreme Court is scheduled to rule on a lawsuit supported by the Trump administration that seeks to overturn the ACA. If it is overturned, it's speculated that up to 21 million Americans could lose insurance coverage. Additionally, there are 133 million people with preexisting conditions who could potentially be denied coverage or charged more for care.
While President Trump has not released a comprehensive plan for an ACA replacement if it is struck down, he has stated he plans to protect coverage for those with preexisting conditions. In his first term, he eliminated the ACA's individual mandate for coverage and expanded the availability of short-term healthcare plans.
Presidential candidate Joe Biden, on the other hand, proposes to expand coverage through the ACA if elected. An estimate by a nonpartisan organization believes between 15 and 20 million Americans could gain coverage through this expansion, with the cost of coverage also falling. Biden has also proposed creating a public insurance option, which some speculate could have a negative effect on revenue for healthcare organizations.
2. COVID-19 response
The pandemic has greatly impacted healthcare facilities across the country, and it's predicted the effects will continue well into 2021. Thus far, no national strategy for combating the virus has been put into place, with the Trump administration preferring to leave public health decisions to individual states. This has lead to "a patchwork of policies, supplies, and outbreak trajectories across the country, and worsening community spread," according to KFF, a non-profit organization focused on national health issues.
The Trump administration has approved several spending bills and is funding "Operation Warp Speed," a program to expedite the research, testing, and production of a COVID-19 vaccine. However, the president has also provided mixed messaging on wearing masks and withdrawn funding for the World Health Organization (WHO).
Presidential candidate Biden believes the federal government should take a stronger role in pandemic mitigation, and says he would put "scientists and public health leaders front and center" if he is elected. He also says he would charge the U.S. Centers for Disease Control (CDC) with case tracking and supply chain needs and build a larger contact tracing program. Finally, he would like to increase funding and PPE availability for businesses and schools.
3. Prescription drug prices
Reducing prescription drug prices is something that both candidates agree on, though their plans to make it happen have differences. Both Biden and Trump say they would like to increase the availability and production of generic drugs.
President Trump has signed several executive orders in the past year regarding prescription drugs, including discounts on insulin, an international pricing index, and ending rebates on some drugs. However, these measures have yet to be implemented, and it remains to be seen what impact these orders may have on future prescription drug costs.
If elected, Biden has said he would prohibit pharmaceutical companies from raising drug prices higher than inflation rates and would adjust Medicare drug prices so they're comparable to those in other countries. He would also allow for more drugs to be imported from abroad and wants to cap out-of-pocket drug costs for Medicare enrollees.
4. PPE manufacturing
Both 2020 presidential candidates are in favor of increasing domestic manufacturing of personal protective equipment (PPE) for healthcare professionals. The COVID-19 pandemic has revealed the United States' reliance on foreign countries to produce this valuable resource, and no matter who wins the election, it's likely we'll see increased production stateside.
President Trump has already signed an executive order that requires government agencies to prioritize American-made products for federal contracts. In April 2020, he invoked the Defense Production Act in a limited manner to bolster production of PPE and ventilators.
Biden says if he is elected he would expand the use of the Defense Production Act to increase production of necessary PPE supplies, a move that many say is needed in order to produce the massive quantities of PPE required to care for patients.
Two different visions of healthcare
It's clear that the two candidates have differing views on how healthcare should be managed in the United States, and the election outcome will certainly affect healthcare for millions of Americans one way or another. We'll soon find out exactly what changes may occur. You can voice your preference by voting on November 3.
CHG Healthcare can provide you with the doctors, nurses, and allied professionals you need to staff your facility. To learn more about our staffing solutions, give us a call at 866.588.5996 or email ecs.contact@chghealthcare.com.