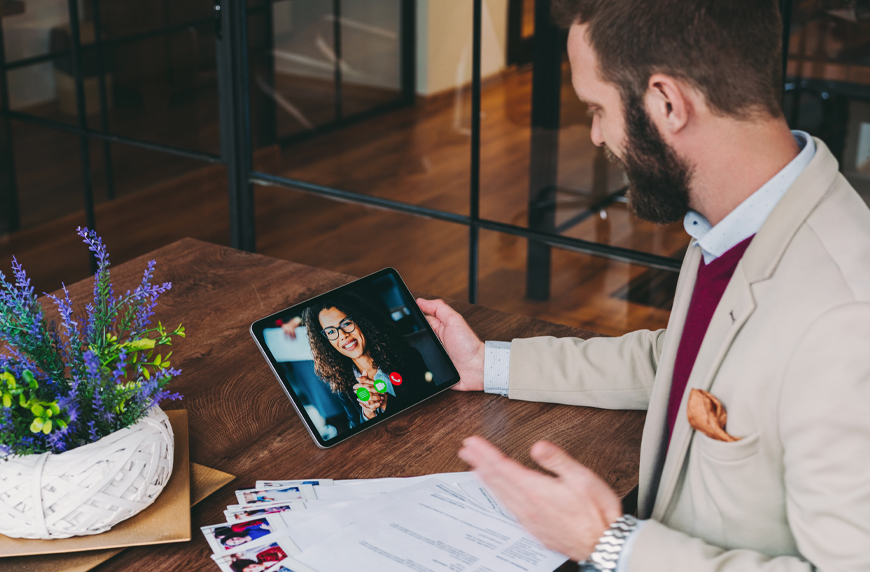 The COVID-19 pandemic has affected every aspect of healthcare, and physician recruiting is no exception. Healthcare recruiters have been forced to adapt to new ways of finding, interviewing, and hiring physicians so our organizations can continue providing care. Here are five ways the healthcare recruiting process has evolved in 2020, and why these changes may be here to stay.
1. Physicians are dissatisfied with the status quo
It's no secret physicians have been under a lot of stress lately — some are working around the clock, others have been laid off, and even more are concerned for their physical and mental health. This has caused many to reevaluate their employment situation and consider new opportunities.
According to Greg Chang, vice president of provider services for Everyday Health Group, the number of providers searching for jobs on his company's Health eCareers website has increased by 46% since April. "We're seeing a lot of providers who are dissatisfied with their current situation," Chang says. "COVID-19 is causing a lot of organizational stress for institutions, which flows down to the providers and causes and exacerbates physician burnout."
Chang anticipates this trend will continue even after the pandemic subsides, at least for a while. "It's going to be tough for some physicians to forget how they felt during this period," he says. "Many physicians feel like they were put on an island and told to make it work in terms of PPE and staffing levels. That's not something you gloss over."
To be successful going forward, Chang recommends that healthcare facilities make a sustainable effort to support their providers. "It's not only the right thing to do, it's good business," he says.
2. Physicians are looking for work in new areas
Physicians and other healthcare professionals are also looking for work in places they may not have considered prior to the pandemic. Carey Goryl, CEO of AAPPR, says she seeing a trend where many physicians are now looking to get out of the city or move closer to family.
This sentiment is echoed by Brian Tabor, president of the Indiana Hospital Association. "We've heard anecdotally that hospitals have taken calls from those who are living in an urban area that they're just looking to slow down a bit — maybe return back to where they grew up. They're looking for a different kind of place for their family," he says.
This shift has created an opportunity for facilities outside of urban areas, says Chang. He's heard from recruiters that they're seeing a wider variety of physicians applying for jobs in rural areas than ever before. "People are reconsidering choices they've made," he says. "They're thinking, 'Why do I want to spend this much money to live in an urban area when I don't get the same return on the cost of living as before?'"
LISTEN: Becker's Healthcare Podcast: Five Ways 2020 Changed Healthcare Staffing Foreve‪r‬
3. Recruiting events have gone digital
While providers have changed what they're looking for in a job, recruiters have found new ways to reach potential candidates. What used to be in-person recruiting events have mostly gone online, says Chang.
"The transition was actually very fruitful," he says. "On average, our digital events have brought in 30-40% more attendees. So, it's a lot easier to reach people and there are less travel costs associated with these events because you can do it from the comfort of your home or desk."
Chang says he's also heard that many candidates prefer the online events. "We've been surprised by the uptake and adoption on the candidate side of these virtual events, and we attribute it to the fact that it removes some of the awkwardness. It's just an easier, lower-friction way for them to engage with potential opportunities."
4. Virtual interviewing is the new standard
For better or for worse, most physician recruiters have moved almost exclusively to virtual interviewing — a necessity brought on by social distancing and travel restrictions.
"A lot of recruitment professionals have doubled down on virtual interviewing, virtual site visits, virtual job offers, even getting into virtual onboarding. The whole process has become much more streamlined," says Goryl. And since recruiters don't need to coordinate schedules for site visits, the time to fill has been reduced for many openings.
Laura Screeney, director of provider recruitment at New York Presbyterian, says the virtual process is especially helpful when dealing with a large health system. "It makes it easier, especially when somebody may be working in one of our community hospitals," she says, adding that not having to deal with traffic and meetings at various institutions across the city have made things move faster.
Healthcare organizations are also finding success with virtual site visits. "Real estate agents have done virtual house tours for years, and we took the same technology to do virtual tours of the ER or the clinic," says Goryl. "It doesn't completely replace it — and much like telemedicine, people will eventually prefer to do things in person. But what I'm hearing is that first-round interviews being done virtually is probably here to stay."
5. Digital approvals have reduced time to fill
Mirroring the quick adoption of virtual interviewing, changes to the approvals process has also made recruiting easier and faster.
"You would have a recruitment professional walking from department to department, getting these sign offs for a new hire," says Goryl. "Now all the days of a lengthy process have evaporated into a 10-minute DocuSign."
Screeney says other documents requiring approvals, like invoices, have also undergone process improvements. "I used to have to sign off on our invoices and then we had to scan them in and get them over to finance. We're not doing that now," she says.
But what about the human connection?
While many of the changes to the healthcare recruiting process have been positive, going virtual has created some challenges as well. "Going from zero to hire without having someone visit you, that's a new thing," says Chang. "Without seeing someone in person, there are things that are lost: non-verbal cues, interactions between a candidate and orderlies on the unit. I don't know that we've gone through enough cycles to know if that's going to cause problems or not."
Others worry about a healthcare recruiting process with less face-to-face interaction. "It does become very depersonalized," says Screeney. She says her staff has tried to combat this loss by offering different ways for recruiters and candidates to connect informally.
"We've been doing more quick FaceTimes with our candidates if they want to talk to us at night about something — not a scheduled Zoom, not a big deal. But we'll say, 'Hey, you have time tonight to do a FaceTime?' and we're finding they're liking that a little better because they're missing that personal connection."
Focus on the outcomes
Despite all of the changes that have come to healthcare recruiting this year, Chang reminds recruiters to focus on the outcome. "At the end of the day, it all boils down to what's the best thing for patient care, and what's the best thing for our communities," he says. "Those are the outcomes that we all want to focus on together."
For more on this topic, view the webinar: Healthcare staffing today — Is your recruitment strategy equipped?
CHG can provide your healthcare facility with the doctors, nurses, and allied professionals you need to provide the best care for your community. Contact us by phone at 866.588.5996 or email at ecs.contact@chghealthcare.com.