For the fourth year in a row, Women Tech Council has named CHG Healthcare as one of the top companies that advocate for women in technology. Although not normally considered a technology company, CHG has a robust digital division that provides many opportunities for women to grow in their technology careers.
"It's gratifying to be recognized on the Shatter List for the efforts we're making to provide opportunities for women at CHG," says Scott Boecker, CHG's chief digital officer. "We have some amazingly talented women who have unlimited potential and we're committed to helping them grow."
LEARN MORE: How CHG empowers women to grow in their careers
An unlikely path to a tech career
One of those talented women is Angel Williams. A senior software test engineer on CHG's engineering team, Angel followed an unlikely path to get to where she is today.
With degrees in exercise and sports science and music performance, a tech job was the last thing on her mind when she graduated from college. Instead, she moved to New York City to pursue her music career.
"I was planning to get a job in a gym to pay the bills while I networked, and then I got my first show gig," Angel relates. "I did that for many years till I got my first European Tour, which lasted over a year. When I came back, I didn't want to go back to the gyms and had some time to decide my day gig."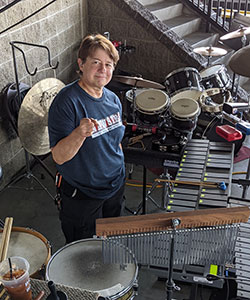 She decided on computers. Angel had used them constantly to communicate with friends and family while overseas and even built her own computer when she returned to the U.S.
"I investigated getting certified in computers so I could get on with a consulting firm. I think the certification was called C++, and it was basically 'here is how a computer works,'" she says.
It turns out computers came easily to her. Angel finished the three-month course in two weeks and got a job as a hardware specialist with Black Rock Consulting rolling out system upgrades for Hoffman-La Roche.
Her managers quickly recognized Angel's potential. To simplify the upgrade process, she started writing batch scripts and dropped the rollout time from two hours to just 30 minutes per machine.
"My manager asked how I did it, so I showed him what I had done. He said 'cool' and we started making scripts for all kinds of different rollouts." It wasn't long before Angel was asked to join the SMS team making installation scripts for software.
Twenty years later, Angel is a master of her craft. She's worked as a laptop specialist, QA tester, workflow developer, automation engineer, and software test engineer.
"Now I work with great people and have learned to do more stuff at CHG than I ever thought I would be able to do."
RELATED: Why tech jobs are just better at CHG
Women in technology at CHG
Angel is just one of many successful women working in technology at CHG. In fact, she's part of an employee inclusion group called "WIT and Wisdom" — WIT for women in technology and wisdom just because they're super smart and awesome.
One of many CHG inclusion groups, WIT and Wisdom is a community where women tech employees can come together to share ideas and support each other. This has been especially important since the pandemic and the rise of remote work because it gives employees an opportunity to come together wherever they live and work.
"These groups have proven to be more valuable than we could have imagined in helping people who would have otherwise felt very isolated," says Christine VanCampen, vice president of Diversity, Equity, and Inclusion at CHG. "It's created a virtual community they can connect with. We use these groups to deliver education, support, and company resources, but even more importantly to create connection and a sense of belonging."
It's just one more way CHG is building a culture that supports employees both as individuals and in their careers. "For us, culture is the bond of people and making sure we're invested in you as an individual," says Boecker. "We're invested in you and in your relationship to your team, and we're invested in that team's relationship to the overall organization and the overall mission."
READ MORE: 5 ways CHG is working to strengthen diversity, equity, and inclusion
Interested in working for a company that is committed to providing great opportunities for women in technology?