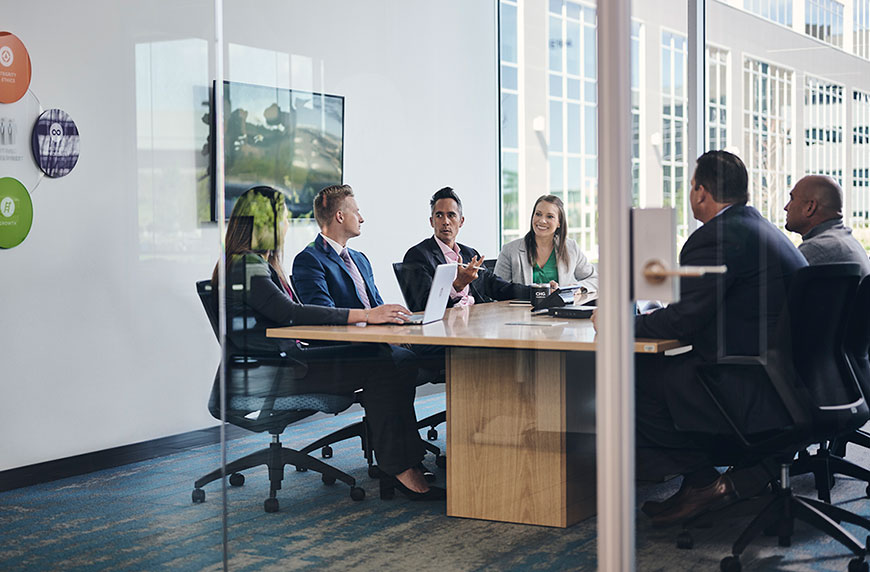 Locum tenens is key to addressing the provider shortage and can help generate revenue
CHG Healthcare's 2023 State of Locum Tenens Report reveals that the healthcare industry is turning to locum tenens providers at historic rates to address their staffing challenges. The in-depth report provides insights into recruitment, retention, and how healthcare organizations are using locum tenens providers to improve efficiency, productivity, and clinician and patient satisfaction. Here are the top takeaways for healthcare industry leaders, administrators, and physician recruiters.
1. Physicians are becoming more proactive about their careers
"Physicians at all levels want to be involved in decisions that impact them; they want to be supported to reduce administrative time and increase patient time; and they want career paths and opportunities for growth and mentoring. And unlike physicians of the past, if they don't get these things, they will leave," says Carey Goryl, CEO of the Association for Advancing Physician and Provider Recruitment (AAPPR). "To get ahead of this growing turnover trend, employers must address provider turnover with fresh, consistent, and measurable strategies with a sincere desire and willingness to make changes when the feedback directs it."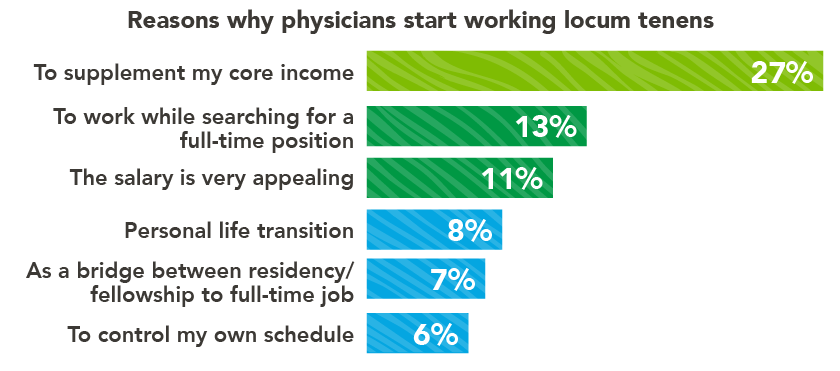 2. Physicians generally regard locums positively
About 70% of physicians report a favorable impression of locum tenens, which has remained steady over the past few years. As a result, locum tenens providers are more likely to succeed and feel supported by permanent staff, especially when welcomed in a way that includes proper onboarding.

3. Many healthcare facilities expect locums usage to increase
Sixty-four percent of facilities report using locum tenens. Of those, only 16% say their utilization is rare, while 35% saying they use locum tenens often or very often. Half the facilities anticipate using locum tenens providers at about the same rate going forward, while a third expect locum tenens utilization to increase.
"Our system is big enough that we are able to offer our patients a wide variety of services. However, we're small enough that if one or two people leave, we can feel a significant strain on staffing. Locum tenens lets us cover those gaps and keep offering our patients the care they expect," says Amy Powell, CPRP, Director of Medical Staff Recruitment at Reid Health.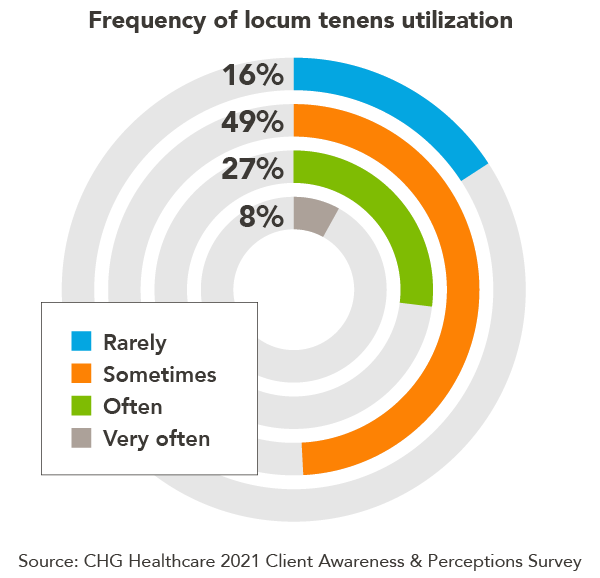 4. Locum tenens providers are most commonly used to fill a vacancy
While healthcare facilities primarily bring in locums to fill a vacancy, the use of locums to meet rising patient demand and provide coverage during peak periods has increased significantly since 2020. The top reasons facilities hire locum physicians include:
Fill until a permanent candidate is found: 83%
Fill in for someone who has left: 77%
Vacation coverage: 42%
Meet rising patient demand: 42%
Supplementing staff during peak periods: 41%

For the full list, read the full report.
5. Demand for locum psychiatrists and oncologists has grown since 2020
The specialties in the highest demand as locums have stayed fairly consistent over the past few years, with a few notable changes. Family practice continues to have the highest demand, while emergency medicine has seen a steady decline as more patients turn to urgent care. On the other hand, the demand for psychiatry and oncology services has grown.

"This past year we have seen tremendous growth in the need for both psychiatrists and oncologists. Both needs stem from the pandemic but for very different reasons. We're seeing more patients wanting to address mental and behavioral health issues, many that were overlooked or brought on during the pandemic," says Brooke Bowers, President of CompHealth Locum Tenens. "And oncology is, unfortunately, seeing an increase due to many people not seeking the cancer care they needed during the pandemic and are now faced with more serious diagnoses and medical needs."
6. Healthcare recruiters and leaders have a generally positive opinion of locums
The report found that while 44% of recruiters and hospital leaders have a neutral impression of the locum tenens physicians that have worked in their facilities, as many report a positive impression of locum physicians. Only 12% have a negative impression, and no one reported having a very negative impression.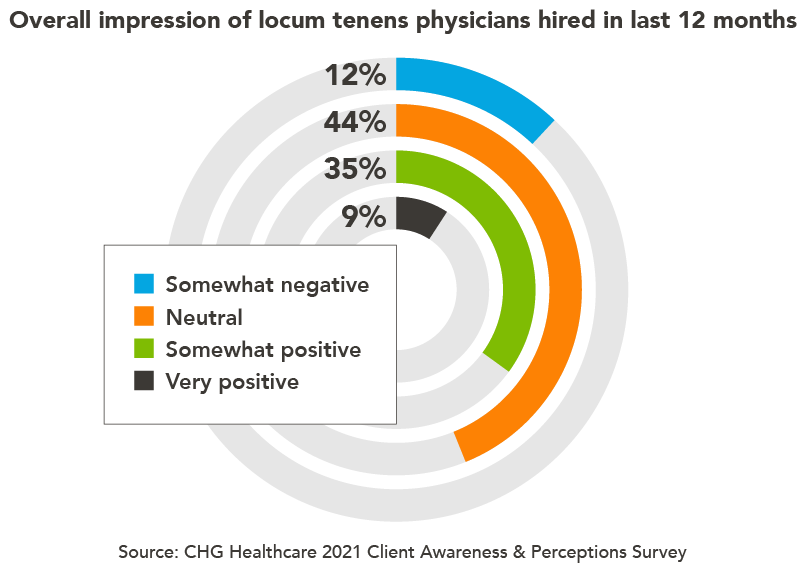 7. Locum tenens has both benefits and drawbacks
Healthcare administrators surveyed reported both benefits and drawbacks to hiring locum tenens physicians.
Top benefits:
Allows continual treatment of patients: 69%
Reduce existing staff burnout: 56%
Faster availability: 50%
Prevent revenue loss: 45%
Try out candidates before extending perm offer: 34%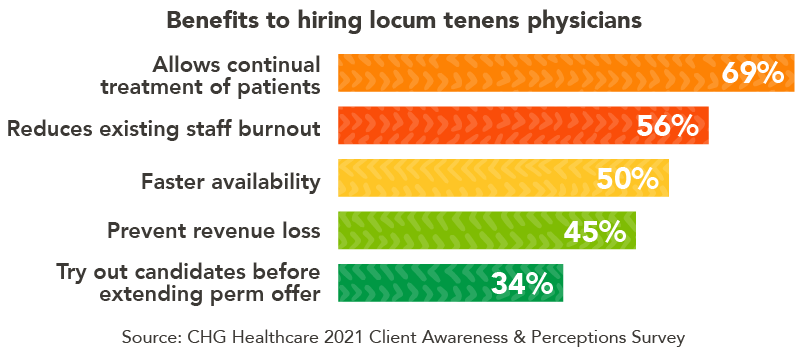 Top drawbacks:
Higher cost than permanent physicians: 82%
Concern about patient care: 66%
Locums are unfamiliar with department/practice: 65%
Lack of continuity of care: 53%
Unfamiliar with equipment/procedures: 53%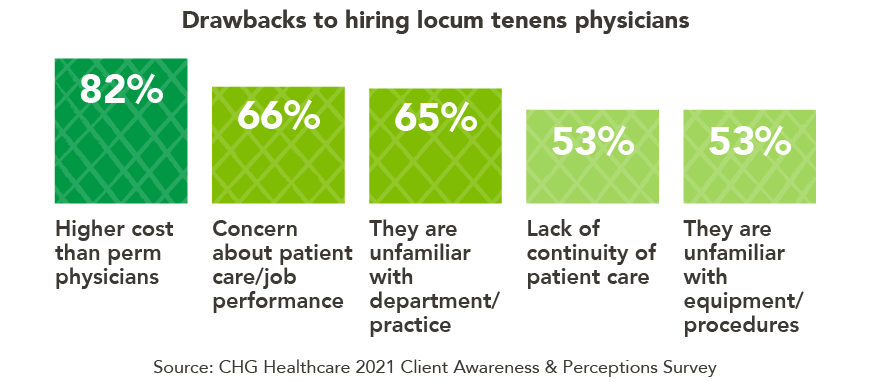 For the full list, read the full report.
8. Savvy leaders make locums profitable
"When locums physicians are used and, even more importantly, billed for correctly, they can bring in as much as three times the revenue compared to what they cost. Cutting locums to save money is, in reality, just costing you a lot more money. Locum tenens should be seen as a profit center rather than a cost center," says Melinda Giese, Senior Vice President, CHG Healthcare.
In summary, the locum tenens industry is growing, and more healthcare organizations are turning to locums to meet their staffing needs and rising patient demand. While locum tenens does have its drawbacks, most healthcare leaders recognize locum tenens usage as an effective strategy for continued growth.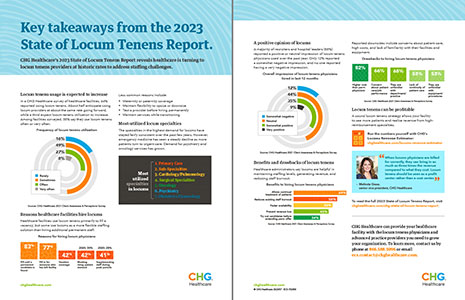 CHG can provide your healthcare facility with the locum tenens physicians and advanced practice providers you need to grow your organization. To learn more, contact us by phone at 866.588.5996 or email ecs.contact@chghealthcare.com.