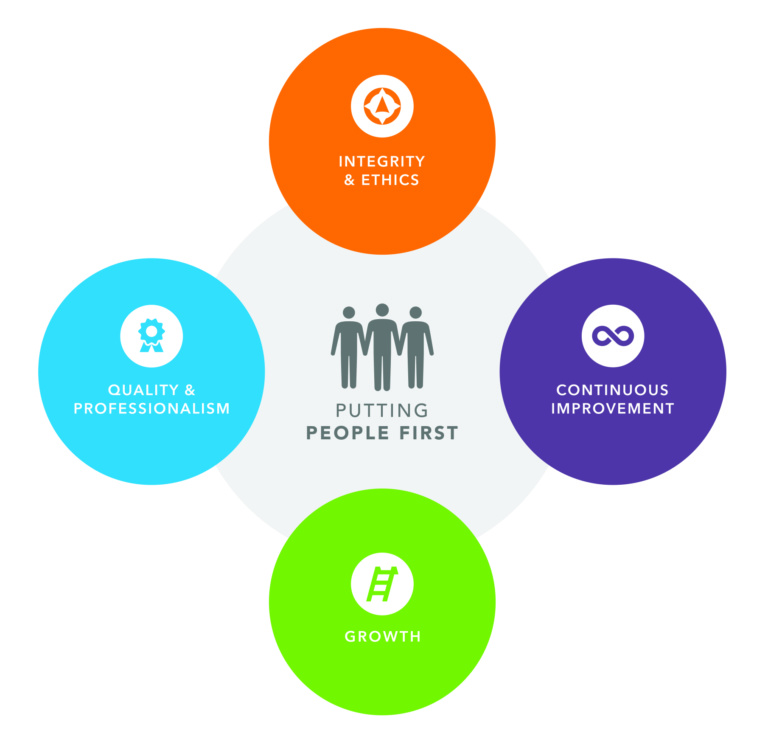 What makes CHG Healthcare a great place to work? Our people and the core values they uphold every day:
Putting People First
Continuous Improvement
Integrity and Ethics
Quality and Professionalism
Growth
These core values are the foundation of our people-centric culture, providing us the opportunity to elevate our thinking and empowering our people to be their best.
Learn more about each of our core values:
1. Putting People First
Putting People First is at the core of everything we do. That means we make decisions with the best interests of our people in mind and consider the thoughts and feelings of others before acting. It also ensures we live our purpose of making a difference to each other, our customers, and our community.
2. Continuous Improvement
Getting better every day is in our DNA. We don't coast. We don't procrastinate. By improving ourselves, our culture and our business, we also improve our ability to make a difference.
3. Integrity and Ethics
All of our actions and decisions rest on a foundation of integrity and ethics. It's as important today as ever, and we make a difference by encouraging others to do the same.
4. Quality and Professionalism
We earn our reputation for industry-leading quality every day. And we hold ourselves to high standards that ultimately make a difference in the lives of physicians, patients, and society at large.
5. Growth
The growth of our business serves a purpose larger than itself. It allows us to increase the good we do and creates more opportunities for our people, our healthcare professionals, and our clients.
Want to join a company that actually lives its core values? Apply today!