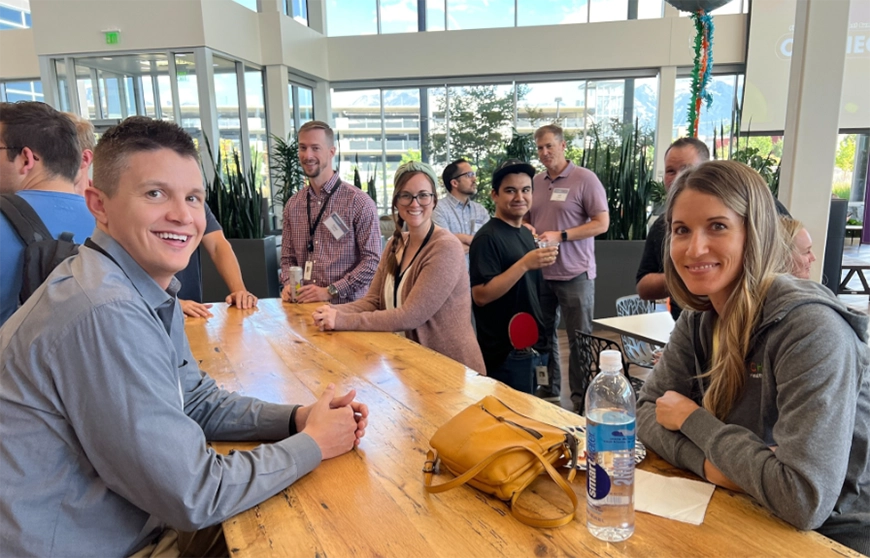 At CHG, interns get hands-on experience working with industry experts in a fast-paced, dynamic environment. From day one, you'll be given meaningful projects that allow you to make a real impact and have access to mentorship and professional development opportunities, including multiple networking opportunities.
How to make the most of your internship
So how can you turn your CHG internship into a full-time career? Start by applying early for the internship.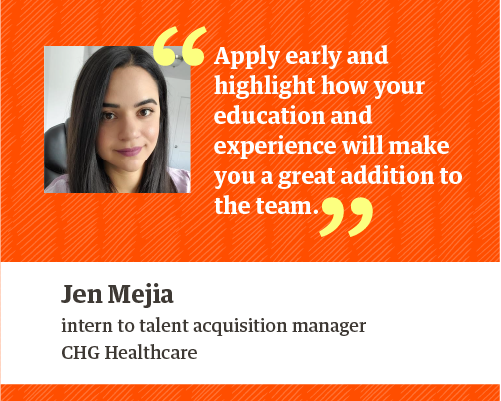 "We get a lot of applicants for our internships," shares Jen Mejia, talent acquisition manager. "So, make sure to apply early and take the initiative during the interview to highlight how your education and whatever work experience you have will be a great addition to the team and the role."
And don't forget to do your research. That's what Carly Anderson did after a CHG sales recruiter spoke to her class. After researching the company, she connected with Kenzie Smith, a CHG senior marketing coordinator, on LinkedIn. The two met for coffee. As Kenzie talked about her job, Carly thought, "This is exactly what I want to do!"
Here are a few more tips to help ensure your internship sets you up for a successful career: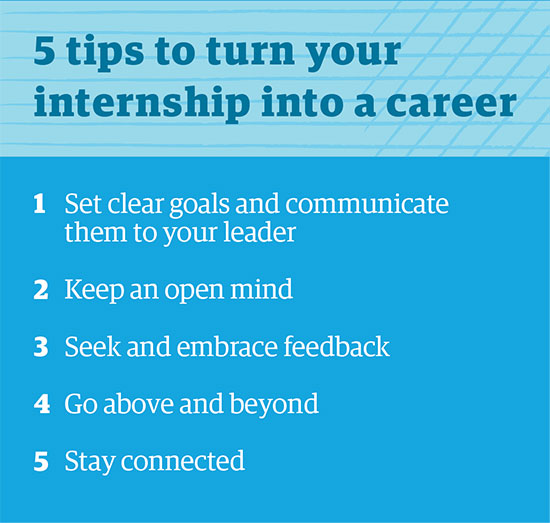 1. Set clear goals and communicate them to your leader
Internships typically only last a few months. Make the most of the limited time you have by thinking through and writing down SMART goals, so you know what you want to accomplish during your time with the company. Then, on your first day, share those goals with your leader so they can help you achieve them.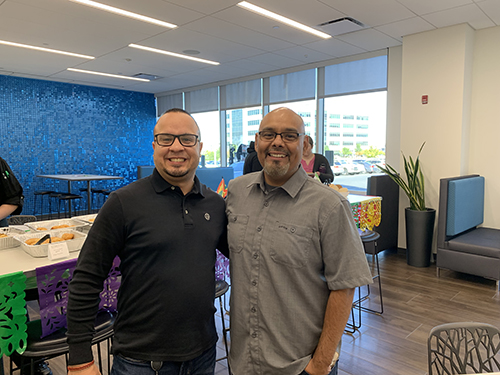 2. Don't be afraid to try something new
As a biochemistry major, Candace Park wasn't sure what to expect when she landed an internship in financial operations as an accounts receivable specialist. Although she had no accounting experience, Candace says, "They seemed to care more about the kind of person I was and my character than the degree I was attending school for."
Program specialist Ryann Chavez agrees. "We're not just looking for people who are in communications or marketing. Some positions, like software engineers, require passing a skills test. Others are more flexible."
As luck would have it, Candace enjoyed her experience so much she's thinking of changing her major (or at least getting an MBA on top of her biochemistry degree) and is working 30 hours a week as an accounts receivable specialist while she finishes her senior year.
3. Seek and embrace feedback
Be proactive in seeking out feedback and opportunities for growth.
"Recognition is huge at CHG," shares Carlee Hemmelgarn, senior marketing coordinator and former intern. "So, when I did well, it was pointed out to me. I knew what I was excelling at, and I got feedback on what I could do better, which gave me the opportunity to keep growing and keep improving."
4. Go above and beyond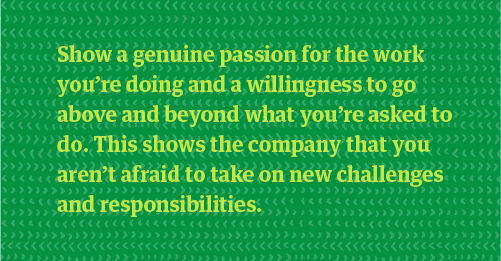 It's so important to show a genuine passion for the work you're doing and a willingness to go above and beyond what you're asked to do. This shows the company that you aren't afraid to take on new challenges and responsibilities.
"At CHG, we really notice when people take the initiative and go above and beyond," shares Jen. "I think of someone like Carlee who did that in her internship. She did not let it go by and just do the assignments or tasks that she was given. She stepped it up, and we knew she'd deliver on whatever she did, and those are the types of people we want."
For Danielle Cleverly, going above and beyond helped her land a full-time job with CHG after her internship with our marketing and customer products team.
Danielle loved the experience. "They've really shown me how a good team works together and gets things done," she says. "I got to watch in real time these things that were just theories."
Danielle says she was surprised at how much she likes the analysis side of marketing vs the creative side. She was thrilled when she was selected when a permanent job opened on the team. Now she looks forward to continuing to grow and learn at CHG.
5. Stay connected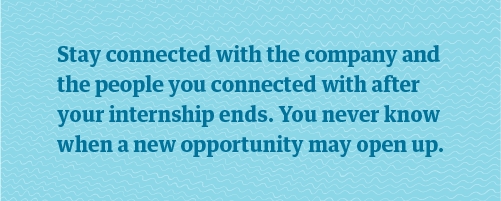 Around 85% of our interns last year ended up with a full-time job with us. But even if you aren't one of those interns, it's extremely important to stay connected with the company and the people you connected with after your internship ends. You never know when a new opportunity may open up, and maintaining those relationships can be key to landing a full-time position down the line.
RELATED: Want career growth? Join the CHG family
Why you should consider an internship at CHG
If you're looking for a dynamic, challenging, and rewarding work experience, then an internship at CHG is right for you. And with the right mindset and dedication, you can turn that internship into a fulfilling and successful career.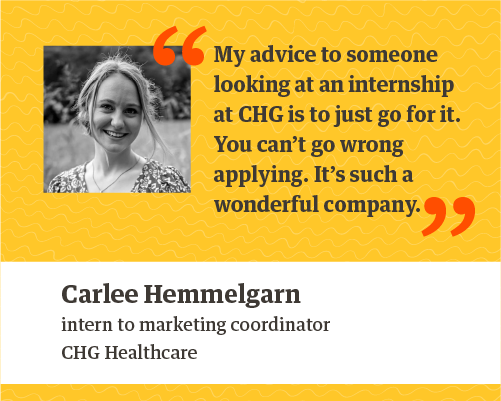 "My advice to someone looking at an internship at CHG would be to just go for it," Carlee says. "I really feel like you can't go wrong applying. It's such a wonderful company and filled with so many wonderful people that truly want you to grow and succeed. And the internship program is set up so you're not only having experiences in whatever you specialize in, but you're also a part of an internship community."
LEARN HOW: How to get hired at CHG
Interested in an amazing internship experience? Check out internships on our job board or email talent.acquisition@chghealthcare.com to learn more.