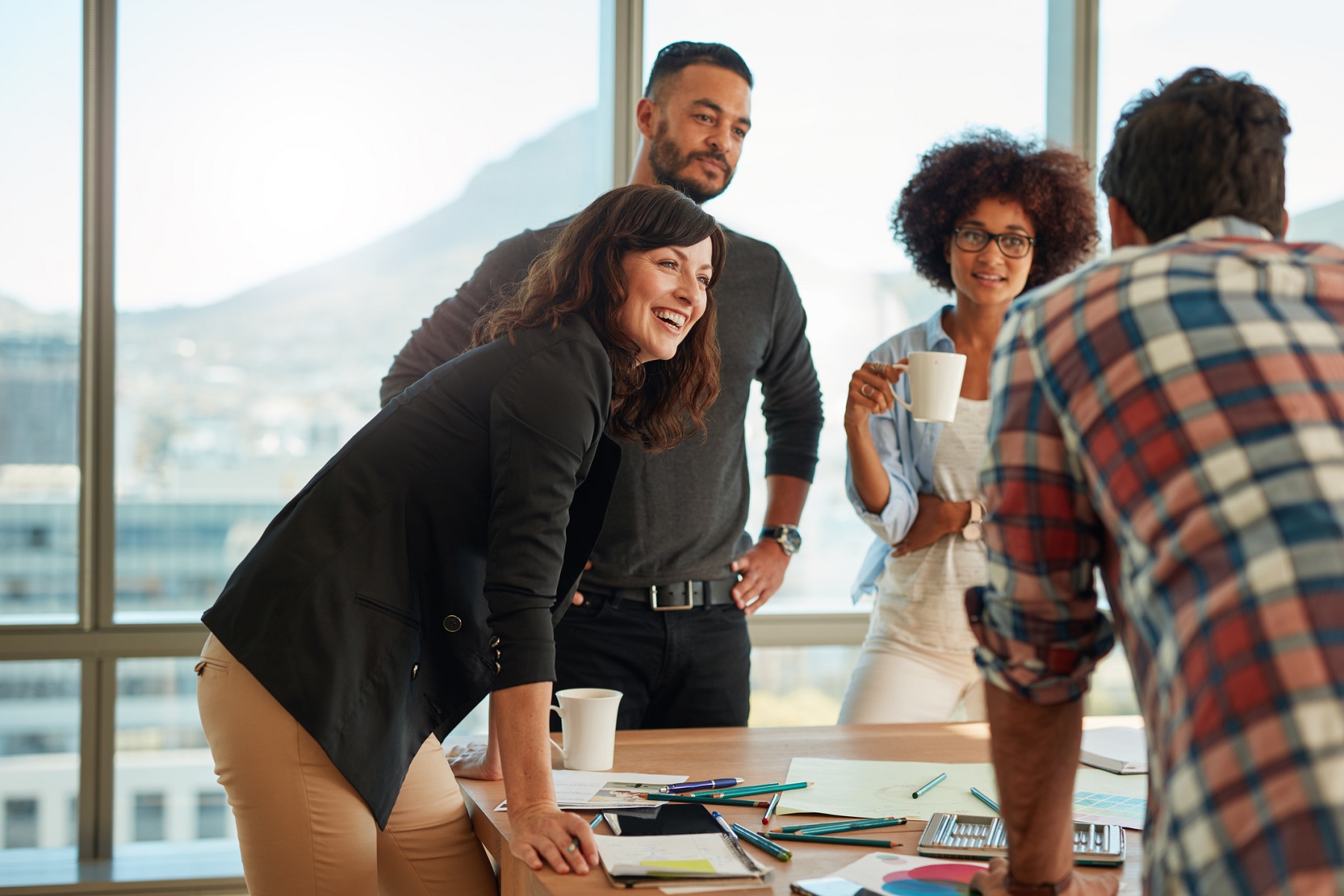 Nearly 20 years ago I was just starting my career in finance, when Wall Street was even more of a boys' club than it is now. As a young new professional, I was thrown into a work environment in which most of my coworkers were the opposite gender and decades older than I was, and I felt like a conspicuous outlier. Fortunately to both me personally and professionally, my first boss at this financial organization was an advocate of speaking your opinion and encouraged me to do so in any meeting I was in regardless of my seeming inexperience or naivety. Even though there was a large opportunity to feel excluded in my workplace as one of the only young females in the office, because of my boss I was able to learn how to confidently share my ideas and insights with a group of people I certainly wasn't grabbing drinks with after work or going on picnics with on the weekends. Because of this enriching experience in the outset of my career (even though I'm no longer in finance), I've realized how essential it is to embolden my team members to speak their opinions at any meeting—not only for the good of my specific team goals but the overall benefit of the entire company. At any company, it's imperative to applaud employees when they speak their voice, and encourage them to add more to the conversation when they hesitate. Having more opinions from different people of different backgrounds only helps improve outcomes. Here are three methods I've learned build a company culture where everyone's voice counts:
1. Provide a Safe Environment for Speaking Up
When I began my career in finance, my boss listened to me during one-on-one conversations about work, official meetings and even casual elevator chit chat. He hired me because he thought I was sharp and had something to offer so he allowed me to speak my voice to him—even when that was contrary to his traditional thinking or opinion—and he would attentively listen and engage. If he didn't allow me to articulate my perspective to him, I wouldn't have been able to share it elsewhere, much less to a group of men decades deep into their career. Speaking my insights to my boss was a rehearsal of sorts for sharing with more people. Like my boss, every team leader should be listening to their team members' perspectives—ask them what they think and earnestly want to hear the answer. This encouragement not only helps them build confidence in sharing their thoughts, but supports the formulation of unique thoughts in the first place. Team members might not have a concrete opinion about a subject until their leader forces them to contemplate it and create their own perspective. This strategy shows team members that you believe you don't have all the answers, and a mixture of dissimilar wisdom can bring the team to a better solution than any single mind.
2. Let Others Be the Smartest Person in the Room
It's difficult for any person to break free of his or her ego, much less an apt leader of a successful company or a team at the successful company. With our best effort to put our narcissistic tendencies aside, we need to be willing to allow the best ideas to not always come from ourselves. Initially, leaders may struggle with the feeling of losing control, and it takes deliberate humility to recognize that their team members may have better insights than they do. It's a very short-sighted approach to be the sole idea generator, and never can a company be an organization of one. Your employees' ideas may not always be pearls, especially as they are just beginning to express their perspective. The most vital action is to give them experience, experience that helps them massage those little half-formulated grains of sand into full-blown, multi-faceted idea pearls, if you'll indulge my metaphor. Clamping ideas at the top minimizes this experience flow.
3. It's All About Recognizing the Effort of the Employee
A company culture should focus more on sharing perspectives and ideas for the good of business goals than for any credit taking. Regardless, leaders still need to effectively give credit, recognize idea-generating behavior and reward results for good ideas brought to the table by their team members. The most essential piece to giving recognition that many leaders lack, however, is to give praise even when an idea doesn't work out or doesn't quite fit the bill. Recognition is just as important for the effort as it is for the result. During this time of giving praise for a less-than-stellar idea, leaders must effectively balance commending employees for sharing their voice with constructive criticism that helps filter ideas and cultivate more discretionary, judicious minds. What's more, this balance between explicit appreciating and slight reprehending will help employees hone their voices and speak to them with more robust execution plans.
The Outcome
With a company culture that fosters listening, being open and giving recognition for speaking up, more employees will do so because they're encouraged to converse and collaborate without fearing failure. This crowdsourcing approach to ideas empowers the best ones to come forward—not necessarily the ones that the C-suite devised—which helps your organization leverage the best insights to drive company objectives. It's a truth that companies that support idea incubators powered by individual voices will not only see a benefit to rapport, but a benefit to their bottom line.
This article originally appeared on Utah Business.