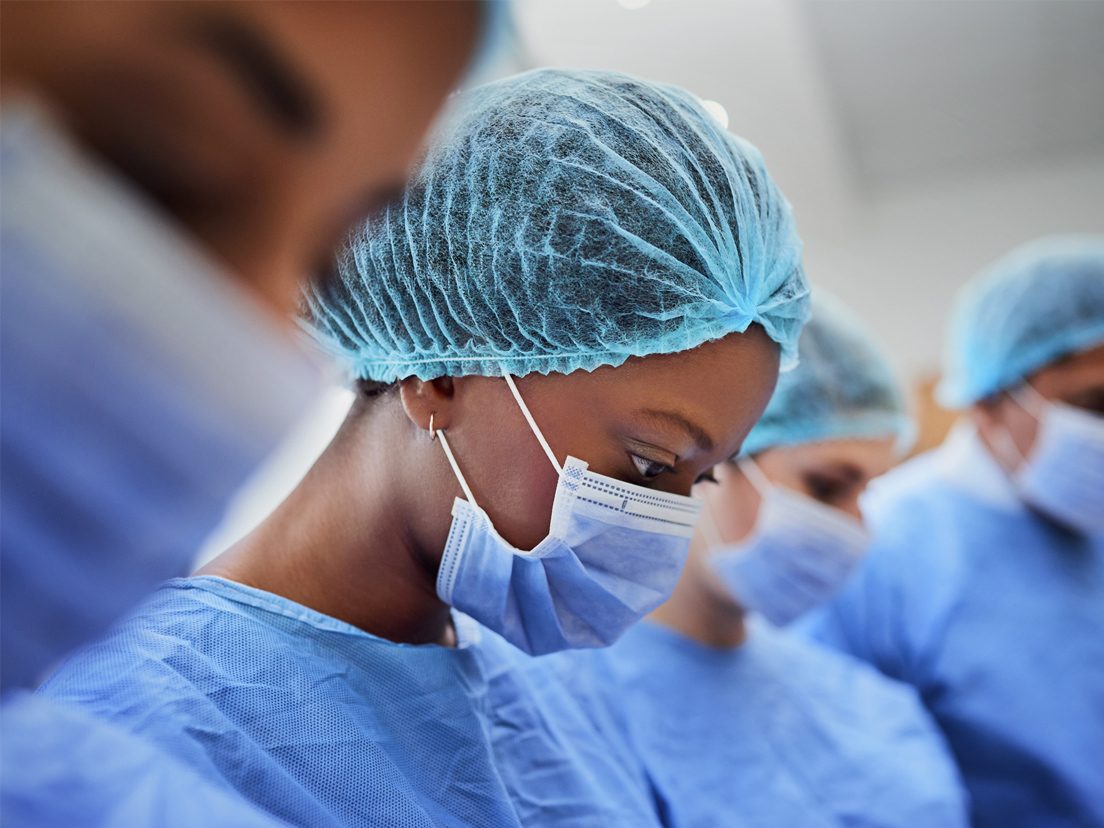 The scale of upheaval brought by the COVID-19 pandemic likely won't be fully understood for many years — lives lost, jobs lost, the mad scramble to adjust to online school and working from home, the necessity of staying away from cherished loved ones.
For women in healthcare, the pandemic has brought all those changes, along with a sharpening of pre-existing inequalities — and, perhaps, some new and unforeseen opportunities.
Unequal impacts
The data is striking. A study from Altarum found that 530,000 fewer women are employed in healthcare than before the pandemic, a staggering number that represents 3.8% fewer healthcare jobs for women. By contrast, the industry has lost 1.2% of jobs held by men.
Nurse practitioner Kelly Lueck is among those who have lost opportunities to the pandemic. Lueck has worked as an NP for more than eight years, and before that, she was a nurse for more than 9 years. Last year, after working locum tenens assignments in New York City during the peak of that city's COVID-19 cases, she had a two-month locum tenens contract canceled and then struggled to find work elsewhere.
"This is the first time I have not had a job, ever," she says. "They don't have enough patients because of this virus. Everybody is just staying home."
In an April 2020 policy brief, the UN noted that, "Across the globe, women earn less, save less, hold less secure jobs, are more likely to be employed in the informal sector. They have less access to social protections and are the majority of single-parent households. Their capacity to absorb economic shocks is therefore less than that of men."
Women working in healthcare are not sheltered from these inequities. For instance, male primary care physicians earn nearly 25% more than their female colleagues, and male specialists earn 31% more than female specialists, according to the Medscape Female Physician Compensation Report 2020, which compiled its data prior to the onset of the pandemic.
Adjusting to the pandemic
The COVID-19 pandemic has disrupted life both within families and within healthcare organizations, and women frequently bear the brunt of those changes.
In a survey conducted in a physician mothers Facebook group in late April and early May 2020, 55% of physician mothers reported that they'd modified their work schedule to provide telehealth visits and 38% said they were now working from home. Only a quarter of physician mothers had not changed their work schedule. Some mothers — 12% of them — had voluntarily increased their work hours, while 6% had been required to increase their hours.
Research has found that when schools closed due to the pandemic, 44% of women reported being the only person in the household providing the extra childcare, compared with 14% of men. In fact, in a survey conducted in May and June 2020, a quarter of women who lost jobs during the pandemic said they had to step away from work because of a lack of childcare — double the rate of men.
Writing in JAMA, Dr. Linda Brubaker explains that, "It is simply a more common expectation that women physicians will adjust their professional lives. The COVID-19 pandemic is requiring additional adjustments to the professional lives of physicians. Many of these adjustments will be made disproportionately by women physicians."
Careers at a crossroads
For physical therapist Jasmine Van Dyke, a dearth of travel therapy jobs meant stepping away from traveling to accept a permanent position. Van Dyke had been working as a travel PT for eight years, an option that enabled her to quickly pay off student loans. She loved traveling and mostly worked longer assignments that enabled her to deeply explore new places and communities.
"I never thought that I would work in the healthcare field and struggle to find a job!" she says. "I was very sad to leave travel therapy, especially when I felt kind of forced to do so, that it wasn't on my terms. It seemed daunting to think about taking a permanent position after eight years of only knowing the travel lifestyle as a therapist."
On the other hand, the pandemic shutdowns made it possible for nurse Jovita Santoyo to pursue her dream of travel nursing. Santoyo previously had discussed travel nursing with her young son, but he was "absolutely against it," she says, because he didn't want to be home schooled.
"But since COVID forced him into online school, he realized he likes online schooling better than going to an actual school," Santoyo explains. She seized the opportunity to give travel work a try, and the pair have enjoyed exploring Houston during her first travel assignment. In fact, she plans to continue travel nursing for the foreseeable future.
"I know that if I don't do this now and experience this freedom with my son, I probably won't be able to later once he wants to settle back into a more normal school. He's up for it, I'm up for it, so we're just going to go where the wind blows us," she says.
The emotional toll
Job losses, financial damage, and career changes are just one aspect of how COVID-19 has impacted women in healthcare. Women are also experiencing stress and emotional fatigue from dealing with the realities of the pandemic.
In areas of the country that have been COVID-19 hot spots, physicians, nurses, and other healthcare providers have been reassigned from their normal roles to assist in caring for COVID-19 patients. "We are readily making sacrifices for others," says OB/GYN physician Afriye Amerson. She notes that caregivers are used to some level of risk from exposure to diseases. But with a lack of proper training or PPE, "this coronavirus pandemic is taking it to the next level."
For Amanda Truog, a locum tenens nurse, a frightening brush with COVID-19 came when she delivered her son in May. She was tested for COVID-19 on admission but did not receive her positive result until after the delivery. "So I had exposed my husband, the kids, the baby … nurses and doctors, anesthesiologists, phlebotomists."
She'd had a c-section, which normally would have meant a three-day hospital stay. But due to her positive COVID-19 test, she was discharged the next day.
"It was wild! I had to self-isolate for 10 days," Truog says. "First I was dealing with post-surgery with the c-section; there is a lot of pain that comes with that. And then just wondering is that cough that the baby just had, or the sneeze, is that COVID? Is the baby going to die? Is my 2-year-old going to die? Is my husband going to die? It was very scary the whole time."
With healthcare workers and more of the population now receiving COVID-19 vaccines, there is a glimmer of hope that life will eventually settle down into a new normal. For women in healthcare, what that looks like is anyone's guess.