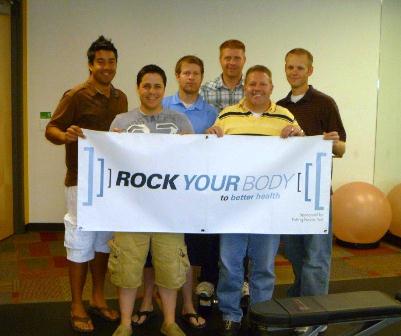 Jaron Leake, left, Mark Bell, Mike Knapp, Aaron Falk, Charles Albertson and Justin Barker were members of the winning Rock Your Body team, We're Not Eating for 10 Weeks.
A mutual love for junk food united the winning Rock Your Body team, We're Not Eating for 10 Weeks, and helped them to stay motivated during the company fitness competition.
Mike Knapp, recruiter for the CompHealth permanent placement division, said he was very strategic when choosing a team to participate in Rock Your Body.
"After weeks of carefully browsing the floor to review the eating habits of fellow co-workers, I noticed a particular trend amongst six of us -- we all love to eat Hostess Hohos. I'd say we each ate at least a box a day, sometimes two," Mike says. "Giving this up would be no small task, but we made a pact with each other that we would swear off HoHos for the duration of the Rock Your Body competition."
Mike shares that the original team name was Bros Before HoHos, because "each of us would willingly lay down his life for the team rather than eat a HoHo," but the name "would not fly with the censorship committee." Teammates decided on the new name because they'd have to starve themselves to win the competition.
"We didn't really starve ourselves, but we did hold each other accountable. For instance, when a teammate went to eat something unhealthy, the remaining five would be quick to suggest an apple or water might be a better alternative," Mike recalls. "Other deterrents were anonymous calls to that person's wife in the middle of the night letting them know that we knew where their kids went to school and that a healthy sack lunch for their husband the next day would stop these types of calls. It's amazing what these motivational tactics did for our team."
In addition to late-night phone calls, the team was also motivated by a weekly spreadsheet where weights were recorded, a commitment to eating a healthy diet and exercising and good-natured harrassment from team members when anyone fell behind.
The members of We're Not Eating for 10 Weeks achieved their fitness goals and took first place in the Rock Your Body competition, but there were other benefits as well.
"We are all over our HoHo obsession now," Mike shares. "We won paid individual healthcare for a year, too!"