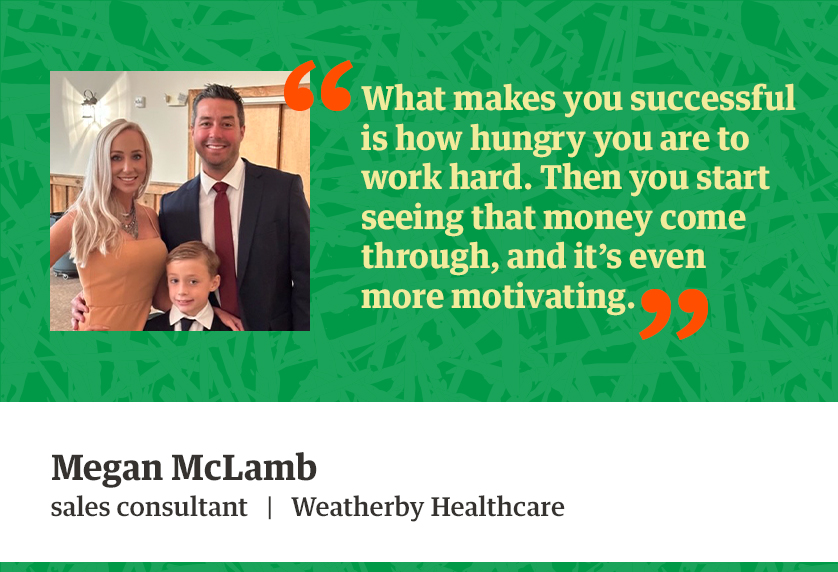 Sales jobs at CHG Healthcare reward you in many ways. Anyone who makes their living in sales will probably tell you it's a demanding career. And a company's culture makes all the difference in the world when it comes to growing their careers. Culture is just one of the many reasons sales consultants love their job at CHG.
Embracing the challenge
Mitch Lyle is a sales consultant with Weatherby Healthcare, a division of CHG Healthcare. His job is finding physicians to work in temporary assignments, or locum tenens, across the United States. He's been with Weatherby for more than five years and in sales for a decade. But even during the pandemic — when hospitals and clinics cancelled their requests for doctors and his sales plummeted — he never questioned his resolve to stay with Weatherby. His reasoning: "This is the best company I've ever worked for."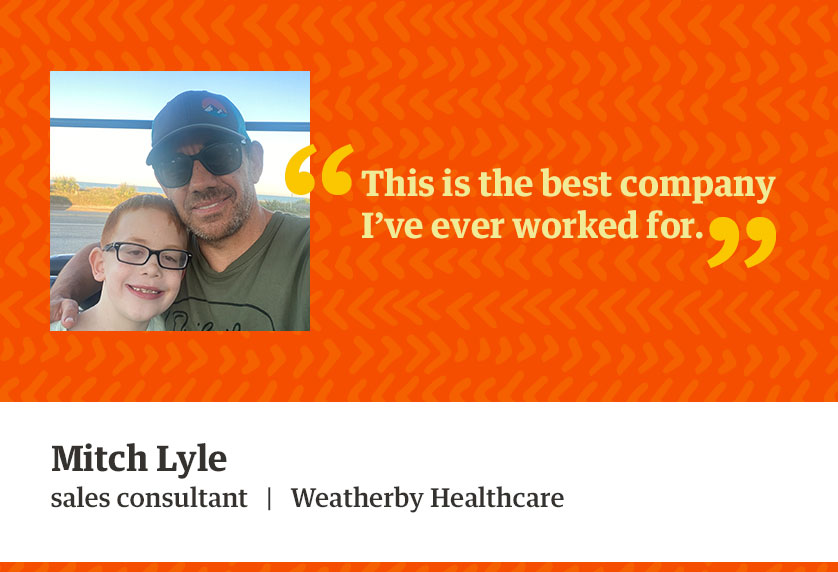 Now that business has bounced back and is stronger than ever, he's happy he stuck with it. "Any sales role where there's great opportunity, there's also going to be stress," Mitch says. It helps that he truly enjoys his job. "It's just fun!"
James Watkins is another Weatherby Healthcare sales consultant who put in the effort and is enjoying the rewards of his work. He says his job is like running his own business: he has the freedom and flexibility to run his desk the way he thinks best, but — even better — he has the support of a large company behind him.
"They lay it out on a silver platter for you. You just have to go get it," James says.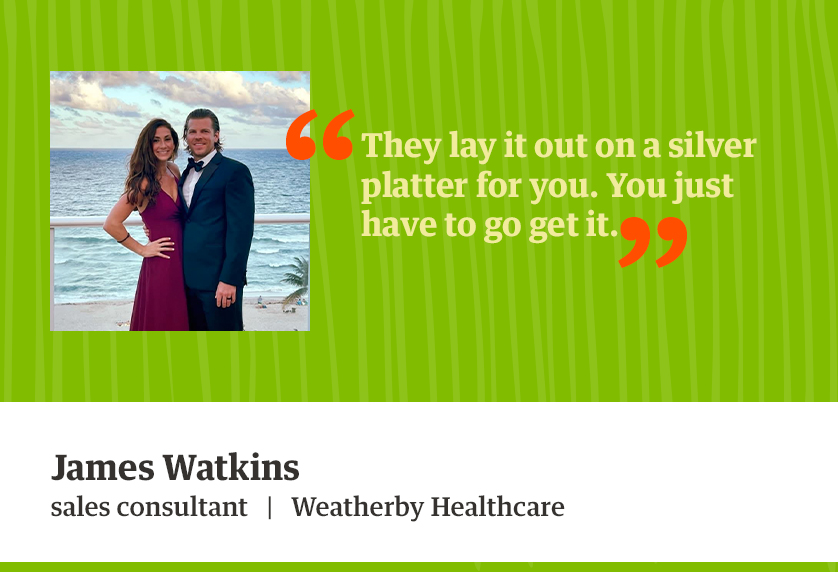 Kaitlyn Owen was a new college graduate when she first joined Weatherby Healthcare as a sales consultant. But she didn't let her lack of experience hold her back. She put in the work to build her book of business and has seen more success than she anticipated.
"The job is more than I could have ever imagined," Kaitlyn says. "I never would have thought I would be able to get success in a job this quickly."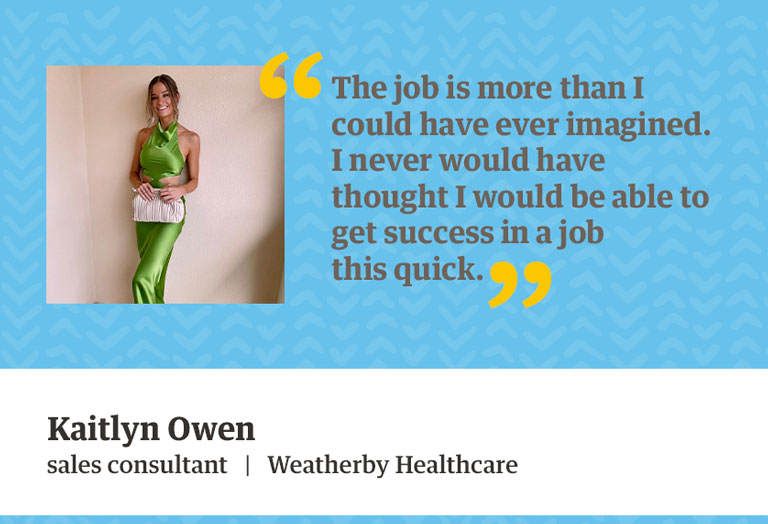 Who is CHG Healthcare? Meet the CHG family of businesses
Compensation
Let's face it: When you're in sales, you want to have your efforts pay off. And for these CHG salespeople it has — and in a big way.
"This is an opportunity where there's going to be some hard work," Alvin Powell, sales consultant at Weatherby. "I don't want to sugarcoat it. But I never anticipated making this much money in my entire career. It's really possible with CHG."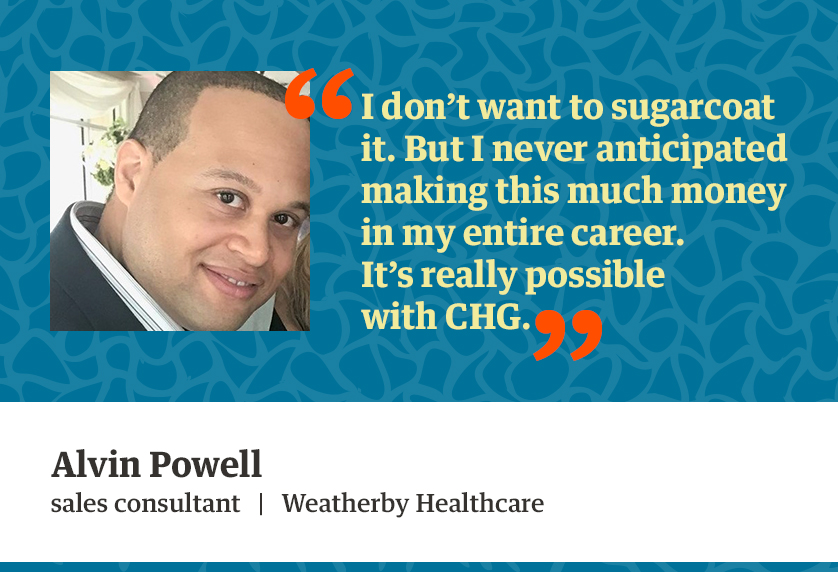 Megan McLamb, a sales consultant at Weatherby, says you get to determine your level of success. "What makes you successful is how hungry you are. How hungry you are to make the money, to work hard. You get a couple doctors placed in a couple jobs, then you start seeing that money come through, and it's even more motivating."
Senior provider rep Simon Parsons, who works at CompHealth, another division of CHG, says if you're driven, you'll see the payoff. "I don't see any reason you couldn't be a six-figure earner in your first year."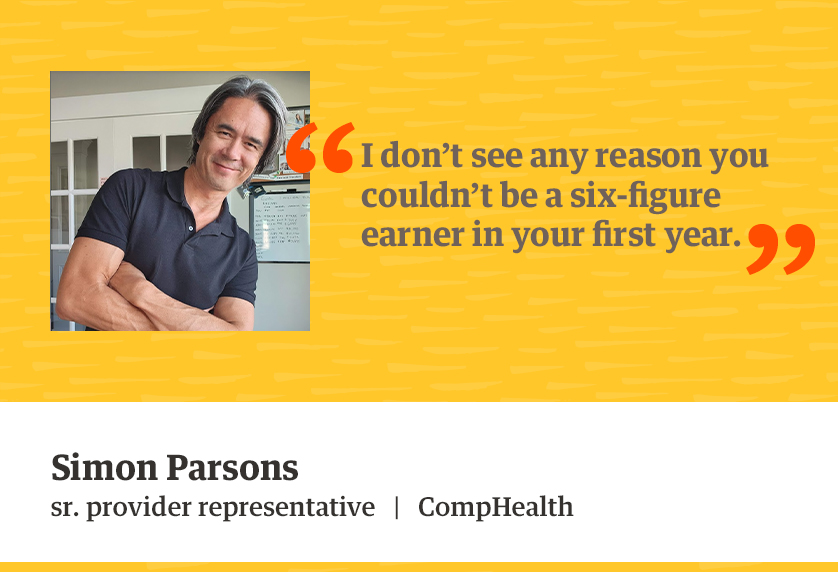 Earning enough money to provide for her son and having a long sought-after lifestyle are what motivate Tess Smith, placing manager at CompHealth. "We're able to camp, climb, travel, and do the things that feed your soul outside of the grind."
Tim Hyde worked in phone sales before joining Weatherby Healthcare as a sales consultant. Now, he's been with the company for over 10 years and has found the financial security he always dreamed of.
"My job has allowed me to have the financial freedom to travel, save for the future, and take time off when needed," Tim says.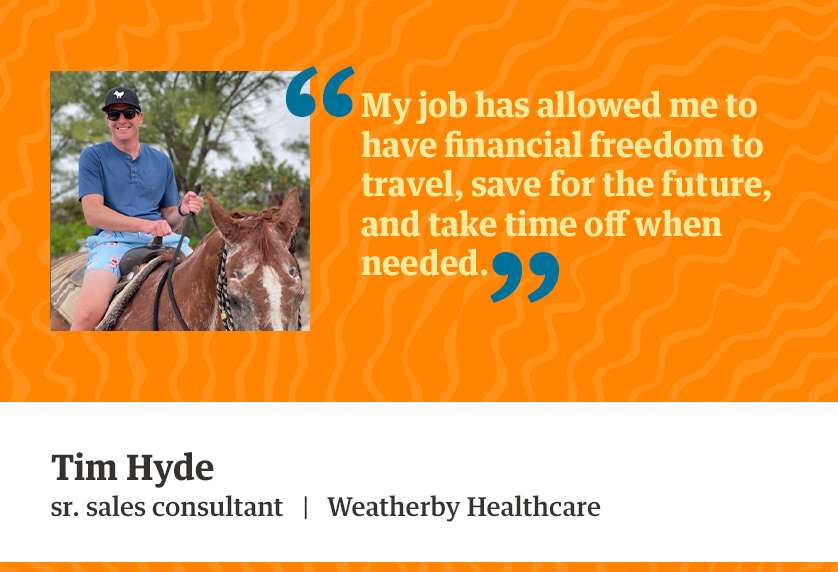 Want to get hired? Check out: The ultimate guide to getting hired at CHG Healthcare
Balancing work and life
Of course, money is nothing if you don't have time to enjoy it. That's why CHG emphasizes the importance of having a good work/life balance.
Maria Savage is a sales consultant for another CHG division, Global Medical Staffing. She specializes in finding physicians who are interested in overseas assignments. Prior to joining GMS in 2018, Maria was in the hospitality industry.
Nervous about transitioning industries, Maria says the support she got from her leaders and co-workers helped her achieve success in staffing. "My manager has been here all the way, and we have a great training department," she says. "I always felt I could ask anything, and they would help."
Maria says this kind of support has helped her feel at home and maintain a productive work/life balance. "I know if I need some flexibility to accommodate whatever is going on in my life, my needs will be heard," she explains.
For Maria, CHG's core values are not just a slogan on the wall. She says, "They have genuine concern for their employees."
Want a sales job with a company that really cares about its people and their success? You may be just who we're looking for.