Two young kids and a full-time job can make just about anyone tired. But Anitra Berkowicz, a business support specialist for our Weatherby Healthcare division in Fort Lauderdale, isn't just anyone. She exercised, ate healthy, and took good care of herself. "I really care about my health," she says. That's one reason she took advantage of CHG's "Know Your Numbers" health event in the spring of 2018.
Because CHG also cares about employees and their health, the company hosts an annual health fair to give our people a chance to get a comprehensive look at their health, including learning their blood pressure, cholesterol, body mass index and glucose levels. Participants can earn wellness points that can then be applied to our health insurance discount program. In Anitra's case, the event probably saved her life.
The numbers game
Anitra's test results surprised and worried her. Her white blood cells were critically low and her red blood cells falling as well. The test also indicated her triglycerides, a type of fat found in the bloodstream, was dangerously high, putting her at risk for coronary artery disease or stroke.
She thought she was in good health, but the numbers were telling a different story. "There must be a mistake," Anitra recalls thinking after the test. She immediately took her results and went to our free on-site Marathon Health clinic. "The fact that we have the clinic here and I can make an appointment and walk downstairs is phenomenal," Anitra says. Using the clinic, she never had to take time off work to get medical help or spend hours waiting in a doctor's office.
"I talked to the Marathon Health clinicians, Barbie and Kim, and they said, 'Let's do another blood test to make sure there aren't any false positives,'" says Anitra.
They ran a second test with similar results. And a third test. That's when the Marathon professionals told Anitra she needed to see a hematologist or oncologist. She followed their advice and turned to specialists at the University of Miami Hospital, who ran tests of their own. The diagnosis: cancer.
Gearing up for the fight
"I really wasn't thinking cancer!" Anitra recalls. She'd experienced some fatigue but none of the other warning signs. Anitra was diagnosed with Acute Myeloid Leukemia, or AML. The blood work from the "Know Your Numbers" event tipped doctors off. "If I hadn't had the Marathon Health clinic, I wouldn't have known I had a very aggressive form of cancer." She started chemotherapy just four days after her diagnosis.
Forty days of punishing chemo, nine bone marrow aspirations, and countless hours of diagnostics later, Anitra was allowed to go home. She was back in the hospital in September, quarantined for another three weeks in preparation for a life-saving stem cell transplant. When she was finally able to return home, her immune system was so compromised she wore a surgical mask and gloves to protect her from her own children. She says her family at home and her Weatherby Healthcare family got her through her cancer battle. Anitra's husband, Brian, also works at Weatherby as a senior sales consultant on the general surgery team. "The company was phenomenal!" Anitra says.
Her leaders told Anitra her job would be there for her whenever she wanted to come back. The company also gave Brian permission to work from home to help monitor his wife's condition. Then there was the emotional support. "Somebody was always checking on us to make sure we were OK."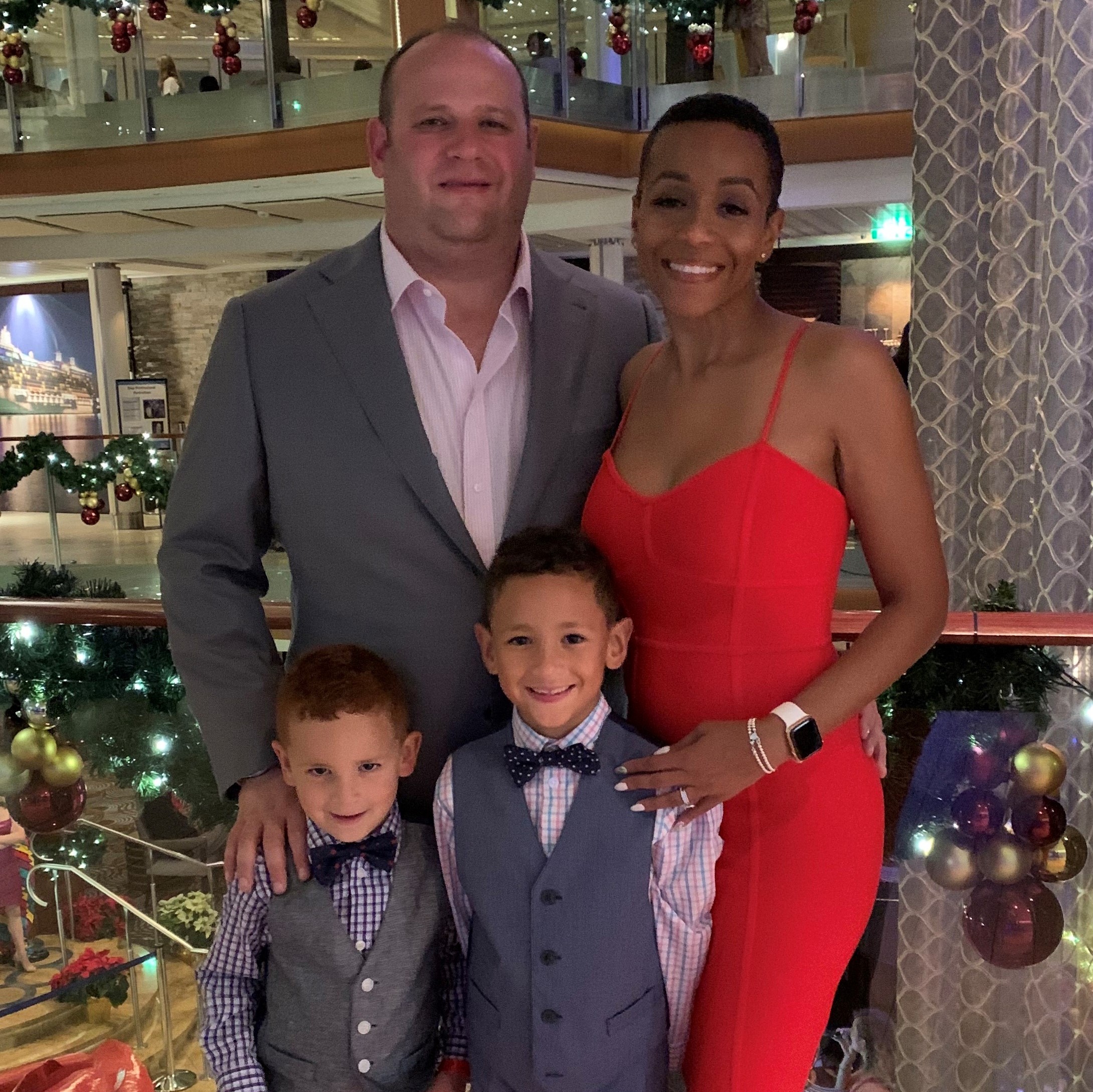 Going the distance
CHG's health insurance covered almost all of Anitra's multi-million-dollar hospital stay and our advocacy program is helping her navigate snags in the hospital's billing system. She still visits her oncologist every other month and an extra year of maintenance chemotherapy is helping her stay in remission.
Today, Anitra is back at work, working out, and traveling. "My life is about 98% back to normal," she says. She still stays in touch with her Marathon Health medical team, "Without the clinic I wouldn't have even known I was sick."