After working together at Weatherby Healthcare in Fort Lauderdale, Fla. for three years, Joseph Miele and Shannon Fox tied the knot on January 12, 2013.
Joseph and Shannon met through mutual friends on a trip to Negril, Jamaica over their spring break in 2006.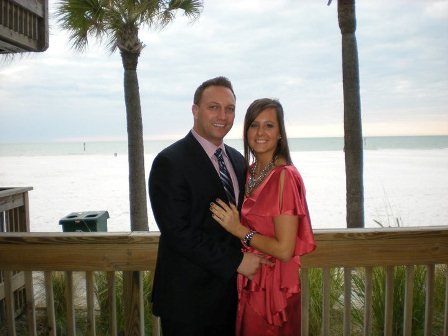 "Although Joe and I had a ton of mutual friends, we had never met until Jamaica," Shannon shares. "Several months after our trip to Jamaica, a group of us went to a bar in Tampa to watch the Miami Heat win the NBA Finals. That was the first time Joe and I had seen each other since Jamaica, and we have been together every single day since then!"
That includes days at Weatherby Healthcare, where both Joseph and Shannon came to work. Joseph may have started one year before Shannon, but thanks to Weatherby Healthcare's warm, family-like culture, his leaders and co-workers knew all about her.
"I can thank Joe's managers for hinting to him that he needed to 'put a ring on it' almost every day for the first year he worked at Weatherby Healthcare!" Shannon says.
Much to the excitement of their co-workers, he did, and the two were married in the Riviera Maya, Mexico, a destination the avid travelers chose so that their friends and family could enjoy a vacation.
"It was the best day of our lives so far," Shannon says. "It was simply incredible."
Shannon was blown away by the support she and Joseph received from their co-workers and believes that the people are the best thing about CHG.
"Weatherby Healthcare is unlike any working environment we have ever worked in before," she says. "Everyone is connected somehow, whether it be as husband, wife, brother, sister, mother, father, boyfriend, girlfriend or friend. There is so much fun, laughter and love in the workplace!"