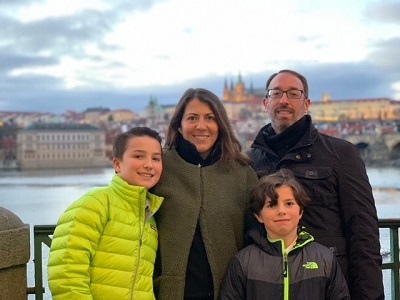 Andy Gastmeyer came out of college at UNC Chapel Hill with a bachelor's degree in health policy and administration. But he didn't want to leave Chapel Hill and enter the working world. He was worried and stressed. And his grandpa Pop-Pop noticed.
During Andy's post-graduation family dinner, Pop-Pop lovingly slapped his grandson on the back, and said, "As long as you always do what you say you're going to do, you're going to be just fine."
For two decades, Andy has been doing just that. As a senior sales consultant at Weatherby Healthcare's Durham, North Carolina, office, he's been recognized 16 consecutive years with President's Club trips for sales excellence. Some of his clients have been working with him almost since his very first day.
When Andy landed his Weatherby job, there were only two people in the office. But he worked hard, learned fast, and the company gradually grew.
"I learned a lot about how to vet people and how to actually match people with jobs," he recalls. "I learned how to put quality assignments together."
These days, Andy specializes in radiation oncology. He says he's built a good business and makes a very good living, but what keeps him going is the sense of responsibility he feels for his teammates and his clients. He wants to make sure he's taking good care of them both.
Whether it's the flexibility to get in a daily swim or benefits he believes just keep getting better, Andy says he feels valued at CHG Healthcare. And he's got some advice for new sales recruits, too: "You have to be patient and you have to be persistent," he advises.
And one more thing. It's the same advice his Pop-Pop gave him.
"Do what you say you're going to do," he says. "People will work with you when they see that."
Looking for a company where you can grow your career? Take a look at our open positions today.