Melissa Meserole, staff administrative coordinator at Foundation Medical Staffing in Edmond, Okla., was recognized by the United Way chapter in Oklahoma for the work she did fundraising and event coordinating in this year's United Way campaign. The organization elected Melissa as the 2012 outstanding employee campaign coordinator in the small business category for her work as the point person at Foundation Medical Staffing.
"I was shocked and incredibly honored to have been nominated for this award by Jo Wise, my contact person from the United Way of Central Oklahoma," Melissa says. "She repeatedly told me how much she loved the enthusiasm of Foundation's employees, so the honor really belongs to my fellow co-workers who have huge, inviting hearts that love to give. They are the ones that really made this year's campaign a huge success, giving three times more than they did last year and having 100 percent participation."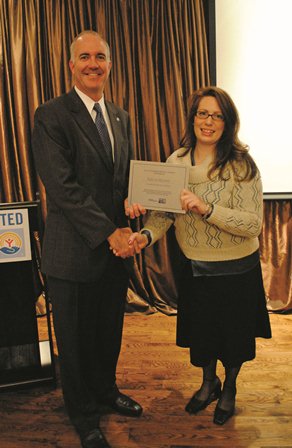 Melissa accepts her award from the campaign chair, Bryan Gonterman.