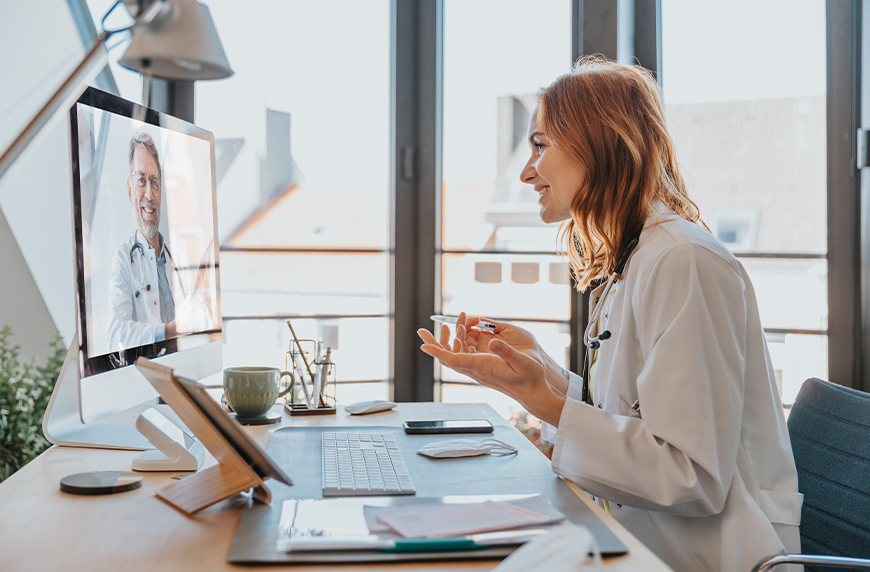 Telehealth has emerged as a cost-effective and extremely popular addition to in-person care for a wide range of patient needs. A recent survey revealed that 69% of Americans prefer telehealth to in-person care due to its convenience. To help your healthcare organization achieve its goals and get the most out of your telehealth program, we've identified five critical components that will help you to expand your program and navigate the latest telehealth rules and regulations.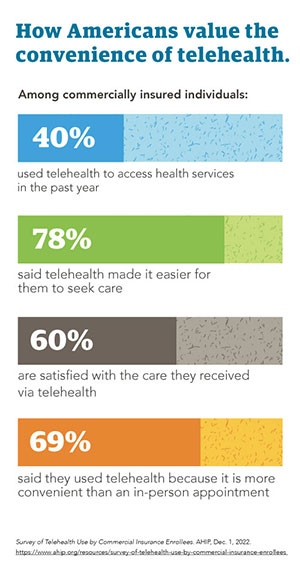 1. Getting telehealth providers ready to work
In most cases, federal and state laws require providers delivering care to be licensed in the state from which they're delivering care (the "distant site") and the state where the patient is located (the "originating site"). So, if a provider lives in Washington and conducts a telehealth visit with a patient in Florida, they must be licensed in both Washington and Florida.
Fortunately, a majority of states have licenses or telehealth-specific exceptions that allow an out-of-state provider to deliver services via telemedicine, called cross-state licensing. These licenses allow providers to offer care in a different state if certain conditions are met. It's important to familiarize yourself with the telehealth licensing requirements for each state.
Telehealth licensing
Almost every state has its own licensure requirements for healthcare providers, but the Interstate Medical Licensure Compact (IMLC) streamlines the licensing process and makes it much simpler for healthcare practitioners providing telehealth services to hold licenses in multiple states. For the latest list of participating states and answers to frequently asked questions, visit imlcc.org.
Another tool that can speed up the licensing process is the Uniform Application for Licensure, a web-based application that improves license portability by eliminating a provider's need to re-enter information when applying for licenses. The Uniform Application collects all information needed for credentials verification as well as board-specific requirements for participating states. For availability in your area, see the list of participating state medical boards.
Credentialing for telehealth
To deliver telehealth services, a provider must be credentialed for and have privileges at the facility they will be working for, regardless of if they're physically on-site. This can be done by a traditional in-house credentialing process or through credentialing by proxy.
Credentialing by proxy allows remote providers to be credentialed by a remote hospital rather than following the credentialing process for a hospital where they will never practice in person.
Rural telehealth
Licensing and credentialing providers for rural health facilities follow the same process as for those in urban areas. Healthcare facilities in rural locations seeking to streamline their telehealth credentialing process can benefit from credentialing by proxy by allowing community and critical access hospitals to rely on the credentialing process of distant telehealth sites.
Temporary Medicare changes
To ensure patients in rural or underserved locations continue to receive uninterrupted telehealth-delivered care, the Department of Health and Human Services extended the following services through December 31, 2024:
An in-person visit within six months of an initial behavioral/mental telehealth service, and annually thereafter, is not required
Telehealth services can be provided by all eligible Medicare providers
Some non-behavioral/mental health services can be delivered using audio-only communication platforms
Permanent Medicare changes
Rural Emergency Hospitals are eligible originating sites for telehealth
FQHCs and RHCs can serve as a distant site provider for non-behavioral/mental telehealth services
There are no geographic restrictions for originating site for non-behavioral/mental telehealth services
Medicare patients can receive telehealth services for behavioral/mental health in their home
Behavioral/mental telehealth services can be delivered using audio-only communication platforms
For additional rural-specific credentialing guidelines, visit the NRHA telehealth hub.
2. Getting reimbursed for telehealth
The most common question asked by healthcare leaders is how to get reimbursed for telehealth services. Reimbursement rates for telehealth services can vary by payor and whether you're receiving payment from a private payor, Medicare, or a state Medicaid plan.
Payment parity laws, which are legislated at both the state (Medicaid) and federal (Medicare) level, also can affect reimbursement rates. The Centers for Medicare and Medicaid Services (CMS) has extended full telehealth payment parity for many provider services permanently, while others have been extended through the end of 2024.
Pay parity laws
As of November 2023, 43 states, the District of Columbia, and the Virgin Islands have pay-parity laws in place. There are two types of pay parity:
Payment parity for telehealth
Payment parity is the requirement that telehealth visits be reimbursed at the same payment rate or amount as if care had been delivered in person.
Telehealth service or coverage parity
Also referred to as access of parity, coverage or service parity requires the same services be covered for telehealth as they would be if delivered in person. Coverage parity does not, however, guarantee the same rate of payment.
Telehealth parity as of Nov. 7, 2023
NOTE: Pay parity laws are subject to change. For the most current status and detailed state-by-state telehealth parity law legislation, visit the Center for Connected Health Policy website.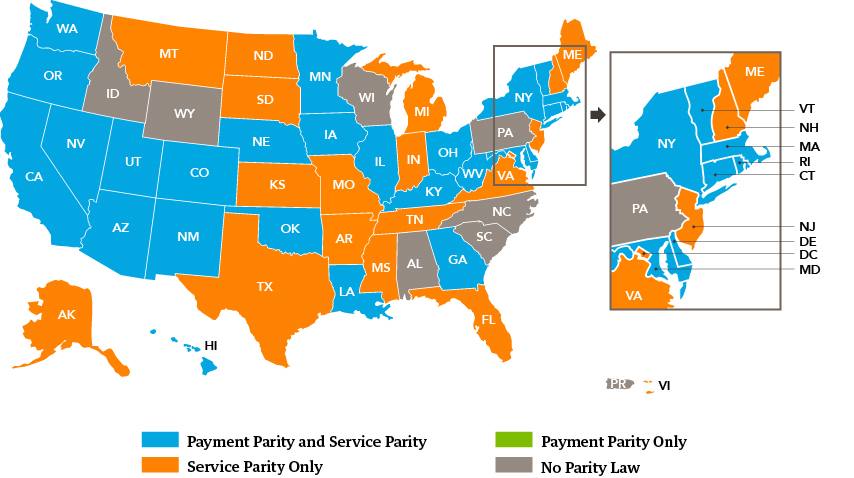 Click on the state link below to view telehealth parity information for that state.
3. How to bill for telehealth
Telehealth billing guidelines fall under three main categories: Medicare, Medicaid, and private payor.
Medicare telehealth billing guidelines
In 2020, CMS broadened which telehealth services may be reimbursed for Medicare patients. With this expansion of care, Medicare patients are now able to receive virtual treatment from a wide range of providers — from physicians to licensed clinical social workers — and for a wide range of services.
CMS' most updated fee schedule for Medicare reimbursement went into effect January 1, 2023. While CMS extended coverage, some telehealth reimbursements are set to expire at the end of 2024. Each state, however, has ongoing legislation that reevaluates telehealth reimbursement policies, both for private payor and CMS services. More details are available here: Federal Medicare and Medicaid telehealth policies
View Medicare's telehealth billing guidelines on service parity and payment parity.
Medicaid billing for telehealth services
Medicaid coverage policies vary state to state. In response to the public health emergency, many states moved to broaden the coverage for services delivered via Medicaid for telehealth services. In fall 2022, the Center for Connected Health Policy (CCHP) released its executive summary of state telehealth laws and Medicaid program policy. As of publication, Medicaid has both coverage and payment parity laws in place in all 50 states and the District of Columbia.
Billing private insurance for telehealth
Each private insurer has its own process for billing for telehealth, but 43 states, DC, and the Virgin Islands have legislation in place that requires private insurance providers to reimburse for telemedicine. To find the most up-to-date regulations in your state, use this Policy Finder Tool.
4. Telehealth technology
Many healthcare facilities use the telehealth capability built into their electronic health record (EHR) system, such as:
Other technologies healthcare facilities use live video conferencing, mobile health apps, "store and forward" electronic transmission, remote patient monitoring (RPM) systems, and video and audio technologies. Example technologies include:
All telehealth technology must be HIPAA compliant. Although allowances were made under the OCR's Notifications of Enforcement Discretion for Telehealth during the COVID-19 pandemic, those provisions not to impose penalties for HIPAA noncompliance expired on May 11, 2023. The 90-day transition period to come into compliance with HIPAA on telehealth ended Aug. 9, 2023.
Ask the following key questions before implementing a telehealth technology provider:
Is your technology HIPAA compliant?
Can visits be scheduled through the platform?
Does it require patients to download and install an app?
Can patients complete any necessary forms through the platform (e.g. consent to telehealth treatment form)?
Can patients upload photos or attachments through the platform?
How does it integrate into my EHR?
For additional tips on telehealth technology implementation, see the Health Resources and Services Administration's guide: Getting started with telehealth
5. Locum tenens and telehealth
Many physicians are interested in working telehealth shifts as locums. A CHG Healthcare survey found that 37% of physicians surveyed are interested in telehealth locum tenens work on the side, and 30% are interested in doing telehealth as full-time locums.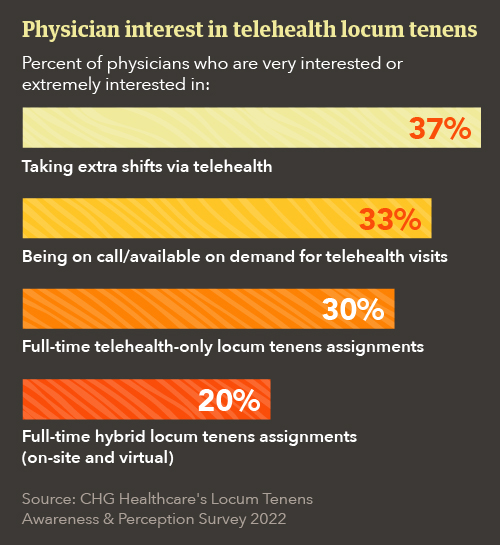 Telehealth locum tenens licensing and credentialing
Just like the locum tenens providers you bring on-site to your facility, locums providers performing care via telehealth still need to be fully licensed and credentialed, both in the locum physician's state of residence and the originating site (patient's state of residence).
What locum tenens agencies provide to support telehealth
Some locum tenens agencies provide malpractice coverage for telehealth locum providers, with the contingency that you have adequate processes and technology in place to protect them. Many locums agencies will assist in physician licensing and credentialing as well. You will usually need to equip your locums with the needed technology, however, as most agencies will not provide this equipment.
How CHG Healthcare supports telehealth programs
Staffing capability for over 125 physician specialties for both hybrid and telehealth environments
Ability to stand up an entire staffing pool or supplement an existing physician group
Providers screened to meet your requirements and credentialed by our own CVO
Ability to staff in all 50 states and multiple international locations
Flexibility coverage options (nights, weekends, holidays, 24x7x365)
Learn about CHG's telehealth workforce solutions.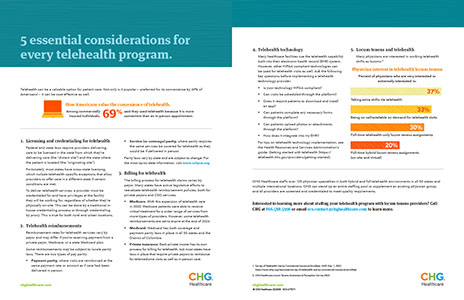 Interested in learning more about staffing your telehealth program with locum tenens providers? Give us a call at 866.588.5996 or email ecs.contact@chghealthcare.com.
Page last updated Nov. 7, 2023