For Tanner Lauka, recruiter at CompHealth allied health staffing in Grand Rapids, Mich., weekends are for socializing, re-energizing and regaining perspective on life. That's why he spends his Saturday mornings volunteering at the Boys and Girls Club of Greater Kalamazoo.
However, for Tanner, playing ping pong and shooting hoops with a bunch of kids is way too much fun to be volunteer work. Instead, he considers it more of a hobby.
"I love spending time with kids; they have an energy and passion that is contagious," Tanner says. "I find it helps me to not take life so seriously. In a way I think more adults should be like kids."
On a typical Saturday, Tanner arrives at the Boys and Girls Club around 9 a.m., says hello to the kids and waits for someone to pull him into a game of pool or foosball.
"Some kids just like someone to play with. Other kids, you can tell, really want some kind of role model or someone to look up to," Tanner explains. "Some kids really want that one-on-one time with an adult and other kids just want someone to play ball with. I do my best to gauge each kid and see what they want. It's all about having a good time and building positive relationships with the kids."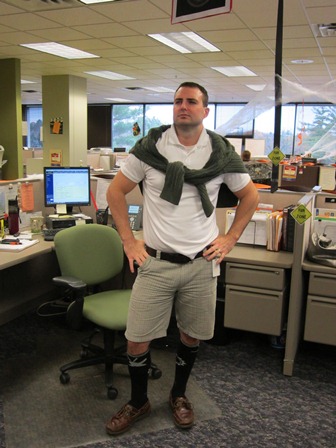 For Tanner, who has been involved with youth development programs for 12 years, building relationships with youth is nothing new. In fact, his volunteer work with youth began when he was one himself. During his high school and college years, Tanner spent many hours with homeless children at the Rescue Mission in both Saginaw and Holland, Mich. Since then, Tanner has volunteered two summers at the Muscular Dystrophy Association Summer Camp, worked with children with mental and emotional disorders at a local respite care center and worked as a youth mentor for a local group home for boys.
"When I moved to Kalamazoo, I was looking for an organization to get plugged into," Tanner explains. "The Boys and Girls Club was perfect for me because they allowed a great deal of flexibility for when I can volunteer, and they have tons of fun stuff to do at their club, so it is extremely easy to have a great time with the kids."
His favorite part? Seeing the kids smile.
"The most memorable experiences in my volunteering are the relationships that I have built with the kids. You come across some really sad stories at the shelters, group homes and clubs, and there are times when the kids let you know that they have really let you into their world."
On one occasion, Tanner met a boy with a rock solid reputation of being the "tough guy." Three weeks later, however, the boy was asking if he could go home with Tanner. Another boy Tanner worked with was at first angry, mean, violent and altogether very difficult to interact with. But time and patience paid off and during the holiday season, the young man made Tanner a card on which he had written "I love you."
Far from simply being volunteer work, Tanner Feels that spending his Saturdays at the Boys and Girls Club is something that greatly enhances his quality of life.
"Not only do I get to be a kid again, but I get to enter into the world of a struggling child or adolescent and understand the obstacles and challenges they have to face on a daily basis, challenges I will never have to face," Tanner says. "It's a privilege that I can be a part of these kids' life in some capacity and hopefully help them smile a little more, but I also see this as a great exercise in building empathy, which is important in all aspects of my life."