Executive Summary
2020 has been a year like no other — a divisive election year, civil unrest, and, of course, a global pandemic. With unease at home and at work, and with much of the workplace shifting to a "work from home" model in the face of COVID-19, CHG Healthcare surveyed more than 800 U.S. workers to see how this has impacted employees' experience at work and what we can expect for the future.
Sections of the report include:
What employees want
Culture remains a very important aspect of a job, with 84% of women and 75% of men (79% overall) stating they have left a job due to a bad company culture. When it comes to defining company culture, employees identify the work environment (41%) and how people are treated (27%) as the top things that come to mind. Surprisingly, company "perks"' came in last (.5%).

Shooting at the wrong target
When asked about what actually contributes to a good company culture, workers identified the top five things as work environment, growth and development, access to leadership, transparent communication, and the meaningfulness of the job. While it may seem like an easy fix to invest money in onsite gyms, ping-pong tables, or free food, what workers really want is a place where they feel comfortable with their work environment and are treated with respect.

Who's really in charge of culture?
While the human resource department may come to mind when talking about a successful culture, we found that a third (33%) of employees felt that managers are most responsible for cultivating a successful culture, with just over a quarter (27%) indicating that executives play the next biggest role. Only 3% of employees felt that HR contributed to a culture's success. This goes to show that investing in managers who are aligned with the company's vision and who are committed to creating a healthy workforce will enhance a company's culture even further. This research also supports the need for executives to engage with their employees to foster a good culture.

A leader, not a friend
Speaking of leadership, our research dug into the top characteristics employees want in a leader. Trustworthiness, not a micromanager, a mentor, accessible, and skilled at providing feedback rounded out the top five, while being a friend was what they valued the least.

Not all benefits are created equal
When searching for a new job or making a decision to leave one, employees care about both company culture and more tangible benefits. Our data shows the top five things prospective employees are looking for in a new job are: work from home flexibility (14%), paid time off (14%), health insurance (14%), 401(k) employer match (13%), and bonuses (11%).

Once employees are in a job, salary (17%), flexible work schedule (16%), and culture (15%) emerge as top contributors to employee satisfaction.

When asked which specific benefits they wish their current employer would offer, respondents mentioned: free healthcare (10%), unlimited paid time off (7%), and free meals (6%).

However, the survey found not all benefits appealed equally to men and women. For example, women were more interested in bonuses (37%) than men (30%), and women valued flexible work schedules (30%) more than men (19%).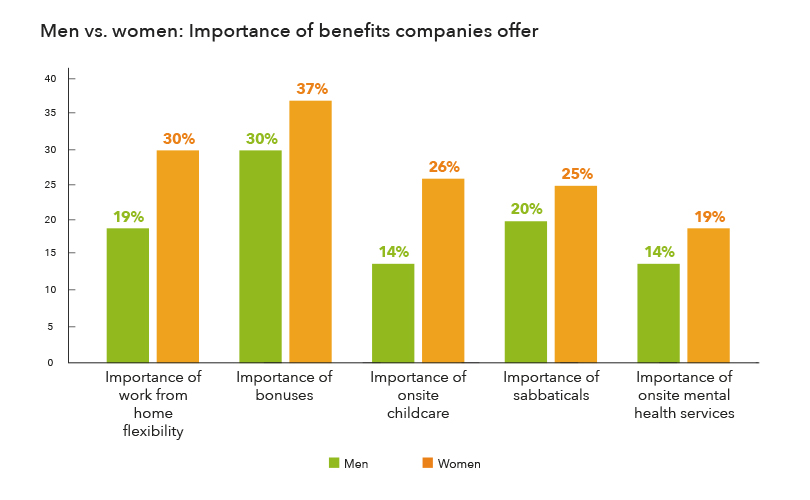 What brings an employee into a job is not always the same as what would make them leave it. The top reasons for leaving a job include: low salary (15%), poor company culture (13%), poor work-life balance (13%), poor leadership (12%), and lack of growth opportunities (8%).

A Mental Health and Culture Pandemic
COVID-19 forced many businesses to adopt a work-from-home strategy. Our research found that nearly three quarters of respondents (74%) began working from home due to COVID-19, with 85% on a full-time basis and 15% splitting their time between home and the office.
Getting culture right during the pandemic
Despite this workplace disruption and emotional distress, the research found that company cultures weren't impacted as much as some might have thought, with 54% saying their culture remained the same and 20% saying that the culture actually improved.

Of those who said culture improved, 40% attributed that to increased transparency and communication within the organization, followed by companies' willingness to maintain benefits and salaries (15%), and better leadership support (13%).

Transparent communication and leadership were a similar theme when it came to a decreased company culture. Of the 25% who said culture decreased, nearly one third (31%) pointed to poor leadership support, and a quarter of employees said that lack of communication and transparency were culprits.

Companies' values were tested during the pandemic and passed with flying colors, with 76% stating that they believed their company lived its core values.
As we look to the future of work and the prospect of companies adjusting their workplace strategies, nearly nine out of 10 (89%) said that a strong company culture can be maintained in a work-from-home world. Company cultures that will thrive need to ensure that communication and leadership are top priorities, otherwise they risk losing trust of their employees.
Mental health pandemic during COVID
Mental health has become a growing topic both at work and at home, and COVID-19 only added to the stress of those dealing with it. Based on our research, nearly half (48%) said their work had a greater impact on their mental well-being during the pandemic, with 40% stating it remained the same.
Of those who said work put a greater strain on their mental well-being, the top three reasons included change in the work environment (21%), uncertainty about employment (19%), and lack of connection with co-workers (18%). A slight majority (54%) said their employers addressed their mental health needs, compared to 46% who said they did not.

With mental health increasingly becoming a concern in the workplace, companies will have a greater responsibility to provide services and benefits to address these issues.
DEI, Social Justice, and the Future of Work
As 2020 continues to shape our workplace, diversity, equity, and inclusion (DEI) has emerged as one of the greatest challenges facing businesses today. To better understand its importance in the workplace, we set out to understand employees' perception of DEI, its impact on culture, and where it is most deficient.
Defining diversity in the workplace
When asked how to define diversity, nearly 20% of respondents associated it with race and ethnicity, 17% associated it with gender, and 14% with thought/opinion. According to the study, race and ethnicity is where employees feel their companies are lacking most (41%), followed by socioeconomic status (20%).

The impact of diversity
Seventy percent of respondents said diversity is very or extremely important to them when it comes to a successful workplace culture. Based on the data, 70% also felt their current employer focuses on making the company diverse and inclusive. However, only 50% said their company's leadership is diverse and 82% felt diversity within leadership is key to having a greater impact on the company culture. Although there is more work to be done, 33% of respondents felt their company has become more diverse and inclusive over the past year.

DEI initiatives and social justice causes
According to the data, more than half (52%) of respondents indicated a company's focus on DEI is important to them when looking for a prospective employer. When asked if their current organization had a clear DEI initiative, only 34% of workers said yes, 29% said no, and 36% were unsure.

The research also found that 60% of respondents felt it was important that companies are involved in social justice causes. As the world around us addresses challenges like diversity, civil unrest, and social divides among our country's population, the need for corporations to take a stance on both diversity and social justice causes has increased. In the future, creating a successful culture will require finding the balance between meeting employees' needs in the office and addressing concerns outside of it.
Methodology
CHG Healthcare (CHG) surveyed more than 800 U.S. workers ranging from ages 18-71. CHG designed the survey instrument to workers attitudes and sentiments toward workplace culture, working from home, mental health, and diversity, equity and inclusion. CHG administered the survey over a 16-day period in late July and August 2020.