Earlier this month, Weatherby Healthcare celebrated National Medical Staff Services Awareness Week by recognizing the important role that its very own medical staff services teams play in the company's day-to-day operations.
"There isn't a single provider day booked without first being processed through MSS," says Amy Coelho, communications specialist at Weatherby Healthcare in Fort Lauderdale, Fla. "Many of our successes are due largely in part to the miracles they seem to work on a daily basis."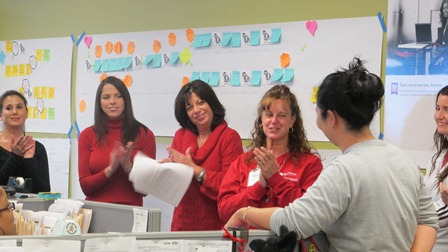 NAMSS Week recognizes professionals involved in the various aspects of practitioner credentialing. These professionals work closely with their counterparts in hospitals and managed care organizations and licensing boards to monitor the ongoing competence of physicians and other practitioners. More than fifty MSS professionals are employed by Weatherby Healthcare.
At Weathery Healthcare, NAMSS Week began on Monday, November 5, with a welcome breakfast for the MSS team members. Each team member's desk was decorated with a red ribbon and an invitation to the week's activities, which included buffets of candy, fruit and gourmet popcorn, a graduation luncheon celebrating weeks of CHG Lean training program sessions, emails highlighting how each of the MSS teams contributes to company success and daily raffles for prizes such as PTO coupons, airline tickets and a chance to attend the 2013 NAMSS Conference and Exhibition.