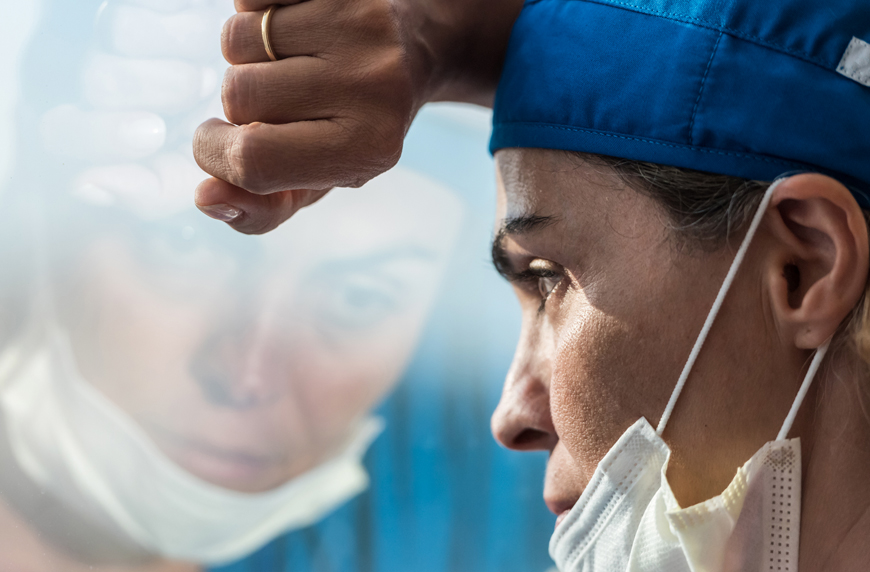 Just two months into the pandemic, CHG surveyed more than 1,200 healthcare providers and asked them how COVID-19 has impacted their anxiety levels; 72% said their anxiety has spiked since the crisis began. Since that time, provider stress and feelings of burnout have only gotten worse. Pandemic fatigue combined with long-term systemic issues have resulted in mass resignations in healthcare and an even great risk of provider mental health problems. As a result, many healthcare facilities nationwide are taking a hard look at how they can better care for their staff's emotional well-being. Here are just a few ways healthcare organizations are addressing provider wellness in their organizations.
Feeling alone
One provider who responded to CHG's May 2020 survey said, "I've kept away from my partner and family since this began in order to keep hospital germs far from them. Not having them after a stressful day during a stressful time has done a number on my mental health." Similarly, another stated, "I feel very alone during this difficult time. Even a hug is off limits." Among nurses alone, 79% said they were more anxious than ever.
How facilities can help: John Hopkins University implemented 15-minute end-of-shift huddles to allow shift members to share challenges and positives of the day before transitioning home. These structured meetings include grounding exercises and help employees pause, connect to one another, release stress, and return home with a calmer mindset.
Handling trauma
After experiencing the death of three patients in three days due to COVID-19, one nurse who responded to the CHG survey said, "In all my years of being a nurse, this has to be the most emotional chapter of my career."
Emergency medicine physician Dr. Debra Williams says the pandemic exacerbated the stress of being on the frontlines. "As emergency medicine physicians, despite our best efforts, we are used to seeing people die every day, and we all deal with that in different ways. During COVID, you could walk out of a room after talking with someone and 30 minutes later they were dead. That's how quickly things happened," she says. "So the escalation of watching people die — and the fact they died alone with no family members — I feel had a much stronger impact on physicians. There weren't enough of them or enough resources to do what they needed to."
How facilities can help: Main Line Health trained a team of employees to provide immediate psychological support to their peers if needed. If an employee experiences trauma, anyone can call the psychological first aid team on the employee's behalf. The team responds within an hour and makes sure the employee has ongoing emotional support to avoid secondary trauma. Since implementing this process, the hospital's employee assistance program usage is up, leaders are more aware of their people's emotional state, and more staff are getting immediate emotional support.
Feeling devalued
Many providers who responded to the CHG survey stated they felt undervalued during the pandemic, with one saying, "I find it disheartening that our healthcare administration put tremendous amount of emphasis on patient safety over healthcare worker safety." Another stated, "I have never felt so devalued as a physician in my 30 years of practicing medicine."
In fact, when asked to rate the response of various groups to the pandemic, providers had mixed feelings about how their own institutions responded. Only 14% rated their facility's response as excellent.
How facilities can help: The American Nurses Association begins every meeting or huddle with a 90-second storytelling session, where healthcare professionals state a core value that represents their story, share their story, and then connect the story back to the organization's mission. As a result, employees report feeling more resilient, less burnout, and a deeper connection to their facility's decisions and purpose.
More ideas to support your providers
These voices and best practices are part of a bigger conversation on how healthcare facilities can create long-term solutions for their providers' mental health. For additional ideas on how to address the emotional toll of the COVID pandemic, watch the provider well-being webinar below:
CHG Healthcare takes a putting-people-first approach to finding the doctors, nurses, and allied professionals your facility and patients need. Contact us by phone at 866.588.5996 or email at ecs.contact@chghealthcare.com.
Last updated Dec. 7, 2021