Miguel Martinez, senior customer relations specialist on the accounts receivable team at CHG in Salt Lake City, Utah, feels he is blessed to be able to say that he loves his job.
"I honestly do!" Miguel says. "I love working for this company and I love the people that I work with. Every time someone asks me where I work, I get so excited to tell them that I work for one of the best companies."
During his five years at CHG, Miguel has come to appreciate the fact that the company's defining core value is Putting People First, and the fact that this sentiment is held by all of his leaders.
"From my immediate supervisor to the executive directors, I know that the leaders at CHG give me the leadership, vision, mission and goals to strive for to become a better and more knowledgeable employee," he says. "Working at CHG is just like working with family – minus the holiday-reunion drama."
Miguel gave up a profitable job with a prominent bank to take a position at CHG and is so happy he did so. Find out why in his story below.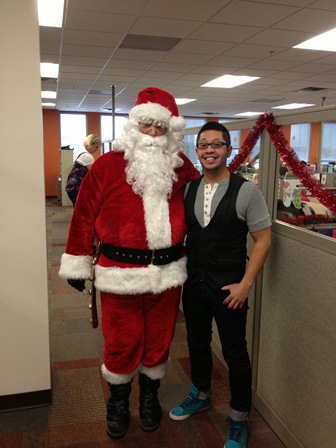 Before CHG, I worked for a bank and I was not happy at all. Even though they are one of the nation's largest banks, and the compensation was decent, I never felt appreciated or needed.

I had earned my associate's degree at LDS Business College, and I uploaded my resume to CHG's career services website. About a month later, I received a call from CHG's talent acquisition team asking me if I wanted to apply for the accounts receivable position they had open. We scheduled a meeting with the managers, and after two interviews, I got the job. We were still at the old building when I started. Two days after my first day, we moved to this new one.

I am so grateful that someone ran into my resume and decided to give me a call. I am so grateful that the managers that interviewed me more than five years ago decided to give me a chance. Now I am building a career at a place where I know that my manager, the director and the CEO appreciate me and give me all the tools I need to help my clients and to succeed professionally.
Do you want to feel appreciated by your leaders? Visit our careers page to see if we have an opening for you!