Elisha Figueroa, a technical training specialist at Weatherby Healthcare in Fort Lauderdale, Fla., believes that the best thing about CHG is the commitment to people she sees throughout all levels of the company. As a technical training specialist, Elisha spends her time helping sales consultants and Business Partners work efficiently with the client database, so she has ample time to demonstrate her own commitment to the people around her.
"I love interacting with my awesome Weatherby family and also having the ability to help others discover their technical talents to help support their sales efforts," Elisha says.
During her two years at CHG, Elisha has also come to appreciate the copious number of programs CHG offers its employees. Read about how CHG's Iron Man/Iron Woman competition kept Elisha motivated in her quest to stay healthy after battling cancer.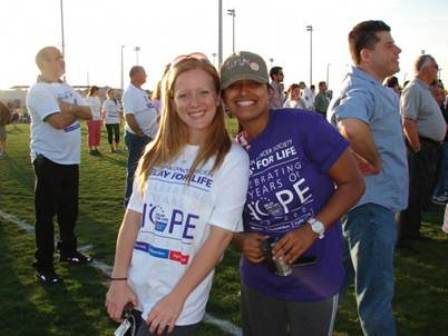 Elisha, right, talks about her Iron Man/Iron Woman experience.
When I was 21, I found out I had cancer. My health was pretty good, or so I thought, and I had just given birth to my son. I was going to college full-time, working part-time and exercising at least three times a week. However, when I was pregnant, I believe that a combination of stress and poor eating habits caused my body and hormonal changes to go in the wrong direction.
It was a very tough time in my life, but I conquered my battle with cancer and today am truly passionate about wanting to learn everything I can about better eating habits. I love working out, but unfortunately, I eat terribly! I love sweets, especially chocolate, and I love the convenience of processed foods that are quick and easy to carry with me. However, thanks to CHG's Iron Man/Iron Woman, a ten-week fitness competition for CHG employees, I am now working to better my eating habits. Had I not enrolled in Iron Woman this year, I would have probably given up on my goal to lose weight along with my search for a better lifestyle. I was feeling hopeless because I work out at least four times a week and yet still maintain a slightly overweight figure. Thanks to CHG, my health awareness is continuously reinforced, and I look forward to my future healthy lifestyle- for both Christian, my almost eight-year-old son, and myself. I am so grateful to work for a company that puts such a focus on the well-being of its employees.