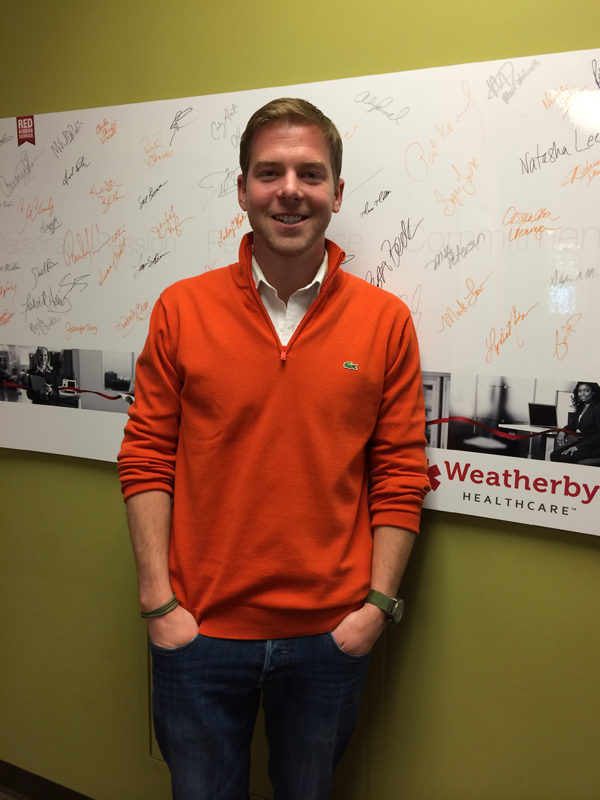 Derek Eaton has worked as a consultant on the anesthesia team at Weatherby Healthcare in Cary, N.C., for three-and-a-half years. He says the best thing about working for CHG is that he gets to work with his best friends and family every day.
"From something as small as helping each other move to the truly moving times like gifting PTO for a co-worker with cancer or putting together a fundraiser for another co-worker who lost his house in a tornado, this kind of culture doesn't exist elsewhere," Derek shares. "Most recently, a number of people from our office were stranded on the roads during a bad ice storm and it was amazing to see the email chain of everyone coming together until we were all home and safe."
CHG's core values of Growth and Continuous Improvement were an important element that drew Derek to the company. He shares how in his first interview, his leader compared what Weatherby Healthcare does to a team sport, which resonated with Derek who grew up playing competitive sports. Like a sports team, Weatherby Healthcare helps individuals achieve their full potential so the whole team can be successful.
"We have a performance-driven culture that grows each year because we bring people in that fit into our culture and invest in their personal growth, even in down economies," Derek explains. "Week in and week out, we have expectations set that push us to maximize what we are capable of. Because I never want to let my team down, hitting that expectation pushes me to give 110 percent every day."
Read more below about how CHG's core values have impacted Derek's experience as part of the CHG family:
Before I worked for Weatherby Healthcare, I was a medical device sales representative for a publicly traded durable medical equipment company. I left that company for Weatherby Healthcare mostly because the other company put their financial bottom line in front of ethical business practice and more importantly, in front of their people. I could not have made a better decision!
I have been overwhelmed with the culture here and the limitless support that is offered by leadership and my co-workers to help me achieve my goals. Although this is a very demanding position with high expectations, if you are willing to put in the hard work necessary to grow your business, there is not a limit to the support you are offered. There is not another company like ours out there, and I am grateful to be a part of the Weatherby Healthcare and CHG family. Not to mention, we have a lot of fun!
Do you have what it takes to be part of an award-winning culture that focuses on Putting People First and growing our business? Check out our careers page for current opportunities.