When he's not at work in the Salt Lake office or perfecting his golf game, Mike Dalton enjoys coaching his son, Garrett, and daughter, Emily, in sports. This year, the extra effort paid off.
"In June, I was asked to be the coach of the 11U Riverton City Baseball all-star team, made up of 12 of our most talented 11-year-olds who played on our 10 city teams. On July 2, we were crowned Northern Utah state champions after beating Taylorsville 7-4," Mike shares. "We'll be attending the Pacific Southwest Regional Tournament on July 22 in Vernal, Utah — playing other 11-year-olds from Utah, California, Nevada and Arizona!"
Mike is excited about the opportunity to attend the regional tournament, but he says the best part is helping young athletes to perform their best.
"Teaching these kids mechanics, skills, attitudes and sportsmanship will mean something to them for the rest of their lives," Mike says. "We've created memories for 12 boys and their families that will last a lifetime —and there is not a better feeling in the world than that!"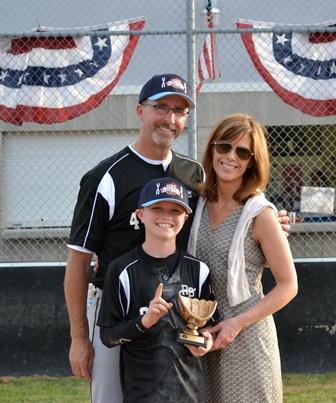 Mike Dalton poses with his wife and son after winning the championship.