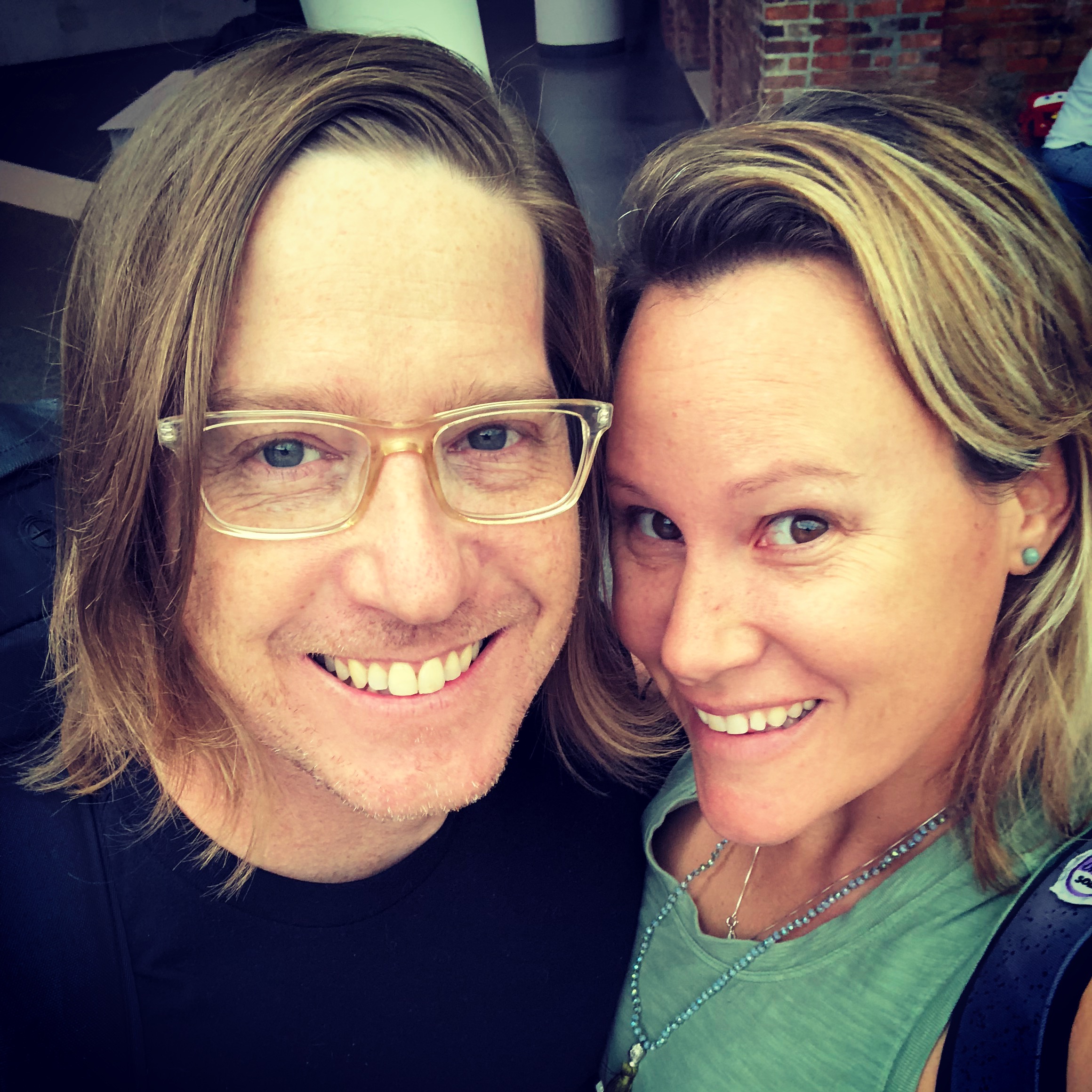 A company is only as great as its people. And CHG's people are second to none, if we do say so ourselves. The uniqueness and broad range of perspectives, skills, and talents everyone brings through our doors enrich our culture and make us better collectively. That's why we promote a work environment that supports personal development and professional growth and encourages our people to pursue their passions outside of the workplace.
Married couple Dan and Vanessa Bonebrake are excellent examples of people who have found balance in their professional and personal lives. Before joining our RNnetwork division as temp employees four years ago, they both were headed down interesting career paths. Vanessa is a competitive swimmer, former member of the Costa Rican National Swim Team, and United States Masters Swimming Nationals Champion who has competed in over 500 meets and races. She also coached a swim team and ran a swim training school for children. And, as if that's not impressive enough, she holds a USA Swimming coaching certification and is a United States Swim School Association (USSSA) certified teacher. Dan is a musician — first learning to play the trumpet, then moving to the bass guitar before joining a high school rock band and progressing his music career even further — but more on that later.
For a little over three years, Vanessa has worked on the clinical nurse liaison team at RNnetwork as a quality coordinator. Her role is multifaceted, mainly consisting of sending and receiving quality assurance evaluations to our providers and hospital system clients and preparing annual performance reviews. She also works with the credentialing department, assists teams with design projects, and acts as scribe during divisional meetings.
Dan is an account executive administrator on the business development team. "In layman's terms, I review, update, convert, track, edit, research, and maintain the accuracy of our business information so our sales teams can operate within the contractual terms of our agreements," says Dan.
Marching to the beat of his own drum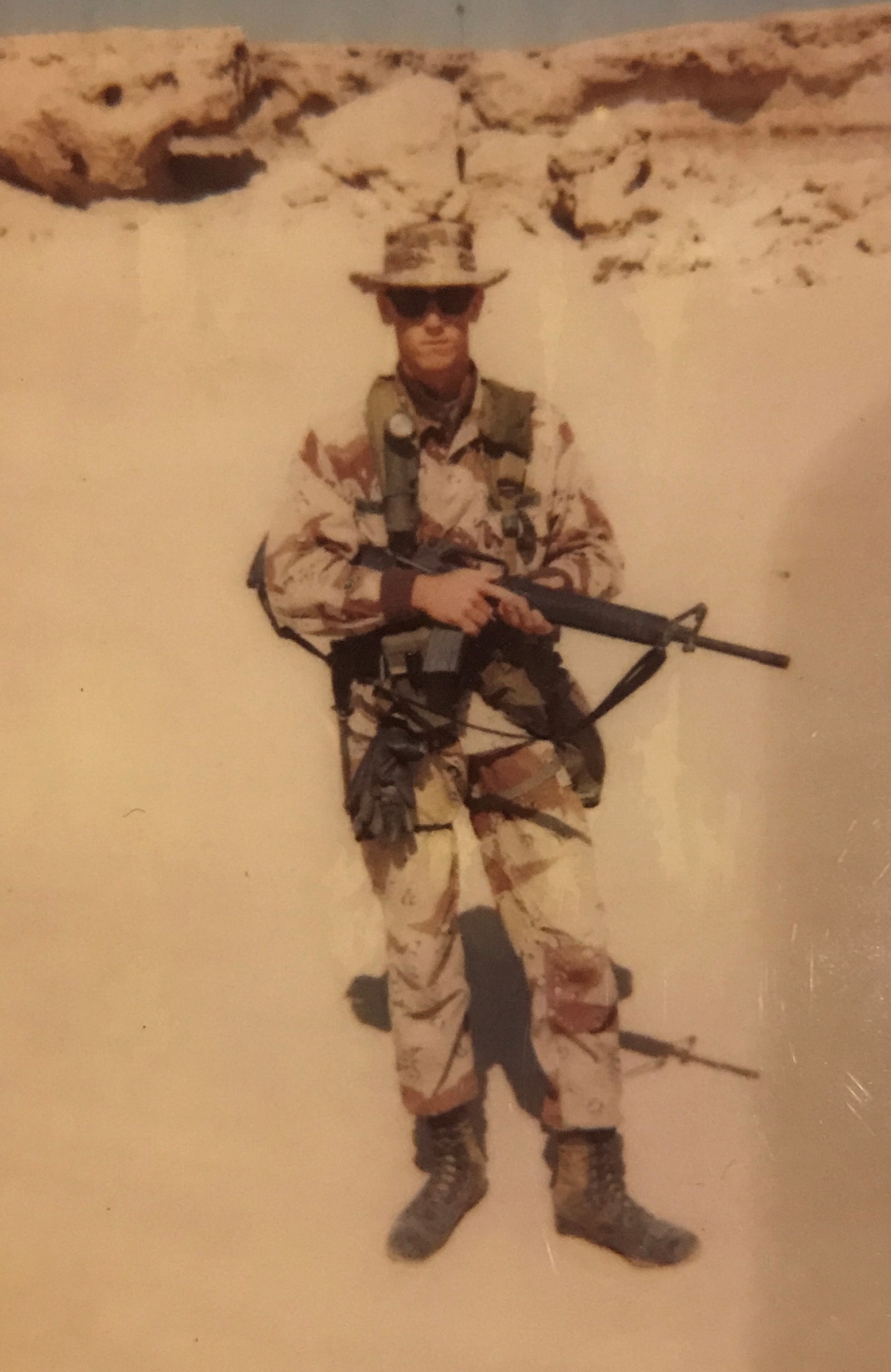 Let's jump back into Dan's extensive music career. (It's worth mentioning that Dan has played in more than 30 bands since the age of 14!) Right out of high school, Dan enlisted in the Army and after Basic Training attended the Army School of Music at Little Creek Naval Amphibious Base in Virginia Beach, Virginia. He completed the basic training and a six-month intensive music program before joining the 24th Infantry Division band.
One week after turning 19, Dan was deployed to the Middle East for just over six months. During Operation Desert Shield he played in the band entertaining troops as well as pulling guard duty. With the transition to Operation Desert Storm, Dan's role also changed. He became part of a security team at the mobile Command Center for General Barry McCaffrey of the 24th Infantry Division but continued to play Reveille every morning and Taps every evening on his horn.
After Dan finished his enlistment, he rejoined his brother in their high school band called the Vacant Andys. They dwelled in the underground punk scene, opening for many national touring bands in South Florida, becoming popular in their own right. His ties to the Vacant Andys led to another opportunity with a band that needed a bassist who could drop everything, jump in a van, and hit the road for tour. Dan agreed. This band was Dashboard Confessional in its infancy. If you're not familiar with Dashboard Confessional, the group produced three Gold and one Platinum record and made it onto the Billboard charts several times. With Dashboard Confessional, Dan toured all over the United States and Canada and performed on "Late Night with Conan O'Brien," "Last Call with Carson Daily," and "MTV2 Unplugged."
"We thought we'd never be able to do it," Dan shares of his experience with Dashboard Confessional. "But things just started snowballing. I was living that rock star dream, and I was doing it surrounded by my best friends."
Going in a new direction
Dan left Dashboard Confessional to pursue other interests and play with many other bands. He toured around Europe, wrote new songs, finished a couple of albums, but eventually had the desire to settle down a bit.
And that's when CHG came along, in a rather serendipitous way.
Through a friend, Dan found out that RNnetwork was hiring. He and Vanessa decided to apply at the same time and were hired within days. Over the past four years, they've each rapidly progressed in their careers and gotten to know each other in capacities most couples normally don't get to see.
"I love working with my husband," says Vanessa. "At first, we weren't sure if it would work out or not, but we realized that we're both respectful of each other's time and work well together. We usually team up for fun things in the office such as the lip-sync contests and costume days. It's one of the reasons I enjoy working at RNnetwork."
Making room for their passions
Outside of the workplace, Dan dedicates about four days a week to playing music at home or rehearsing with other bands. He's currently playing in three bands and working on solo acoustic projects. No matter where he is in life, it's important for him to still make music and share it. It's not uncommon to find Dan strumming a guitar at his desk or even collaborating with a few other talented coworkers on funny parody songs.
Vanessa continues to coach her local club team and teach swimming lessons. She also actively trains and participates in open water swim races. In fact, she just won the 2019 Sharkfest "Escape from Alcatraz" Swim Race for her age group! Vanessa is able to manage her extremely busy schedule and still find time to have fun, which is pretty outstanding.
But don't just take our word for it, here's what Dan has to say about Vanessa:

"My wife is the true rock star in our relationship. She speaks three languages, has multiple degrees, and is a champion swimmer and an inspiring swim coach. She's also a creative force who has acted in New York and Los Angeles and is currently writing a screenplay. I could go on and on."
From their commitment to living CHG's core values to their unique passions outside of work, Dan and Vanessa are a dynamic duo who are valued members of their RNnetwork teams and our CHG family.
Want to work at a company that encourages you to pursue your passions? Check out the open jobs at CHG!