Do you ever wonder how medical facilities provide coverage when doctors are sick or go on vacation? This past holiday season, many of our locum tenens providers filled the shoes of vacationing doctors across the country. One of these providers was medical oncologist Dr. Tariq Siddiqui, who flew from Pakistan to Ohio to cover the needs of a community hospital while its only oncologist was on leave. Julie Perrine, a hospital privilege coordinator with
CompHealth
locum tenens, was working on Dr. Siddiqui's paperwork when she noticed the community hospital was located in her hometown! Wanting to ensure that he had the best experience during his short assignment, Julie reached out to Dr. Siddiqui with advice on great restaurants and things to do around town. But her kindness didn't stop there.
Going the extra mile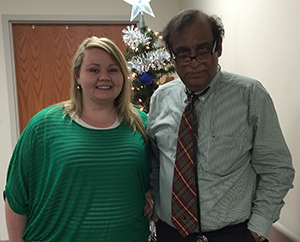 Knowing she would be in town during his assignment, Julie scheduled a time to meet him. "It was really neat to have him in my hometown and to know that I played a part in getting him there," Julie says. The medical oncology team didn't let Julie go without presents. "We gave him a huge bag of gifts, filled with salt water taffy, a CompHealth water bottle, a CompHealth vest and a snow globe that contains salt from the Salt Lake," Julie says. Jen Bambrough, Dr. Siddiqui's recruiter, helped Julie put the gifts together. "Everyone on the team signed a card that we gave to him, too," Julie continues.
Caring for our caregivers
Dr. Siddiqui sent the team an email thanking them for the¬†sweets, gifts and — most of all — support. "You are all helpful to the highest level," Dr. Siddiqui says. "For more than five years now, I have had the pleasure and privilege of working with you all." Even the smallest of gestures can make a big difference.