CHG's marketing team celebrated vice president Leslie Snavely's return from maternity leave with a Mad Men-inspired party June 9. After decorating Leslie's office with a leather sofa, martini glasses, a typewriter and even framed photos of Mad Men characters, team members welcomed her by rolling out a red carpet and enjoying sparkling cider and a potluck lunch together.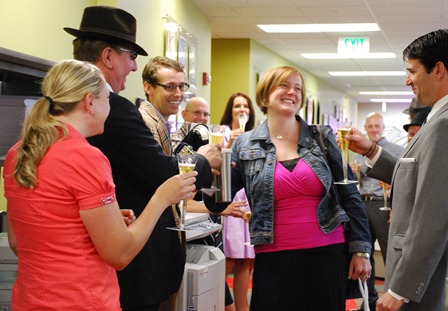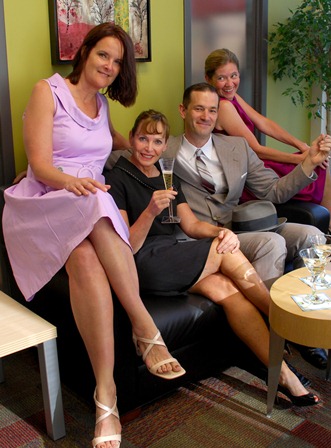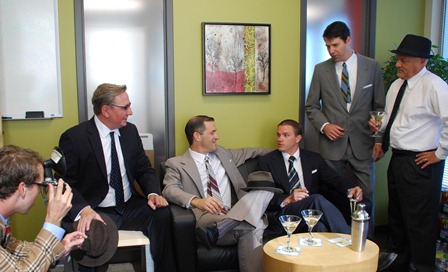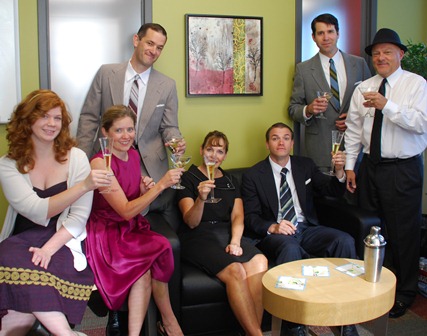 Assistant brand manager Eric Malizia also put together a rap song about the marketing department as part of the celebration. Check out the lyrics below and hear the whole song on YouTube!
Spoken:
Yeah, we're going down to the mean streets -- That's right, the intersection of creativity and strategic thinking, what's up?
Verse 1:
Welcome back, Mad Men-style. 60's flair and we're going wild.
Guess who's back and we're gonna have a good time -- pot luck, hands up, now its rhyme time.
We can't think of any place that we'd rather be except the fifth floor, marketing at CHG.
With the one and only L-E-S L-I-E, Sterling Cooper -- they got nothing on our team.
We got style and we got class; we're so sharp like a diamond -- we can cut through glass.
CompHealth (Your wish is our command); RNN (You can say that again),
Foundation (All across the nation), Weatherby (Giving me red ribbon salvation)
CHG, SLC -- Give it up for the VP Leslie Snavely.
Chorus 1:
Hello, Leslie! Welcome, Leslie! Did we miss you, Leslie? Yes, we did!
Elvis Presley, Uncle Jesse -- they just don't impress me, Leslie, no.
Verse 2:
Raise your hands! We got Swaz-zanne, Stevie G and Rob Hoff-man (neeew site!)
Kyle P, Phil and K. Tree, Nelson left Nic in the man cave, ya see.
Then we got Rose, not the one from Titanic. "My Heart Will Go On," says Mary Biljanic.
Vanessa and Lindsay and Charly and Jill, Aerienne B., Brianna Hill,
Tina and Renee always save the day. Phil, James and Ricardo, it's time to create.
Tricia and Jen, Linda Al-len, Grant Ol-sen and Sam Schwendiman.
Don't forget Greg with the RNN, Chad, Mic-helle, Leo, Shawn and Janel,
Anna, Darin G., Chase and Cynthia. Don't forget about me, Eric Malizia.
Chorus 2:
Woody, Jessie, Bigfoot, Nessie -- they don't get me like you Leslie Ssssssssss.
Elvis Presley, Uncle Jesse -- they just don't impress me, Leslie, no.
Bigger, Better, Stronger! Yeah!