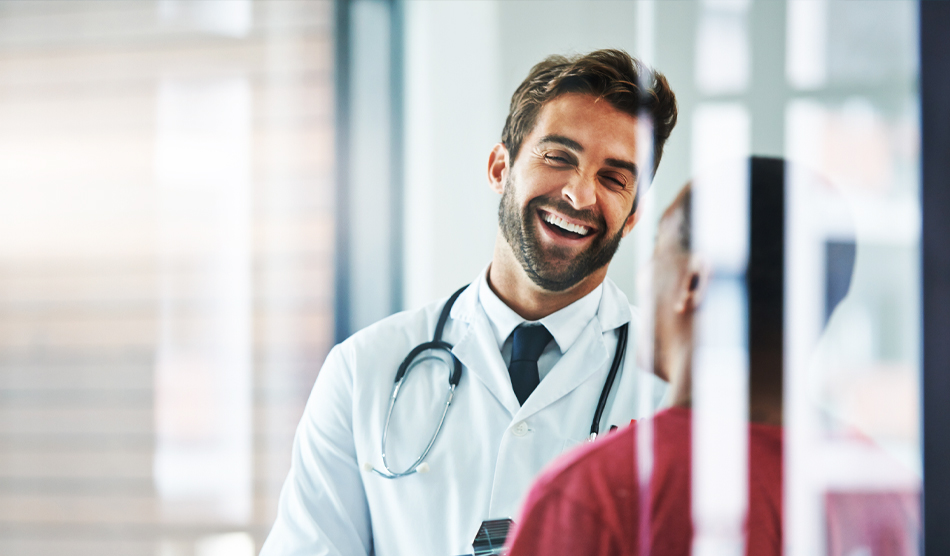 High rates of clinician turnover are impacting healthcare organizations nationwide. In fact, a 2022 survey found that 43% of physicians changed jobs and another 8% retired during the pandemic. So, it's more important than ever to have highly engaged, loyal employees. Research shows that highly engaged teams have 24% to 59% less turnover and 10% higher customer ratings, which affect the productivity, safety, and profitability of your business. Here are six ways to increase clinician engagement and improve retention at your healthcare facilities.
1. Get out of your office
One of the most effective ways a leader can affect clinician engagement in their organization is to leave the office and talk to their people. "I would be out of my office and talking to the frontline providers as much as possible," says author and organizational culture expert Michael Pacanowsky. "I would make sure my hospital or clinic really focused on doctors and nurses so they feel supported, respected, and treated like individuals." Taking time to listen lets clinicians know you're serious about improving workplace conditions and quality of care in your organization.
2. Identify areas of excellence and replicate them
Every organization has some areas that simply function better than others. When it comes to clinician engagement, look for the positive deviants — where things are going well. "Study your strengths, not your weaknesses," says Matthew Wride, president of DecisionWise, an employee experience firm. "Find out why a particular hospital is off the charts with its engagement scores and spend time there; you'll find the insights you need." Then work to replicate those conditions throughout your organization.
3. Create accessible ways to recharge
Good mental health is key to employee engagement, and burnout is one of the top reasons clinicians change jobs. With clinicians' busy schedules, creating "bite-sized" wellness sessions for them made sense to Dr. Dawn Ellison, emergency physician and Clinical Partner Engagement Officer at CentraCare in Minnesota. "During COVID, we offered a noon time, 15-minute pop-in session we called 'Wellness Reset'," she says. "Eight of us would take turns offering a mindfulness, self-compassion, or grounding practice." CentraCare has also offered virtual wellness events that could be watched whenever convenient.
4. Provide space to decompress
The pandemic prompted Ochsner Health in Louisiana to create decompression zones for its clinicians. "These are quiet spaces, usually in our waiting areas and lobbies that weren't being utilized by visitors," says Melissa Love, vice president for professional staff services and the office of professional well-being at Ochsner. "When they were finished with their shift, they had somewhere that was quiet and dedicated."
Love says Ochsner also began providing decompression sessions with the help of their therapy and wellness resources. "We had people available when you were coming off your shift, and we had behavioral health providers rounding in some of our specific code units. You didn't have to call and ask for it, we were just showing up."
5. Recruit clinicians as coaches and wellness leaders
Positive interpersonal relationships are one of the most important factors when it comes to provider engagement and happiness at work. A 2019 survey found that physicians who indicated having "many" friends at work also indicated high life satisfaction (70%), while physicians who reporting have no friends, only 39% had high satisfaction. A program of peer-to-peer coaching gives clinicians someone to talk to and ask questions. Most importantly, it creates a sense of belonging.
6. Expand your clinician appreciation program
It can be hard to remember to recognize others' hard work when you're busy yourself, but it's especially important that providers feel appreciated if you want to retain them. "I think a card from a department manager to your home expressing appreciation to you for something a patient said would be really meaningful," Dr. Ellison says. "Making people feel known and cared for, while recognizing their hard work is more effective than just recognizing the work. This is the core of our appreciation effort."
The benefits of better engagement
Improving provider engagement is one of the best things you can do for your organization to increase retention. Engaged providers are more likely to provide better patient outcomes, report higher well-being, and contribute to lower costs overall.
More on this topic: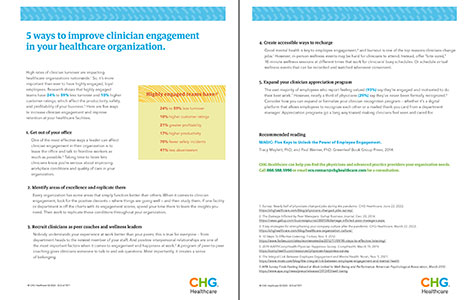 This article was original published on WeatherbyHealthcare.com. Weatherby Healthcare is a division of CHG Healthcare. Let us know how we can support your facility's staffing needs. Give us a call at 866.851.9214 or email ecs.contact@chghealthcare.com.